Cafe De Mama is a Korean cafe in Koreatown (K-town) that keeps it simple which is surprisingly nice in a world that feels like it has too many choices.
---
---
Where is it?
Cafe de Mama is right in Koreatown on Western Avenue. For specifics, check out this map:
---
---
What's the menu?
The menu is part of Cafe De Mama's simplicity. They've got a good variety of drinks but don't have thousands of customization options, and there's enough variety for probably all members of your party to be satisfied. Note that all of the below menus are the prices as of the writing of this article and may shift slightly due to things like inflation over time.
Coffee
The black sesame cream latte is a must for any black sesame lovers, and the honey ginger latte is a nice comforting drink that stands out.
Simple coffee lovers can't go wrong with the Americano, Cafe Latte, and Cold Brew (Iced).
Specialty Drinks
The specialty drinks are probably what most of the people coming to Cafe De Mama order. Specifically, the injeolmi mochi latte is a huge draw.
---
---
Injeolmi is specifically made of tteok, or Korean rice cake, and in this case is covered in roasted soybean powder. They put mochi in the name here to draw comparisons to the Japanese rice cake of similar properties, and honestly, they're pretty similar.
But basically, they suggest dipping the injeolmi into your latte as you eat it–it's honestly a great experience, and we recommend it.
---
---
For strawberry lovers, how about the strawberry puree milk? It tastes really refreshing and supposedly doesn't have any extra sweeteners in it.
Want a fresh pick-me-up on a warm day? The pineapple mint mojito is perfect for that.
Tea and Croissant Waffles (Croffles)
Not everyone wants milky drinks, fruity drinks, or coffee, and that's where tea can be clutch. Available in both iced and hot varieties are the Honey Ginger Tea and Honey Ginger Pomegranate Teas.
---
---
If you're hungry, Cafe De Mama comes in clutch with croffles, which are a mix of croissants and waffles, pretty much.
You can get a plain one or have one with strawberry and injeolmi cream. Both are really good, but it depends how decadent you want to get. We found that the plain one was nicely sweet and crispy on its own, so the strawberries and injeolmi with the cream may give it a great balance in flavors.
Interior
The interior of Cafe De Mama is pretty nice. There's new gray hardwood flooring with distinctly yellow chairs and white tables.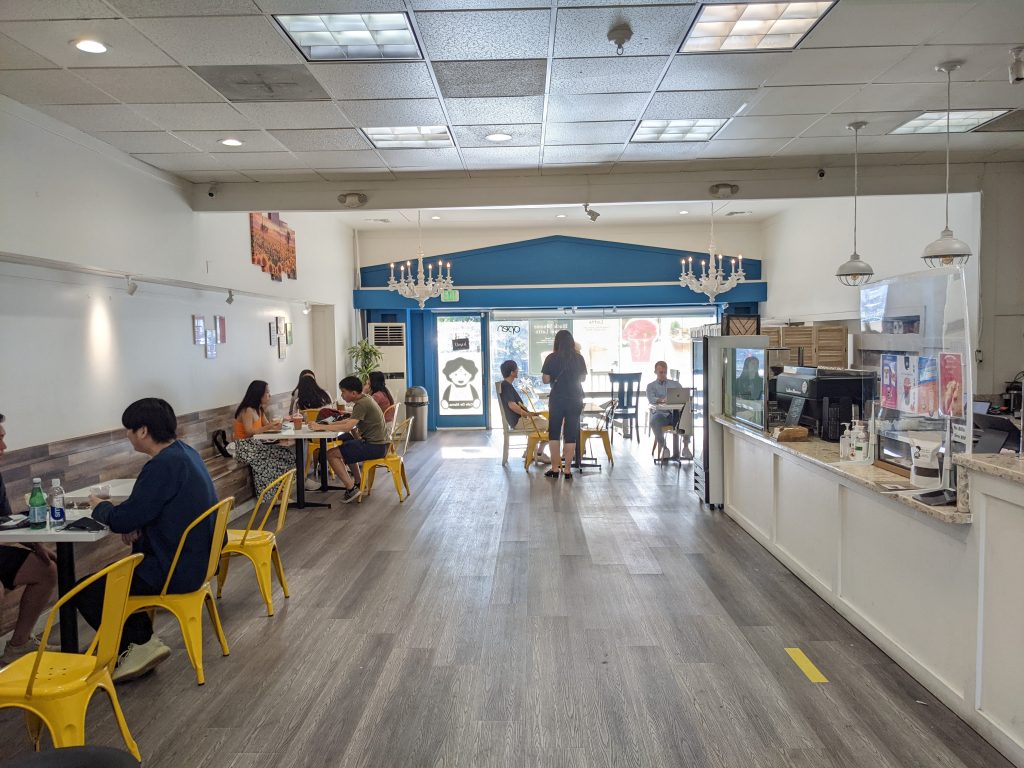 There are some touches of tasteful vintage in there too, with two white chandeliers in the front along with a really blue exterior that pops in Koreatown.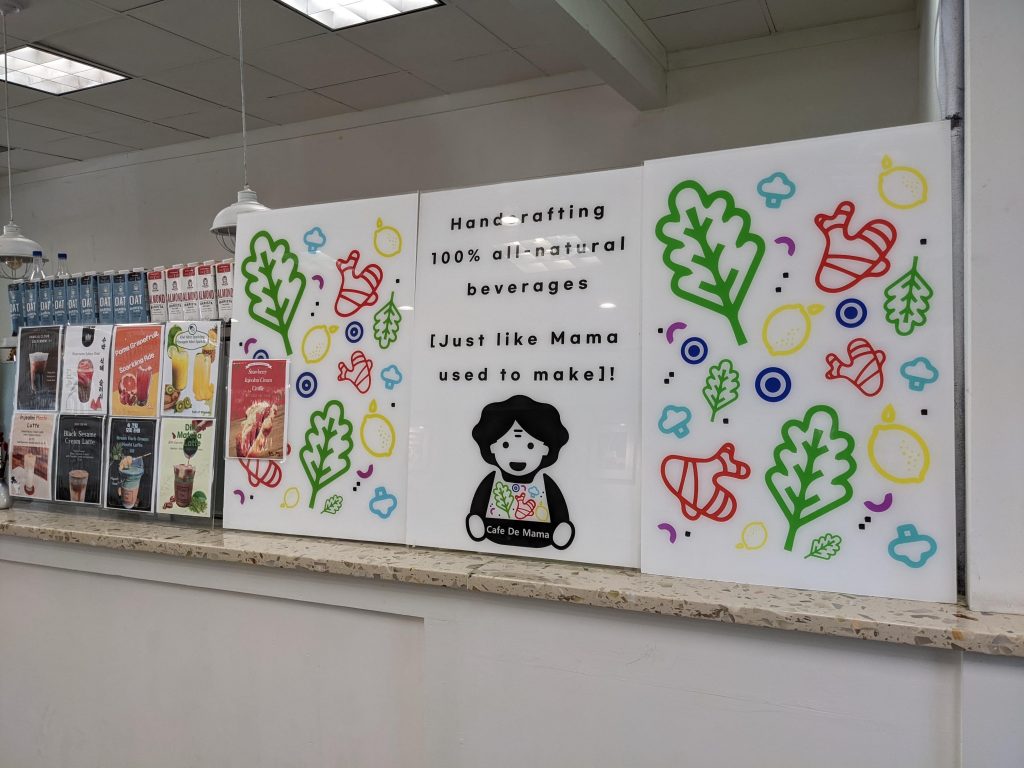 Their logo of the fictional mama behind Cafe de Mama is also adorable and a great example of good graphic design to create a memorable logo for a business.
Parking
Parking is actually not atrocious, which is somewhat surprising for K-town.
The reason why is because there's a shared lot behind Cafe De Mama. Go around the block, and you'll see it.
There should be parking spaces unless the other businesses or Cafe De Mama itself is a little busy, so really, we really shouldn't be saying there should be spaces. The lot isn't huge, but it does have double parking which makes it go a little bit farther. Definitely make sure you are mindful of others when you double park, though–don't want to leave anyone stuck. One person approached my group asking if we had a Prius because he couldn't find the owner who was parked behind him.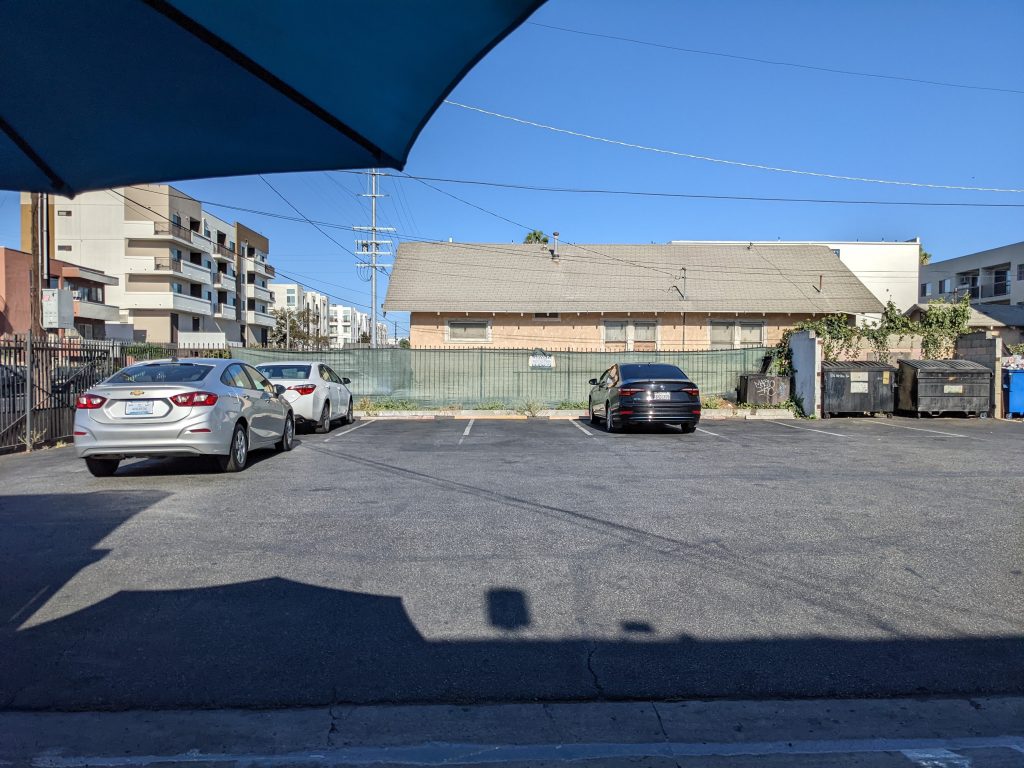 Another thing we'll say is that there actually were some valet workers there when we went. They were just chilling in the shade, though, because the lot wasn't really that full. However, I imagine when it gets pretty packed, they may take over and park, which might be a good thing because you don't have to worry too much (but then have to pay, of course).
Once you park in the back, you can enter in an entrance that accompanies the main front entrance.
If all else fails, you'll have to do street parking, which is expected in K-town anyways!
---
---