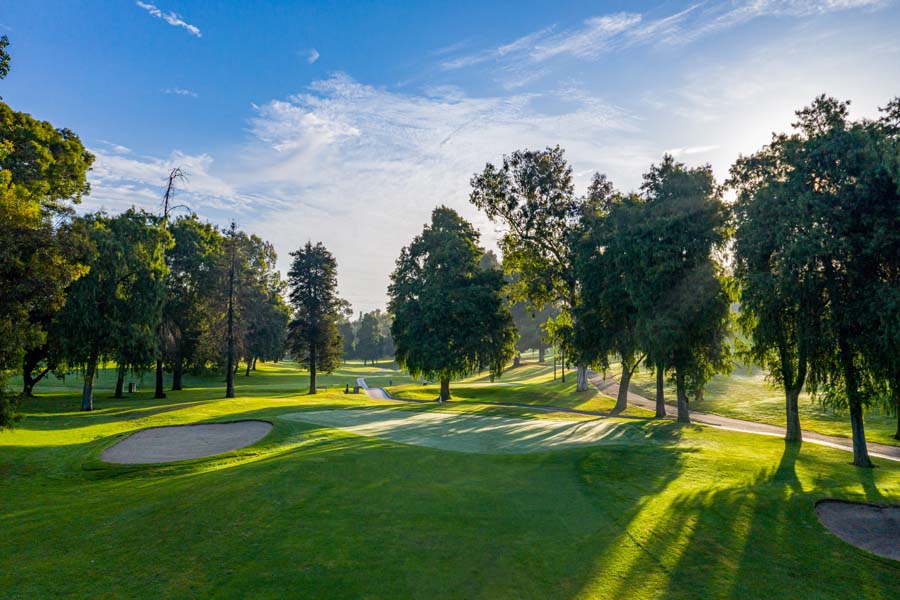 ---
---
Rancho Park Golf Course is an 18-hole par 71 golf course located in West LA in the middle of the cities of Santa Monica, Culver City, and Beverly Hills. Designed by William Johnson and William P. Bell, it opened all the way back in 1949 and hosted the USGA Public Links Championship which was won by Kenneth J. Towns (how's that for a bar trivia answer?). It also has a par 3 course which is great for beginners or for people just looking to hone their approach shot game without sacrificing a big chunk of the day.
Rancho Park has also hosted eighteen Los Angeles Opens, which nowadays goes by the Genesis Open and has in previous times been known as the Northern Trust Open and Nissan Open and is now at Riviera Country Club.
Interestingly, Jack Nicklaus earned his first ever tour paycheck at Rancho Park in 1962, which is another fun piece of trivia to impress (or bore) your friends.
---
The address of Rancho Park Golf Course is:
10460 W. Pico Blvd.
Los Angeles, CA 90064
---
Rancho Park is a par 71, 18-hole golf course that runs 6,839 yards from the tips with a 72.5 rating and a 129 slope. All in all, here are the numbers for each set of tees:
Black: 6,839 yards, 72.5 rating, 129 slope
Blue: 6,419 yards, 70.7 rating, 124 slope
White: 6,039 yards, 68.8 rating, 120 slope
Yellow: 5,644 yards, 66.7 rating, 114 slope
The course is fairly undulating with small greens, and since it's in such a central location in Los Angeles, it is known for some longer rounds on weekends.
A big part of the draw here also is the Par 3 course that's available. The Rancho Park website describes it as such:
This picturesque course has perfectly groomed tree-lined holes ranging in length from 82 to 148 yards. It is a perfect place for friends, family, or to brush up on your short game. It also features a 9-hole Footgolf course on the same footprint as the par-3 golf course.
Played on mats, the entire course runs 992 yards long and is a par 27 with a total of 9 holes.
---
---
---
---
The course also has a nice double-decker driving range on mats that is available during the nighttime with lights as well. The area you're hitting to looks pretty nice with the artificial turf and the little fake river going through it.
---
---
What is also available are practice putting greens, club rentals, a coffee shop, a banquet room, a snack bar, locker rooms, lessons, a really cool vintage clock, and more. You can call the course at (310) 838-7373 for any questions.
---
---
Rates

Weekdays
Weekends/Holidays
18 Holes
$35.50
$45.50 ($50.50 before 9:00 a.m.)
9 Holes
$18.00
$23.00
Twilight
$22.00
$28.00
Super Twilight
$14.00
$18.00
Junior
$8.00
$15.00
Junior – Twilight / 9 Holes
$6.00
$10.00
Senior – 18 Holes
$21.00
N/A
Senior – 9 Holes
$11.00
N/A
Senior – Twilight
$14.00
N/A
Replay Rates
Walk $15 / Ride $25
Walk $20 / Ride $30
If you want to get a tee time, you can first try the LA City reservation system online. If you're confused about it or would rather talk to someone, then call the clubhouse at (310) 838-7373.
---
---
Carts are also available for rental for those who prefer to ride rather than walk during their rounds. The rates are as follows:
| Electric Cart Rentals | Daily – Per Person (Half Cart) |
| --- | --- |
| Regular 18 holes | $16.00 |
| Twilight | $12.00 |
| Super Twilight | $10.00 |
---
---
---
---
If you're interested in the scorecard for the course, then here is the front and here is the back.
---
---