SU LEE WILL JUST DANCE
How an unknown bedroom musician went viral—and how she plans to stick around.
---
---
It was just like any other day in a pandemic-driven world where—more than ever before—every day actually was like any other day. And yet, on May 9, 2020, Su Lee's day was like none other she had ever lived. That Saturday, a post titled "This is basically what my mental breakdown sounds like." rose to the front page of Reddit (Alexa rank #20) via its infamous r/videos subreddit; as of July 2, 2020, it's totaled over an impressive 34,700 upvotes.
As a funky beat builds in the background of the YouTube video, we see that the star is an Asian girl. She looks to be in her 20s, and she's wearing a black long sleeve shirt (with a silly cartoon lion on it, because of course there is) tucked into blooming blue sweatpants; we learn via simple white text edited on that her name is Su Lee. She makes music, says the words that chaotically pop up in random areas of the screen, and she wrote this song when she was having a "little crisis". Her face flashing between moments of pure confusion, genuine laughter, and intentional over-seriousness, Lee begins to sway, to shimmy, to clap, to swing her arms and body wildly in every angle. The song, fittingly, is called
"I'll Just Dance"
.
Everything about the video is oddly entrancing, and a large part of that is its uniquely homemade quality: the bouncing melody, the playful lyrics, the quick-paced cuts, the orange sock tied around Lee's microphone as a makeshift pop filter. But more than anything, as viewers pointed out in thousands upon thousands of comments that flooded in, the song just sounds
good
—and the numbers reflect it. On Spotify, Lee's
profile
—as of this writing on July 2, 2020—currently boasts over 73,000 monthly listeners and nearly 15,000 followers. On YouTube, "I'll Just Dance" has eclipsed the million view mark, sitting around 1,100,000 million views and rising. Even more impressive, Lee's
channel
in a two month period from April 28 to June 28 went from 1,000 subscribers to 75,500; on the day her hit song was posted alone, the count leaped from 1,390 to 12,600 according to
SocialBlade
.
"To be really honest to you," Lee, 23, tells me over a video call from her home in South Korea, "I did shit myself a little bit."
As I talk with her through my screen, it feels like one of her videos has somehow come to life before my eyes; after all, she's wearing one of her iconic outfits (a red crinkly rain jacket with pink accents all over), and she's in the same tiny box room all her videos are filmed in. "I feel like I need to pay Reddit or something," she says with a laugh. "I'm just really grateful and so happy."
Another factor playing into the success of "I'll Just Dance" likely was a result of the government measures around the world to stay home in order to prevent the spread of COVID-19; simply put, more eyes were restlessly looking for content to serve as temporary relief from the stress of a prolonged disuption to everyday life. "A lot of people have been labeling it as the 'Quarantine Song of 2020', like, 'It really hits home with what we're all going through universally,'" Lee says. "But, in fact, I think what people realize when they actually go deep into the lyrics [is that] the song is actually not really about quarantine or COVID-19 or anything related to the situation that we're going through." The song's theme, which she boils down as "general confusion", was instead inspired by her insecurities in her life and career—a struggle she's glad so many of her new fans see as relatable. "I'll Just Dance" is notably void of a barrier between the performer and the viewer, managing to be upbeat yet also vulnerable; in it, Lee sings that she feels dumb, wrong, dead, alone. "But ... I'm just dancing. I think that resonated with a lot of people who're staying at home at the moment," she says.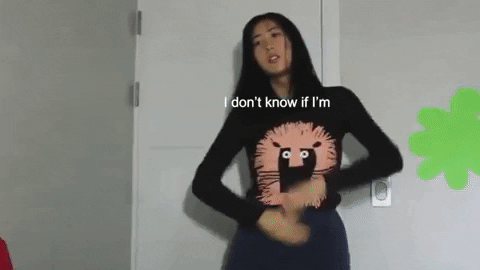 As I learn more about her path to pursuing music, the origin of the lyrics becomes more and more clear. Lee was born and raised—with the exception of a stay in Boston, Massachusetts for her last few years of elementary school and part of middle school—in South Korea, eventually attending university in Seoul to pursue International Relations ("...Relationships? I don't know what it's even called," she says, trying to remember the exact name of her major) before deciding it wasn't for her and dropping out.
She then went to school at Falmouth University in England to study graphic design, but after graduating in 2019 and picking up some 9-to-5 internships, she felt unmistakenly empty. With her visa set to expire without a job, Lee had to decide quickly in which direction she would steer her life. "'As much as I will miss my friends in the U.K.,'" she recalls of her thought process at the time, "'I just want to treat myself, just take a little adventure, and take the plunge and do music full-time.'"
The choice was by no means obvious; she had only concieved the idea months prior, after all, and she hadn't even made a single song to that point. Lee did, though, at least have some background in music: as a child, she was brought up classically trained in order to become a professional cellist. While she loved the music she played, she eventually came to the conclusion that being an actual classical musician wasn't an occupation she could see herself doing. I ask her if these years of practice and experience have helped with songwriting and producing, fully expecting her to answer that it definitely did.
"Not at all; I suck at music theory. I really suck at it," she says. "I feel so bad, because a lot of people have been like, 'Can you please tell us the chords and the chord progression of this song and that song?' I was like, 'I would love to tell you, but I have no idea.'"
As it turned out, making her own music was a whole different beast; instead of eliciting emotion through precisely playing an original composition, she had to learn to move her audience by creatively crafting works from scratch. While some elements—such as writing lyrics, which takes her a few hours on average—aren't too time-consuming, other parts—like mixing and mastering—have proved to be much more difficult; for each song, she estimates the engineering to take anywhere from two weeks to a month. "I must have watched, like, over ten feature films' worth of tutorials on YouTube," she says. "I'm trying to get the hang of it, but still a lot to learn."
"I'll Just Dance" was just a part of that learning curve, and there was never a moment before its posting where Lee knew she had the gold of a guaranteed hit in her hands. "Everything that you were seeing at the point when it started to blow up a little bit was the things I had always done over the last couple of months: posting on Reddit, commenting on everything, posting on YouTube," she says. "All that stuff was stuff I was already doing—and never really much with good results."
Therein lies another part of Su Lee's charm: she doesn't come across as manufactured or desperate for virality. Prior to "I'll Just Dance", she had already posted around 70 other videos of covers and songs—most comment sections only with a smattering of fans urging her to keep it up. As her new viewers have noticed, Lee is someone who's taken music very seriously even when she didn't have ears on it. Now that the attention is coming, she's not hiding from her true self: an indie bedroom musician just trying to figure it out.
"It makes me laugh every time I talk about this, but my family has no idea what's going on," she says, smiling. "I'm trying to tell my mom over and over again what's happening on YouTube, but she has no idea. She's like, 'Come have dinner.'"

---
---
IT FEELS LIKE
just yesterday when Napoleon Dynamite stepped onto his high school auditorium's stage in Preston, Idaho; in reality, though, the year was 2004. Dynamite—with his permed brown hair, wired aviator glasses, ringed white tee ("VOTE FOR PEDRO" printed in red capital letters across the chest), high waisted jeans, and black moon boots—wasn't supposed to be there. The whole school was gathered for its election for class president—and Dynamite was certainly not a candidate. The situation was dire, though: his close friend in the running, Pedro Sanchez, didn't know about the requirement for participants to follow their speeches with a prepared skit.
Jamiroquai's "Canned Heat" started to fade in through the speakers. Dynamite, with his hands in the pockets of his blue jeans, slowly began to rock side to side before rising his head up to face the crowd. Then, he just danced.
Napoleon Dynamite, of course, is a fictional character played by Jon Heder in the 2004 film appropriately named
Napoleon Dynamite
; the movie has since become a cult classic, and Dynamite himself a folk hero—especially to Lee, who even affectionately labeled her Instagram profile 'Napoleon Dynamite - The Musical'. "When he keeps it raw and keeps it 100% him is when he truly shines and is when he's the funniest," Lee says. "If it's awkward, he'll keep it awkward. The fact that it comes out naturally, and yet he feels somewhat insecure about it, is so beautiful. I just love that character—it really resonates with me."
Like Napoleon Dynamite, Lee isn't afraid to put herself out there—and that includes their shared unconventional fashion choices. "I love everything ugly," she says. "I don't try to dress nicely. I've tried, and it never really worked out well." In her videos, Lee often wears anything from her hoods over her head ("I
adore
hoodies," she says) to her shirts tucked into her pants to her bright and gaudy designs. Just a few offerings in her hodgepodge of unconventional outfits are a
striped blue collared shirt tucked into a pair of banana-print pants
, a
pink dress over a burberry print shirt
, and a
pink tank top—with two parrots printed on it for good measure—paired with orange shorts
(fans joked that she looked like Dora the Explorer).
"My mom always teases me that I dress like a 5 year old," she says, smiling.
While Lee has embraced her inner goofiness, she also is just as likely to confront her personal conflict. On the call, I'm struck by her depth and duality; she's humble yet self-assured, playful with her jokes yet serious in her introspection.
"Everything you see on Instagram, on my social media, on YouTube—everywhere—is me, but also there's a
lot
going on in my head," she says. "I overthink, and I guess that's kind of the heart of my personality." Channeling this, she recently started an informal podcast—perhaps more a spoken landing place for her thoughts—called "Overthinkers Society with Su Lee". In one recent episode titled
"Racism"
centered around the Minneapolis, Minnesota killing of George Floyd in police custody on May 25, 2020, she called for proper justice to be taken. "For people to live in fear for their lives and safety due to nothing different other than their skin colors, it means there's something clearly wrong—wrong with the state of racial inequality," she said. "It means there's something that fundamentally needs to be made right." In
another episode
, Lee shared how she's dealt with self-embarrassment being her norm; as evidenced by the comments section, listeners—most of whom had come from "I'll Just Dance"—found themselves further relating with her.
"I have pretty bad anxiety and [it's] very refreshing to see someone come at it with genuine honesty," one
said
. "You make me like myself more," said
another
.
Where her fans find comfort in listening to her music, Lee finds a form of therapy in making it. In her songwriting process, she often begins with what's on her mind and forces herself to build around it. "I ruminate on this particular memory and emotion over and over and over again because I have to in order to finish a song," she says. "By the time I'm finished with it, I'm at a place where I've processed this memory so many times. It's like, 'I'm gonna let this go as a little beautiful thing. I can move on.'" After she mentions this, I bring up
"Winterland"
, a song in her discography that sticks out to me as particularly nostalgic; in it, she sings:
Oh, I wanna go back
I wanna go back
Back to winterland where
My heart was as white
The song, she tells me, harkens back to a childhood trip to Osaka, Japan with her family. "Everything was so magical: we played in the snow, ate good food," she recalls. "At the time, it's still a happy memory, but when things are not the same anymore with your family, it's extra sad when you look back to it. You realize how much you miss it sometimes."
Expressing a variety of personal stories like that family trip, Lee says, is at the core of her philosophy as a musician; just like her clothes or her dancing, her subject matter isn't bound to convention. "I don't know if I'm the only one feeling like this, but I think it's really bizarre that like 80, 90 percent of the music that's out there is basically about relationships and love," she says. "We feel so much more than that." This range of emotions and experiences is already clear in her songs: late coffee-fueled nights in
"Tired"
; persistent insecurities in
"Feel a Little Ugly Today"
; showing one's true self in
"Shining"
(which also happens to be her first track written in Korean).
"Humanity and being human," she says, "is about being confused at times and not knowing what the fuck we're doing."
---
---
SU LEE'S ROOM
is, by her estimation, about the size of a small bathroom. "I've got this futon thing—mattress—that I have to fold literally every time I have to use my desk," she says, laughing. Her area of rest as well as her area of work, this undersized box room is entirely where she writes her lyrics in notebooks, where she produces her songs in Ableton Live, where she edits her music videos in Adobe Premiere Pro.
She calls her genre of music "pop music on speed", explaining that she came up with the term because she wanted a general category yet was wary of pigeonholing herself into a specific classification. Elements of lo-fi ("you expect it to have glitches here and there," she says) and modern pop ("you expect there to be refined vocal processing, or it's really sleek or well produced") may show up in her songs, but they aren't all-encompassing. "It's everything you can expect from indie pop," she says of her sound. "It's more hyped, more exaggerated, and more experimental."
In addition to her original songs, Lee has consistently posted song covers to her YouTube channel; these renditions, which include
"I'm Still Standing"
by Elton John and
"Everything I Wanted"
by Billie Eilish, offer some insight into her musical inspirations. I ask her in particular about Joji, a successful Japanese musician under the label 88Rising; after all, she's covered his work six times (and likely counting), and she's mentioned several times online that he was a major factor in her decision to pursue music. "Just the rawness of the sound—that's what really hooked me into it more than anything," she says. "
'Attention'
, for instance. That song is just, like, super over-compressed, and some parts are super disoriented—but also, it's just amazing: the words he mumbles to himself, the complete rawness." However, it wasn't the moment she first listened to Joji—via his 2018 double-Platinum hit
"Slow Dancing in the Dark"
, as suggested by a friend—when she decided on her new career path, Lee tells me. Rather, his work was more like the last piece of the puzzle that was her confidence level.
"Listening to Joji's stuff, it was like, 'I don't have to be perfect, and it can still be dope music,'" she says.
Equipped with an outlook completely distinct from her classical music days of pursuing perfection, Lee started to rapidly churn out songs to instead chase progress—and, according to her fans, she's succeeding in making "dope music". During a YouTube livestream listening party of her recent EP,
Shining
, Lee for the first time had a chance to chat live with her followers. "Someone commented that my songs didn't cure his cancer, but it did make his day a little better," she says, letting a beat pass as she lets it sink in again. "It means so much that my music has really helped people get through some difficult times."
By all indications, such positive comments aren't going away; rather, they're becoming more and more plentiful ever since the day "I'll Just Dance" blew up. "I'm not gonna lie; I love getting likes, I love getting comments. I love it," she tells me. "I think as artists, it's so easy to get riled up in that idea that it's just numbers—like the more numbers, the better. It's toxic." And yet, just as she did when her views were in the hundreds as opposed to the hundreds of thousands, Lee is serious about fan interaction; a cursory look at any of her comment sections will assuredly reveal a sea of her energetic, emoji-filled replies. "I always try to touch base and always remind myself that it's human beings," she says. "I'm interacting with human beings—with living people—who actually listen to my music."
With her fanbase growing with every new song, so are their hopes. Some listeners are already wishing for her to get huge, to sign with a label, to perform on stage for her early supporters and new fans alike; others—mostly jokingly—mourn that their diamond in the rough is about to hit the mainstream. I ask her where she personally would like to get to, especially considering the lofty expectations being thrown her way all of a sudden.
"Bringing my artist presence to a place that's bigger than this room," she says, also noting that there's still a healthy amount of uncertainty and a lack of direct income to truly call her career established yet. While she plans to keep the momentum going as a bedroom musician, she'd be remiss to call it her limit. "I don't think it's in alignment with my bigger vision which is to just represent being myself: owning the awkward, owning whatever that I've always felt a little insecure about," she says. "With that core philosophy and vision in mind, I do want to explore different ways of expressing that and giving value to people."
The ideas—she's an overthinker, after all—are already flying around as fast as the text overlays in her videos. "That can mean world tours. That can also mean making really fun merchandise for people to just kind of wear as a statement. Or, I don't know, I could be in a feature film: like,
Napoleon Dynamite
, the Asian version," she says, laughing. "I want to eventually explore ways that I can spread this message of owning myself in ways that's much bigger than just music."
But until then, Su Lee will be in her box room with her mattress rolled up, with her closet of bright clothes, with her orange sock-wrapped microphone. When the music starts, she'll start to hum. Then, she'll sing. And finally, she'll just dance.
---
Su Lee can be found on YouTube, Spotify, Instagram, and Twitter.
---
Tremaine Eto owns and writes for Stuff in LA. For everything from collabarations to just a chat, you can e-mail him at admin@stuffinla.com.
---
More Stuff in LA
A List of Painted Walls and Murals in LA
TV celebrity chef
Jordan Andino
is here to flip your world
Navigating the
Brand New Waters:
The Story of
Sobae (소베)
Related
---
---