---
A little casual neighborhood golf in a nice little Beverly Hills park.
---
By Golfing Grey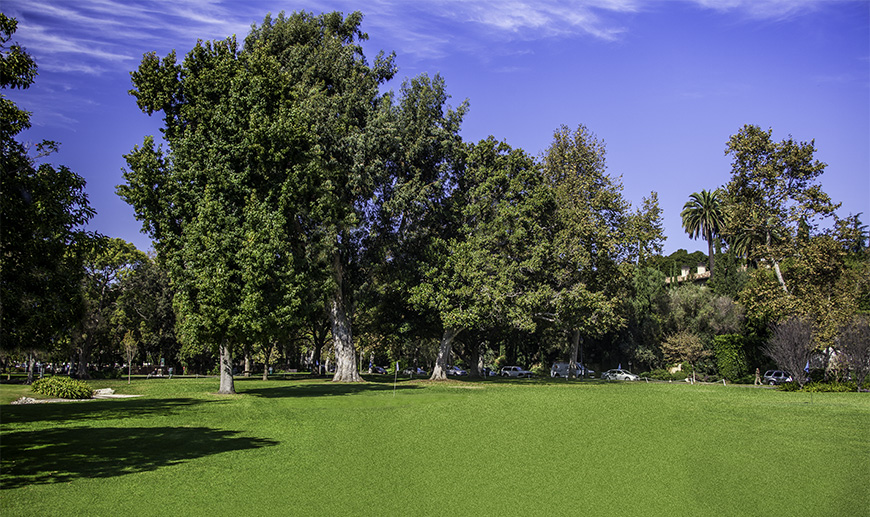 Armand Hammer, an infamous entrepreneur, has his name all over Los Angeles, and it so happens he has his own "golf course" in Holmby Park.
I really love this little hidden gem in a nice little Beverly Hills neighborhood in West LA -- the Armand Hammer Golf Course.
It's a golf course by name, but it isn't one of those huge and colossal 18-hole courses or even the smaller 9-hole par 3 courses. It is actually 18 holes, but the holes are all very very small. I'm talking probably 50 yards is the longest hole here. For most people, that's probably just a gap wedge or a sand wedge--I usually bring those two along with a putter. For this reason, it's absolutely perfect for beginners or for experienced players working on their short game.
---
---
That said, it's a really cool concept. All the holes fairly straight away and thus will take a pretty precise chip shot to land on the tiny greens here. Yes, there are greens, and yes, there are holes with a pin in them. It's interesting because there aren't necessarily really fairways, per se; it's more like greens and tee areas with the suggestion of fairways.
The greens, by the way, are not finely mowed, so when you putt it's really kind of like a thicker and slightly shaggy rug with some leaves across it. It IS thinner than the fairway grass, though, so we'll give 'em that. The greens sort of remind me of a cheap indoor putting mat in that there may be random creases and bumps.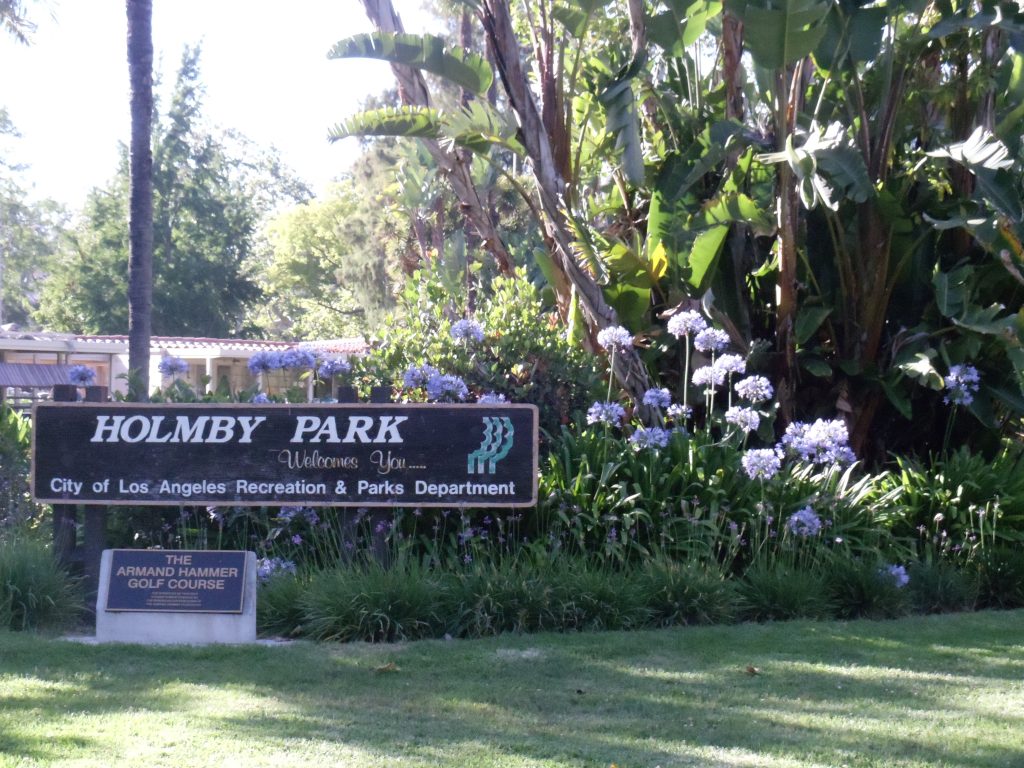 ---
---
We should note that there is a tiny little booth that serves as the clubhouse (honestly, it's more of a little hut that an employee stays in so that you can pay them). There, in theory, they charge for you to play. They also have clubs that you can rent. The thing is, the times I have been here, that clubhouse has never been open. I've just always just brought my own clubs and balls and been able to play around.
Of course, if the booth IS open, you should pay, but if it isn't, then there are definitely a few folks who are playing.
It's kind of weird. Again, don't play without paying if someone is there. That would not be pleasant for either of you. The green fee to play is only $5 which is honestly pretty nice and affordable for what you get.
Basically, you don't have to go in the order of the holes here if no one is around; just kinda camp at one or move around between a few once you get bored. It's best to bring a bunch of balls and practice a little, but you could definitely keep score if you wanted to. I haven't been here when there were a decent number of people playing and there was more impetus to stay in the order of the holes, but if there are, I would certainly recommend you do that so as to keep proper ettiquette.
If you wanted to work on your putting specifically, you're in luck! There are separate free putting greens here with a bunch of holes in 'em, and the grass is actually cut like a putting green! It's definitely a really good option to work on your lags or your gimmes, but keep in mind that the greens aren't stupendously large. I've putted on them before, and while they're decent, I wouldn't travel a long way just to putt on them.
Another thing about Armand Hammer Golf Course is that people do like to walk their dogs here and just kinda take strolls around. I would actually say that's probably way more common than seeing any golfers here.
Some people even like to have picnics here or little gatherings to just shoot the breeze. It's totally cool since this is a great place to do so, but keep that in mind before you shank a ball their way. I mean, technically, they should be aware that they are in a place that people are kind of playing golf in a sense, but still. Like I said, it still feels like golfers are the minority in this park.
Also, there is a little bocce ball court here that people play on here, which is actually pretty cool. It's called the Holmby Park Lawn Bowling Club, and they claim to be the only lawn bowling club operating in the City of Los Angeles. In my limited research, that's essentially true. Apparently, even Walt Disney himself was once a member. Free lessons and equipment are available, but you'd have to visit and ask them if they're around when that'd be. They seem like a nice enough bunch, though.
So there you have it! A little jewel of West LA, Armand Hammer Golf Course is seriously one of my favorite places to relax. While the golf is nowhere near intense here, I'm all for varying ranges of golf courses to really introduce people to the game.
---
---