Santa pictures are definitely a thing with kids, and it's time to start figuring out where you're going to go to get yours done.
Here at Stuff in LA, we've compiled a list of places in the greater Los Angeles area for you to get those precious memories captured with real-life Santa Claus.
We'll be adding more and more to this article as we get more information as to where Santa will be next. After all, he's a really busy guy with the whole world to cover!
Without further ado, let's just jump right in.
Holiday Road (Calabasas)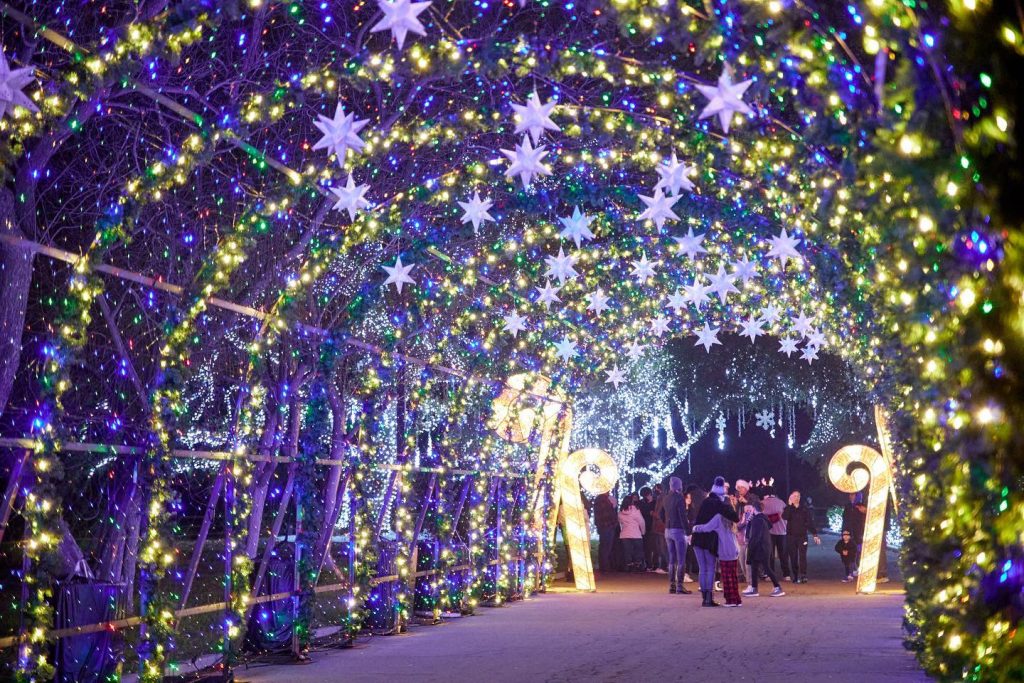 We wrote an article on Holiday Road here; it's essentially a walking trail with tons of holiday Christmas lights with various displays, activities, food, and more. It's honestly pretty neat of an idea worth checking out.
Santa Claus will be there, but only on select dates since he has commitments at so many other places!
He'll be there 12/1-12/3, 12/9-12/10, 12/16-12/17, and 12/22-12/24.
You can get tickets to enter Holiday Road and enjoy all the displays as well as get your free visit with Santa, so this honestly isn't bad value at all.
>> Check out our full article on Holiday Road here <<
---
---
---
---
---
---
Santa Monica Place (Santa Monica)
Santa photos will be available at Santa Monica Place, which is a neat shopping center in Downtown Santa Monica.
Santa will be in a Santa House in Center Plaza starting from November 19th.
Visits with Santa here are free. Photo packages will be available for purchase.
To meet Santa here, follow these instructions straight from Santa Monica Place's website:
Schedule Your Spot to Meet the Big Guy
Pre-Booking your visit is recommended to help reduce wait time and it's easy:
Pre-book now and received a FREE personalized call from Santa powered by the Portable North Pole. All guests who pre-book and purchase a photo package get a free, personalized video from the North Pole after the visit.
Show up at your designated time.
Share your wish list with Santa and his helpers.
Make a lasting memory and get your photo taken with Santa.
---
---
Santa's Schedule and Hours
November 19 – December 23:
Mon – Sat: 11pm-7pm (Break 2pm-3pm; 5pm-5:30pm)
Sun: 12pm-6pm (Break 2:30pm-3pm)
November 24:
Closed
December 24 (Christmas Eve):
10am-4pm (Break 1pm-2pm)
---
---
---
---
Westfield Mall (Century City)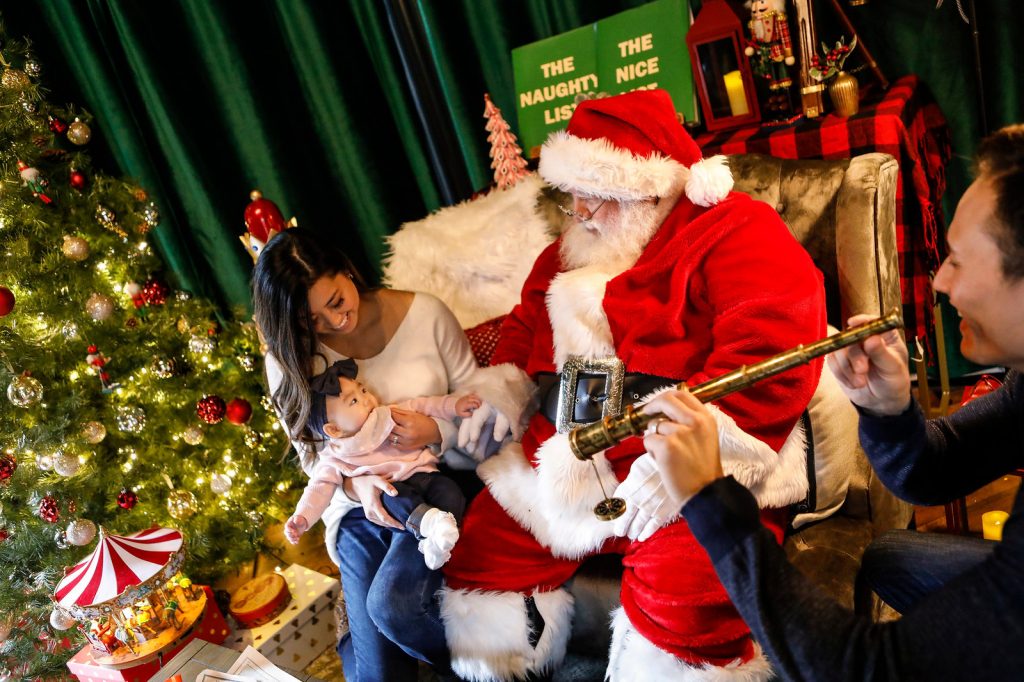 Santa will be at Westfield Century City starting on November 25 until December 24.
This is what Westfield has to say about it:
Embark on a journey to the North Pole where you'll visit with Santa in his bungalow and Mrs. Claus in her bakeshop, receive several self-serve photo opps & more.

Upon arrival, and after checking-in with Santa's helper, you will journey into Santa's backyard, and help him plan out his big trip using the Navigation Station. Spin three big wheels to find out when Santa will be lifting off and where he will be headed first to deliver gifts around the world on Christmas Eve!

Then, step-up to Santa's Carriage where he'll be going all around the world with his reindeer. Check out his amazing, traveling machine and snap some photos before he takes flight.  

Next, visit Mrs. Claus in her bakery and peer into the windows to see what goodies she is cooking up for everyone on the nice list! Feel free to take a selfie/ photo of Mrs. Claus in her Bakery window. Don't worry, we have a sweet treat just for you if you've made Santa's nice list, which you'll receive on your departure.   

Mrs. Claus will then direct you to enter Santa's Bungalow, where you will have a private, one-on-one session with Santa in his living room. Share your wish list, see if you made the nice list, and take photos with Santa amidst a cozy and festive atmosphere filled with Santa's favorite things.

Remember the Navigation Station? Don't forget to let Santa know where he's headed first on Christmas Eve before you leave the Bungalow! There are plenty of opportunities to take additional selfies and inside of the Bungalow, as well as a photo booth that will take a digital photo of your experience. 

As you depart the experience, be sure to take a sweet treat from Santa's helper, straight from Mrs. Claus' bakery, and a postcard that you can mail off at Santa's Post Office just around the bend in The Holiday Market.



Westfield Century City
Here's more information from Westfield Century City:
Your Ticket Includes:
10-minute private experience
Up to 6 attendees per single ticket. This includes children. No exceptions.
Interactive touchpoints at The Navigation Station and Santa's Carriage
Meet and Greet with Mrs. Claus at her Bakery
Private access into Santa's Bungalow
Multiple self-serve photo moments, as well as digital photo booth for Santa photo. Picture will be sent via text to you after your session
Postcard to make out and mail to Santa at the Post Office inside the Holiday Market
Complimentary sweet treat from Mrs. Claus
Location: The Atrium, Level 1 between Nordstrom and Bloomingdale's.
IMPORTANT: Group reservations are available every 10 minutes exclusively through AnyRoad and customers must pre-purchase their tickets online (this allows for a managed line and less wait time). Please check-in for your appointment 10 minutes prior to your booking time to ensure timely appointments per party and schedule.
What To Expect During Your Visit:
Ticket purchaser must be age 18+ to sign the waiver on behalf of any attendees under age 18.
Reservations are limited to up to 6 guests MAXIMUM per party. This includes children of any age.
Please arrive 10-minutes prior to your reservation and allow ample time for parking and getting to the Bungalow. We will do our best to accommodate latecomers however guests who arrive more than 15 minutes late may need to be rescheduled, pending availability.
Restrooms are available for public use on Level 1 near Apple Store.
While we are a pet-friendly destination, no animals will be allowed into the admission area, except for Pet Days on December 1 and 8.
No professional photography equipment allowed including camera stands or lighting equipment
Tickets start at $55. You can check out the dates, times, and then eventually book your tickets here.
---
---
---
---
The Grove (Los Angeles)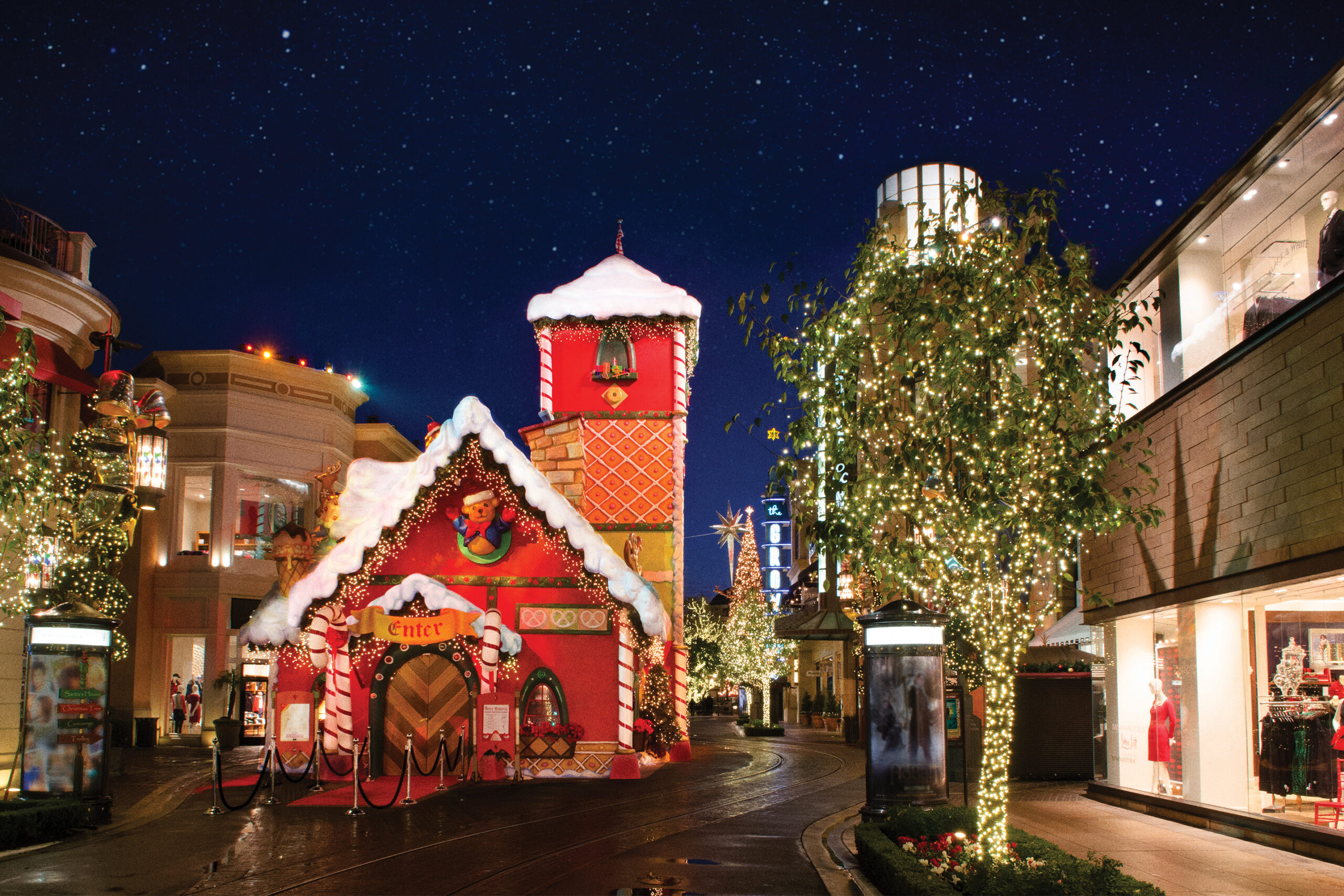 The Grove is a really nice shopping center where you can walk around outside.
Santa will be visiting there as he does most years. This year, he'll stop by from November 21 to December 24.
Here's what The Grove has to say:
Make the season extra merry and bright with a visit to Santa's Workshop!

Come celebrate the holidays at our winter wonderland, share your Christmas wishlist with Santa himself, and take home a keepsake photo.

Located on First Street near Barnes & Noble.
What are the package options for here? Well, there are three of them, and below is what you get with each!
WONDERLAND | $100 | 6 POSES WITH 5×7 PRINTS, DIGITAL ALBUM OF ALL IMAGES & VIDEO, 2 ORNAMENTS, AND 1 PARKING VALIDATION
VERY MERRY | $75 | 5 POSES WITH 5×7 PRINTS, DIGITAL ALBUM OF ALL IMAGES & VIDEO, AND 1 ORNAMENT
HOLLY JOLLY | $50 | DIGITAL ALBUM OF ALL IMAGES & VIDEO & 1 MAGNETIC FRAME
To make your reservation, go to this page.
---
---
---
---