---
Open air flea market / swap meet in north Torrance (and basically south Gardena) with vintage used and new goods.
---
By Shopping Syndra
If you haven't heard of the Roadium, you're missing out.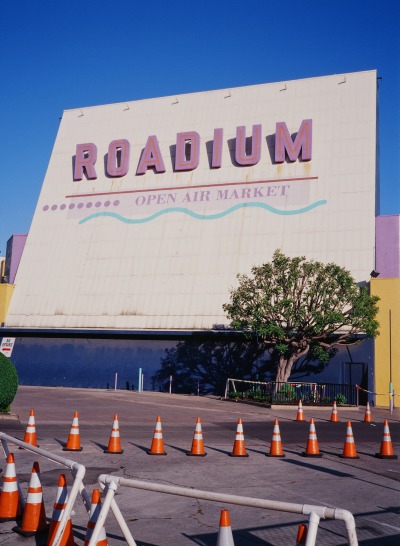 Do you like deals? I absolutely love deals, and that's what really appeals to me about the Roadium Open Air Market.
What is it? Well, it's basically a flea market a.k.a. swap meet in north Torrance by El Camino College. There's a bunch of used stuff from sellers and a ton of new stuff too, and there's also some fruit vendors as well as some plant vendors.
My breakdown
Parking
This is easily the toughest part about the Roadium Open Air Market. You aren't allowed to find street parking and just walk in.
First option: you can park directly at the market, but this is rough. You have to wait in a long line (at least on weekends) just to get to the pay gates–it's $2 for one passenger and car and then $1 for each passenger beyond that–and then the parking lot itself is pretty small.
I actually paid $2 and then couldn't get parking, so my car was escorted out! Be careful of this–if you pay, you should really try hard to find parking inside because otherwise you'll get burned like me.
Second option: you can park for free at the nearby El Camino College and then take a shuttle to the market. I actually ended up doing this. It was pretty easy, and the shuttles go through super fast. The ride is like less than three minutes, so it wasn't a problem, really. The thing is that if you buy a ton or maybe like a plant or something, it might be slightly annoying lugging it on and off a crowded bus, but what can you do?
Honestly, when I go now, I'm just gonna go the shuttle route. You just have to pay the entrance fee instead of having it wrapped up in your parking fee, but that fee is gonna be around 50 cents on weekdays and $1 on weekends, which is worth not having the headache of being stuck in the line traffic and stressing out about inside parking.
Quality of shopping
The feel of the market was familiar to me because I've been to a ton of flea markets in my life. What I mean by this is that there is a great air of Mexican culture and food offerings, and a handle of Spanish is helpful (I break it out often when trying to haggle) but definitely not necessarily.
First of all, the used and vintage goods here are definitely available. Whenever I go, I look for some vintage clothes or electronics I'm interested in. Shout out to Land of Funk Vintage + Thrift for letting us embed their post here with some happy customers.
Flea markets also mean that there are a bunch of cheap stuff overall, a lot of which happens to be used but it's actually extremely common to see a bunch of new stuff, like clothes and shoes and phone cases and whatnot.
I actually think sometimes these constant vendors with new stuff lowers the quality of finds and deals you can get, but then again, I often buy new stuff from flea markets because it's actually really interesting the discounts there are on them. For instance, new brand-name shoes like Nike and Adidas were around $35 today when I went, which is pretty solid if you just want something right away for a little cheaper than MSRP.
The variety of things is impressive. Here is, for example, a booth where they can custom print stuff for you. I saw one where they can custom print souvenir license plates, too. I think I might actually stop back for a custom gift for my friends in the future.
---
---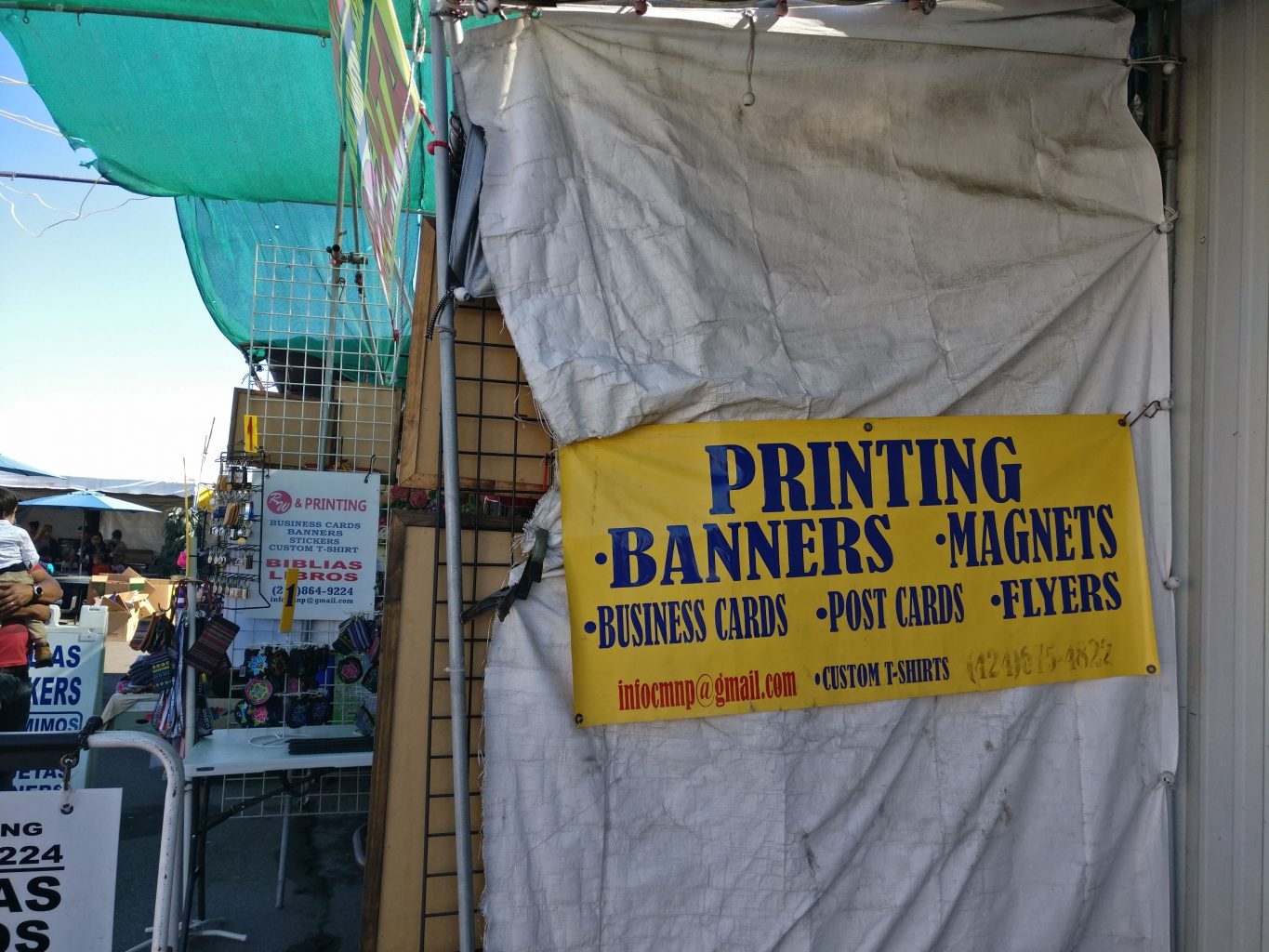 Here's one that kind of showcases a very common type of booth: absurdly cheap goods. The quality might be somewhat questionable, but you can't deny that it's inexpensive. 3 hats for $5 is solid no matter what way you look at it. I think if you have some sort of cosplay or Halloween costume idea, for instance, the Roadium is a solid, solid option if you're willing to look around a little.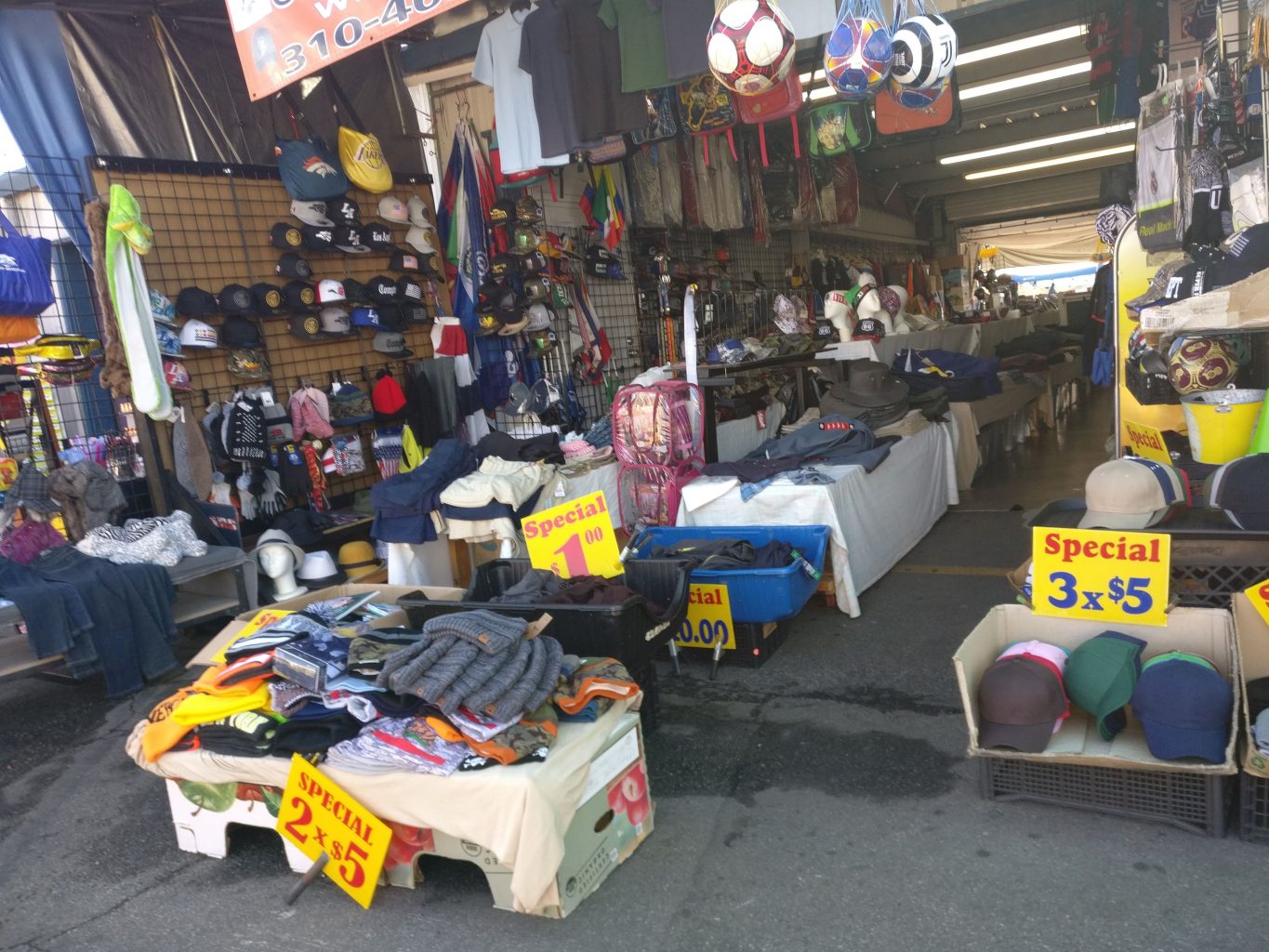 I also took this picture of a suitcase booth. I saw suitcases starting at $15! I mean, even if you go to Ross or Marshall's or TJ Maxx, you're usually looking at $50+ for suitcases. These probably aren't the best in the world, but these are the kind of deals you're looking at here.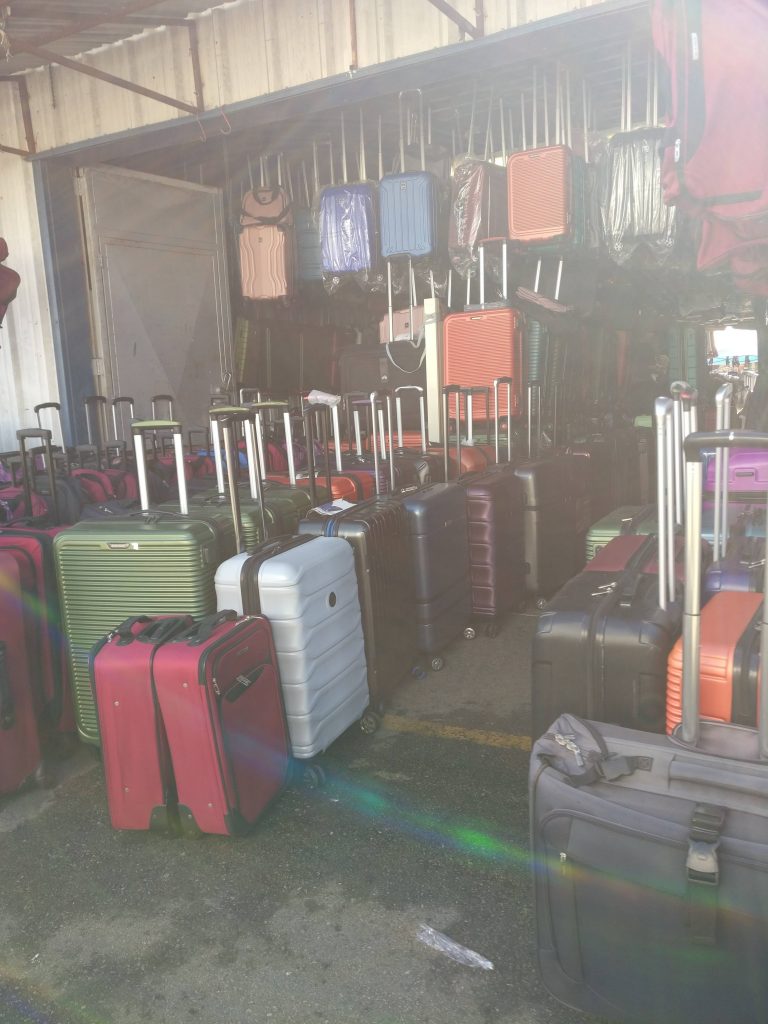 I also really thought this booth was interesting. It has a bunch of fabrics and sewing supplies. I think The Roadium is an awesome place to stop by for any D.I.Y.er in general; I know these places will often come out cheaper than other stores.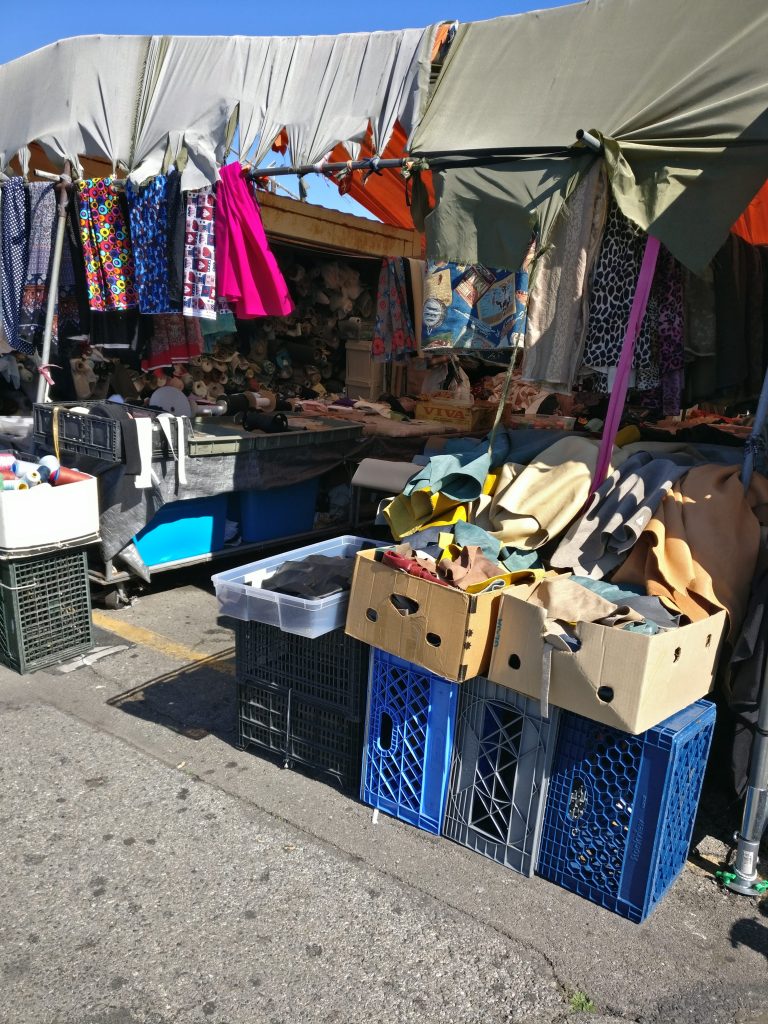 I didn't take pictures, but I also stopped by some plant booths. I will say most of the plants tended towards outdoor plants (fruit trees, flowers, etc.); there was a somewhat limited offering of indoor ones (i.e. snake plants, indoor palms, succulents). This might vary a bit, but take it for what it was. I was somewhat interested in buying an areca palm that was $12 for a medium pot, which honestly was kind of a good deal so I'm feeling some sort of regret now, haha.
What I did buy was fruit. It was like $2 a bag for grapes, 4 onions for $1, 10 limes for $1, 6 avocados for $5, and so on. These are pretty good, and the quality seemed solid. It's kind of like a farmer's market experience to a limited degree–I walked around for an hour and saw fewer than five fruit booths.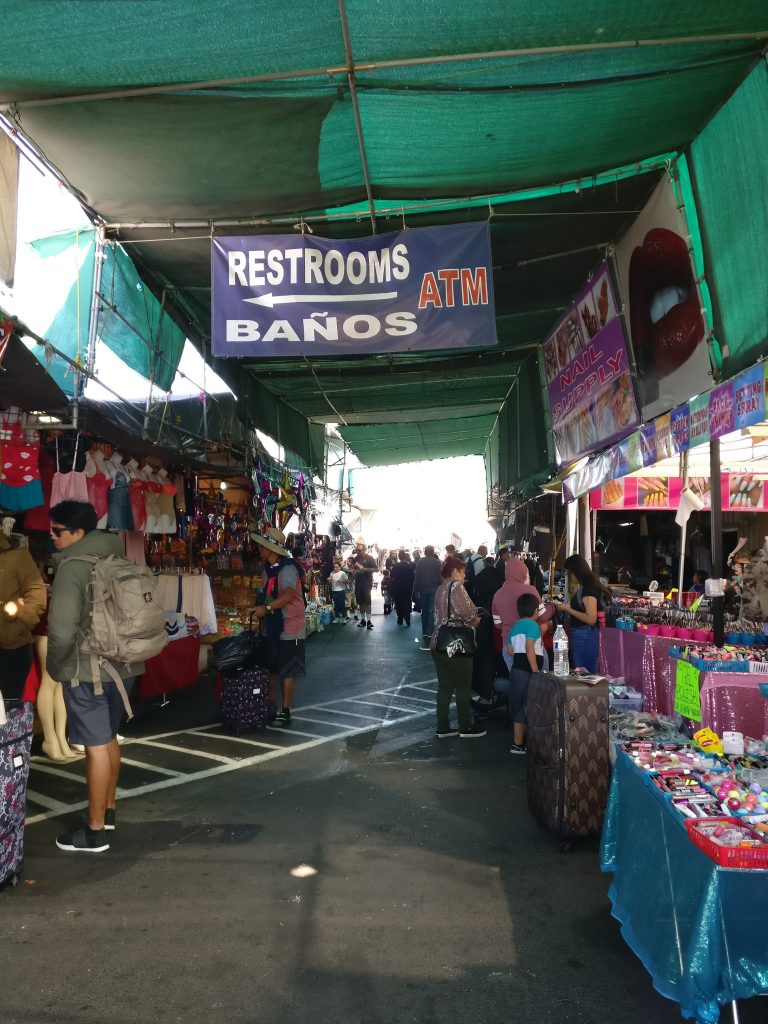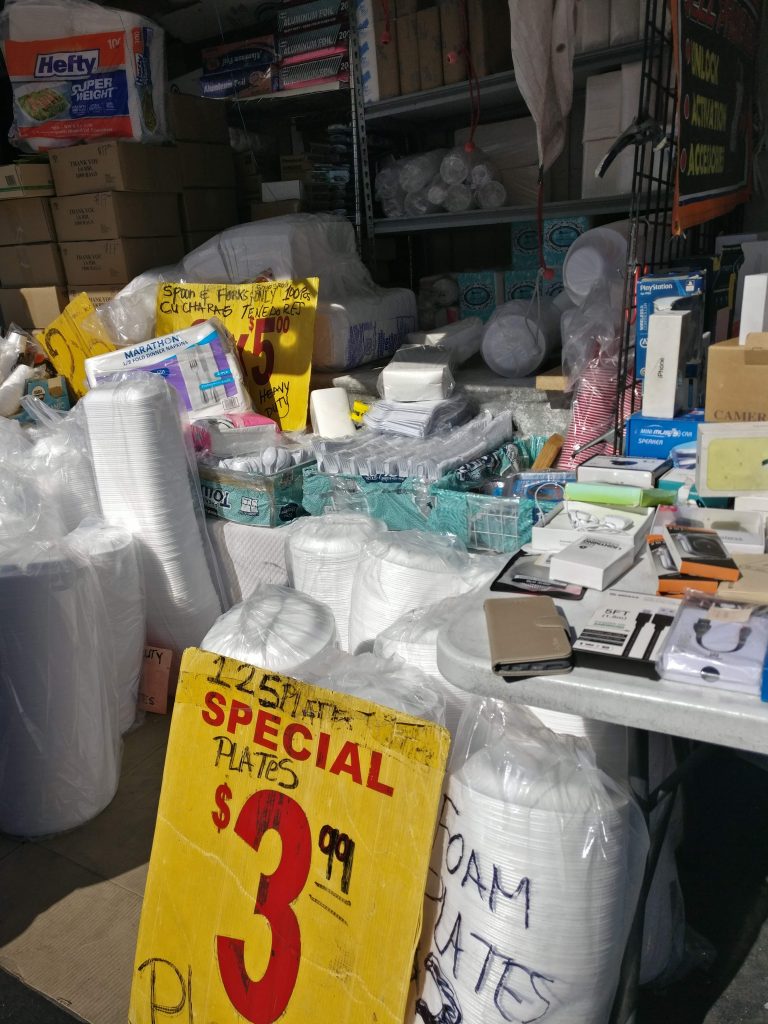 Food options
There is a little food area that had things like tacos and frescas con crema, and it seems like enough to have full meals. There are also carts with churros, aguas frescas, duros de harina (the wagon wheel chips), and more, which I had to hold myself back from. Again, feeling some regret. Looked so goooood.
My takeaway
I think the market was overall really solid. Don't expect some sort of bougie and cultivated shopping experience. I thought the mix of regular more commercialized vendors and random crud vendors was decent overall. I wish there were more fruit and plant vendors, but I'm told that the vendors vary day-to-day.
There also is a difference in crowds on weekdays and weekends; obviously, weekends are gonna be more crowded.
Overall, I'm definitely gonna return with my friends and family to go bargain-hunting and see what kind of fun things we can find. I just definitely will be sure to never try the inside parking again.
---
---
---
---