Marina Del Rey has an amazing Christmas light boat and yacht parade every year—and it's completely free. ALSO, fireworks!
WHERE: 13755 Fiji Way Marina Del Rey, CA 90292
WHAT: Boat parade, Christmas, holiday cheer, fun, family, photo op, fireworks
WHEN: December every year
HOW MUCH: Free!!
PARKING: Lots, ALSO FREE!!!!!
It's the Most Wonderful Time of the Year.
---
---
Joy to the World.
---
---
Baby It's Cold Outside.
Not sure which Christmas song to title this review since all are very fitting (had to leave out a close contender and my personal favorite, "Grandma Got Run Over by a Reindeer").
It seems to be a thing in SoCal to have a Holiday Boat Parade—Manhattan Beach and a few other locations along the coast had some that were lightly advertised, but ultimately I went with the Marina Del Rey one based on a few reviews and some pictures.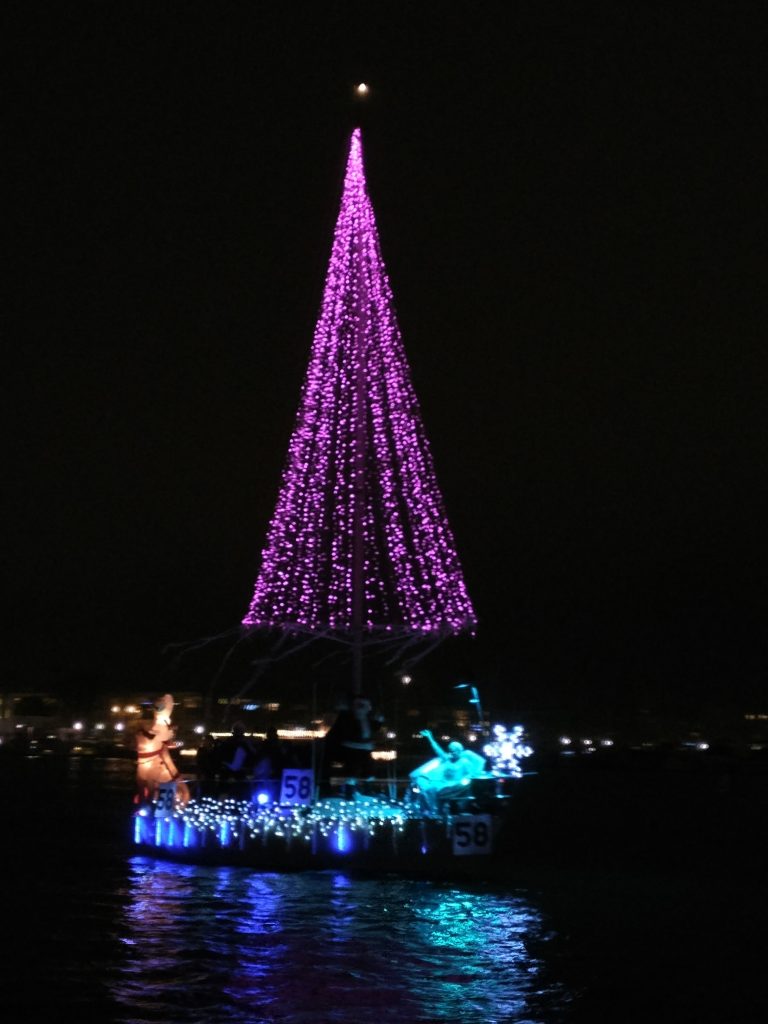 ---
---
I took this picture. The quality is amazing.
And boy, am I glad I did!
I parked in one of the little marinas--descriptive, I know, but I basically just clicked the map in Yelp and let Google Maps do the work. Lemme tell you, parking was annoying. Everyone and their shiba (this is a lie--I saw no shibas. Sigh) was there, and there are a few dead ends (great job, civil engineers! Or...whoever designs these parking lots. Actually that's mean, civil engineers do amazing work). I eventually just got lucky circling around and pulling into a spot when someone seemed to leave.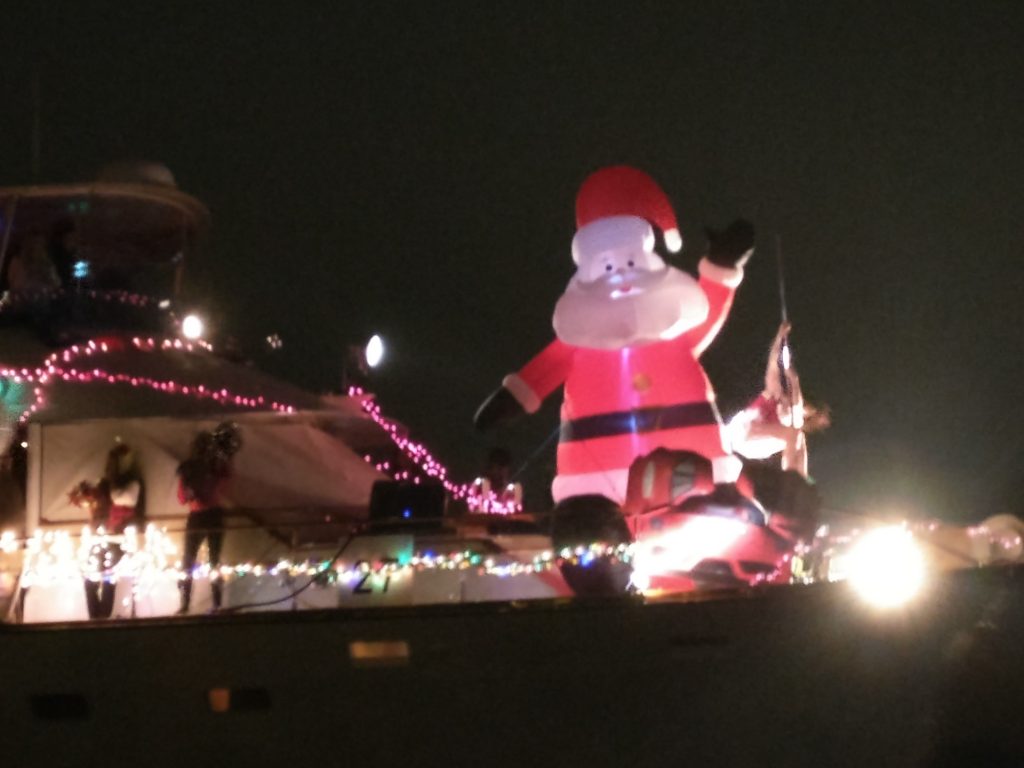 Man, this boat was so extra.

However, it was pretty easy to find out when and where the boat parade would be: just go to the water! There were tons of people along the fence line waiting for the festivities to start. Deciding to risk our lives and our shoes (let's just say there was a good amount of seagull deposits), I actually walked down onto a pier and watched the action.
The fireworks started on the hour as advertised. However, not as advertised or as predicted, they were basically 98% covered the by low clouds that night. It was like SORT OF cool visually to see the clouds illuminate in green and red and whatnot, but then again, no one could basically see any fireworks at all. Oh well.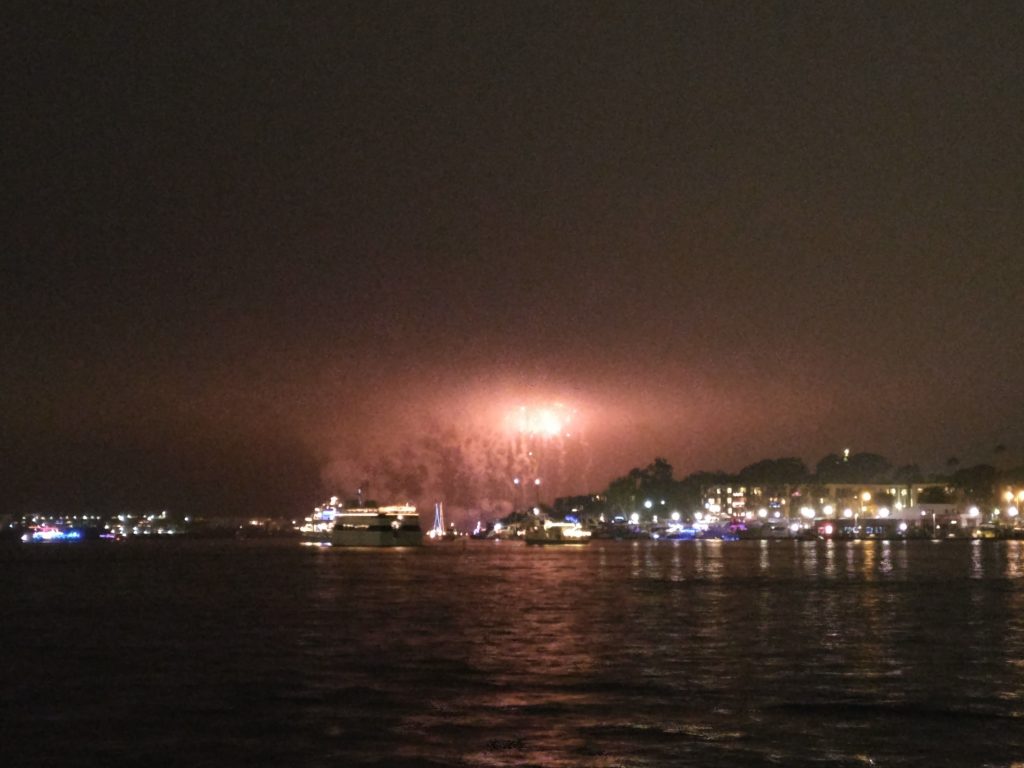 Yeah, this is all we saw.
The boats took like 20 minutes to finally circle around the marina to our side. So, basically, try your best to stay warm or have some good "Would You Rather?" questions to pass the time. But when the boats finally do come, it ranges from "that one really could have tried harder" to "oh that's nice" to "they have too much time and money on their hands."
We saw Minions in Santa costumes (why), huge trees on boats, and even a pole dancer (I'm sure parents were happy with Marina Del Rey Yacht Club for that one).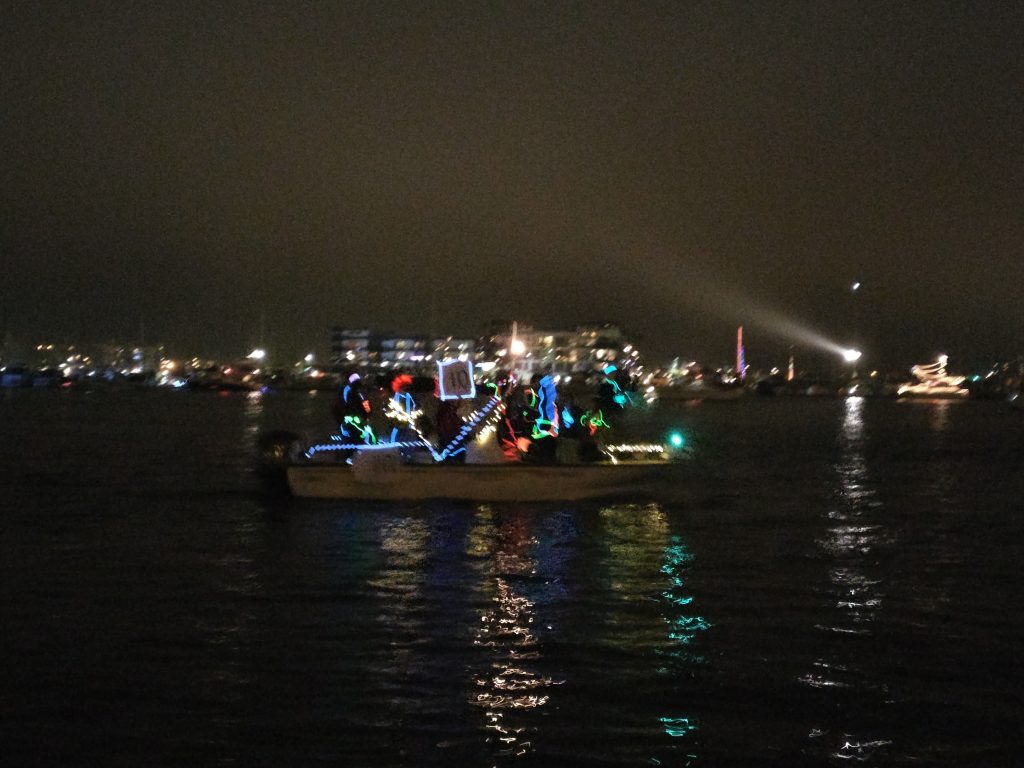 I could link to the pole dancer, but this website is apparently for all ages.

I was happy since it was free parking and a free show--who knew that All I Want For Christmas is...not you, but this show?
---
---