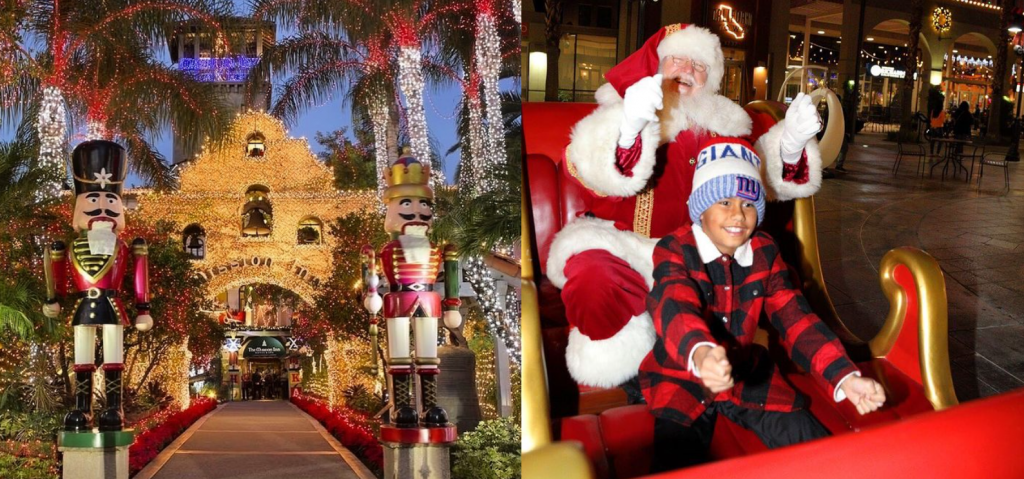 A Riverside classic, the 29th Annual Festival of Lights in 2021 is going to be a great time out to enjoy some holiday spirit.
---
---
What is it?
The 2021 Mission Inn Festival of Lights will return with lighting displays and décor along Main Street. The event will open as a self-guided holiday lighting and décor experience. While we encourage individuals to take in the lights of the Mission Inn Hotel and Spa and the downtown light displays produced by the City, we encourage you to patronize local businesses and restaurants while following all current State and County mandated protocols.

Festival of Lights
The Festival of Lights features the traditional lights and decorations at the Mission Inn Hotel & Spa as well as city-sponsored holiday décor in the surrounding areas.
This includes holiday-themed selfie stations, holiday trees, large ornaments, a sleigh, bows and garland on lights and bridges, and an assortment of holiday light displays.
While there typically is a formal switch-on ceremony with a countdown and fireworks, this year's celebration will look a little different.
"A generation of Riversiders has grown up with the Festival of Lights as a much-loved tradition," Mayor Patricia Lock Dawson said in a press release. "We greatly appreciate our partners at the Mission Inn Hotel & Spa for their years of investment in this tradition, and we eagerly await the return of the switch-on ceremony in 2022. Until then, this 2021 season will still provide many of the signature lights and decorations that have come to attract locals and visitors alike."
The atmosphere and lights still will go on, which is pretty cool for those who love the holidays in the city of Riverside.
---
---
Where is it?
The address is as follows:
3700 Mission Inn Avenue, Riverside, CA 92501
Essentially, you can just navigate to Downtown Riverside.
---
How long is it going on for?
It's going on from December 3 until December 31, so it won't be here too long.
---
How much is it?
It's free! Just show up and enjoy the atmosphere in Riverside.
---
Is it going to be different this year because of COVID-19?
Short story is that it'll be different than in year's past: because of restrictions imposed as a result of the pandemic, many features of the event that visitors have experienced, including live entertainment, attractions, food vendors and horse-drawn carriages, will not be there this year. Remember that also in this article we mentioned that the switch-on ceremony won't be happening.
However, there's still the holiday light displays, selfie stations, and more, so we think it's still worth checking out.
---
---