---
Essentially a nice upscale outdoor mall where it's just as fun to walk around as it is to shop.
---
By Shopping Syndra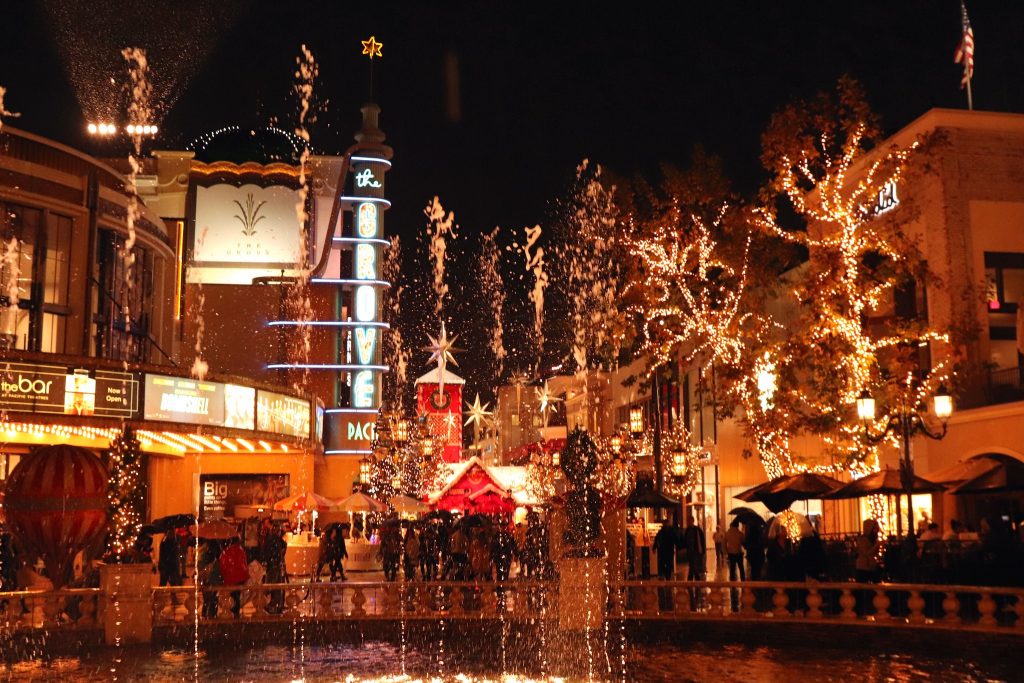 If you're gonna show friends around LA, you got to bring them to The Grove.
It's one of my favorite places to go just because it's kind of bougie but also not too much since there are a lot of normal people and tourists and whatnot, but also not too many tourists! Does that make sense? Like, it makes me tired going here, but also not like exhausted where I begin to hate LA.
Breakdown
Parking
Don't think too much about this one; you can park in the parking structure here. Any other options are just straight-up inferior. Don't even think about parking in the surrounding strip mall areas; I mean, you can, but you're not really supposed to, and there are signs saying that you can get fined or towed or something. No thank you. I'll park in the structure and walk less.
Because I am an awesome writer for this site, I looked up the parking fees for you.
---
---
First Hour Free

$4 from 1 hour to 1 1/2 hours, and $1 increase every 30 minutes to 3 hours

$1 each 15 minutes thereafter

$24 daily maximum
Honestly, that's not horrendous for LA. I think it's actually somewhat fair. 
Shopping options
Oh hey, since I was already on the The Grove's site, I can link you to the full list of stores. Check them out here.
I will say that the highlights for me, in no particular order, are The American Girl Place (you can buy those dolls for your kids and stuff), Athleta, Brandy Melville, J. Crew, WHAT LULULEMON IS COMING SOON? I GUESS IT IS, I HAD NO IDEA UNTIL NOW, Nike (although honestly it's not an outlet sooooo I've never bought anything here since it's all MSRP), and Topshop.
---
---
 I also like Dylan's Candy Bar because it truly feels like I am kid in a candy store again. I'm not sure why this deserves its own paragraph, but honestly I'm writing this after drinking a ton of boba and I'm still sort of riding the buzz, so uh, okay, I'm gonna stop writing this paragraph here.
---
---
Dining options
Honestly I don't really come here to eat. But there are food options. Here's a list. I think the only thing on that list I have tried is Sprinkles Cupcakes, which are basically bougie pretty cupcakes. This is a good place to get them for sure.
I guess also Umami Burger might be good. Pressed Juicery's Juice Box might also be a fun option for some juice or some dessert. I honestly think most dining options at The Grove are slightly overpriced for my liking, but that's just me. 
Entertainment
There is a movie theater, Pacific Theaters, at The Grove. It has all the big releases in its 14 screens and is associated with Fandango, so you can buy your tickets there. They're not insanely pricey compared to other theaters, and I believe they have validation. They also often have movie posters available after you watch films, but keep in mind that's not for every one. I just thought it's a nice little bonus after the movies I've seen here. 
What else is good about The Grove?

The Grove is just honestly really pretty. The Grove is more than just a glorified mall, IMO. It's an incredibly fun and picturesque area to walk around; there's a nice fountain that serves as the central piece, and the buildings on either side create an effect that feels open but also encompassing. You truly have to walk around to feel it; in our estimation, it almost feels like Downtown Disney in that sense. I really like the architecture; it makes me feel like a million bucks when honestly in reality I am a ten dollar bill.
One of the most unique features of The Grove is the train that drives through the shopping center. It sounds dangerous, but it really isn't--it goes at a slow pace to really let riders enjoy the views around them. This is perfect for dates, elderly relatives, and kids...Mostly kids. I don't have kids, but if I did, I would totally hype up this train and then throw them on it. I'm such a good hypothetical parent.
Takeaway
The Grove is a nice area to walk around, and you can get some shopping down at whatever price point you're thinking of along the way. I recommend going every once in a while just to take in the sights and to bask in the atmosphere. 
---
---