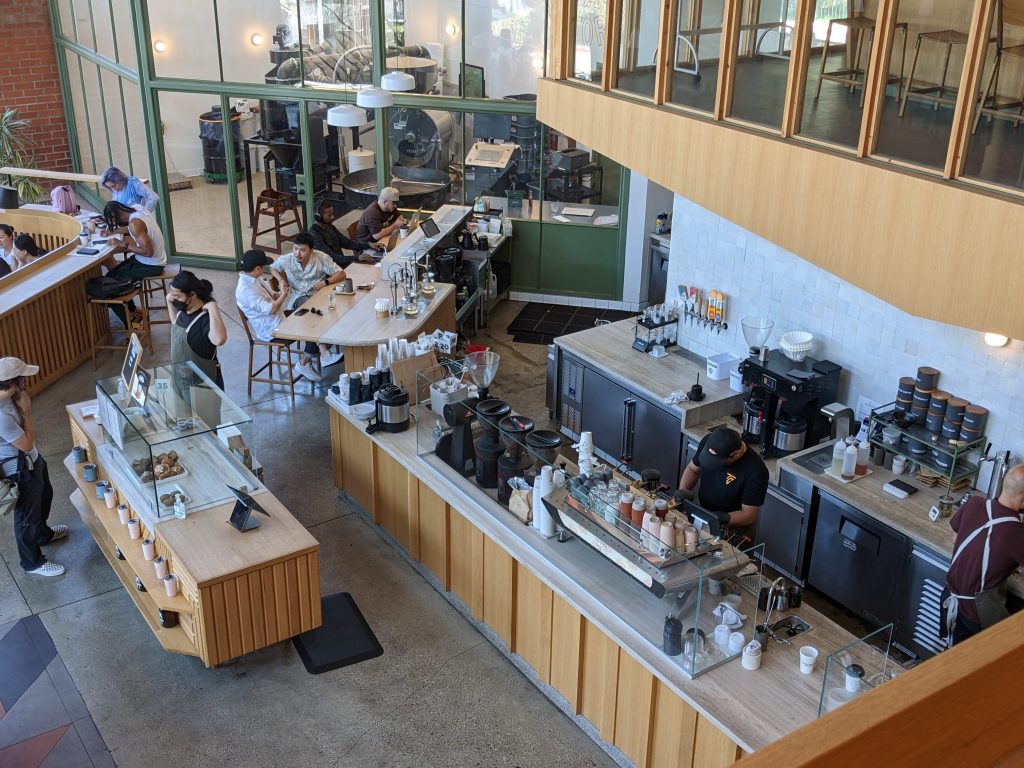 What immediately stands out about this Verve Coffee Roasters location–and there are several across Santa Cruz, Los Angeles, San Francisco, Palo Alto, and even Japan–is the incredibly airy space it's in. The modern and aesthetic interior design creates a wonderful atmosphere to be in to talk with your friends, write a literary masterpiece, or just plain people watch as you drink a nitro cold brew.
---
---
---
---
This particular location is right next to Bavel (a fantastic restaurant that we also recommend) in the Arts District and has patio seating as well as two levels inside to sit on. The bottom level has an assortment of seating including counter seats and booths, and the top level has probably around 15 seats, some of which overlook the entire bottom level.
---
---
---
---
Menu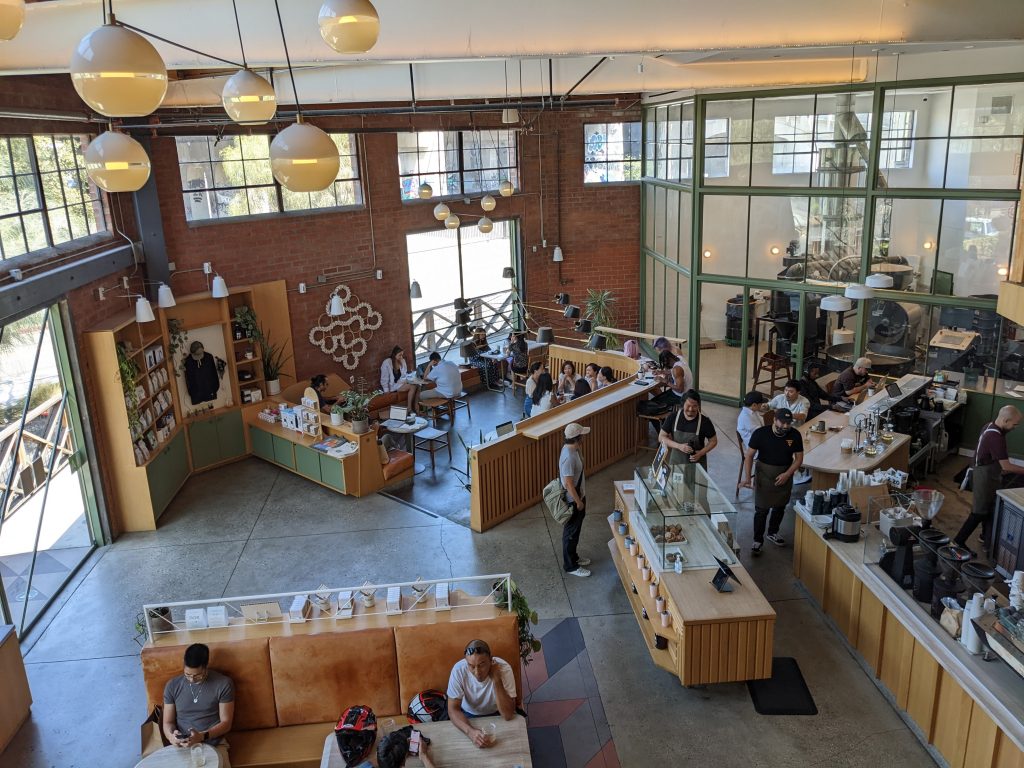 Verve has food like biscuits and jam, avocado toast (would it really be LA without it?), smoothies, acai bowls, eggs, hashbrowns, salads, breakfast sandwiches, potato hash, chilaquiles verde, breakfast burritos, chicken salad sandwiches, burgers, B.L.A.T.s, yogurts, wraps, and more.
Their bread and butter, so to speak, is their coffee. You can grab some by the cup, or you could grab something like espesso, americano, one + one, macchiato, cappucino, latte, cafe au lait, mocha, hot chocolate, chai latte, matcha latte, espresso tonic, nitro flash brew, and more.
---
---
For tea lovers, they have iced tea, jade oolong tea, bao zhong oolong tea, phoenix dancong oolong tea, hojicha green tea, jasmine pearl green tea, English breakfast black tea, and also caffeine-free tea like turmeric ginger, chamomile, peppermint, and rooibos.
Some other cold drinks they offer are jamaica cascara, better booch kombucha, coconut sugar vanilla draft latte, honey lavender draft latte, and grapefruit rosemary flash.
If you get a glass (which you can't take home; you can, however, find some goods online and in the cafe itself), they're really cool and photogenic!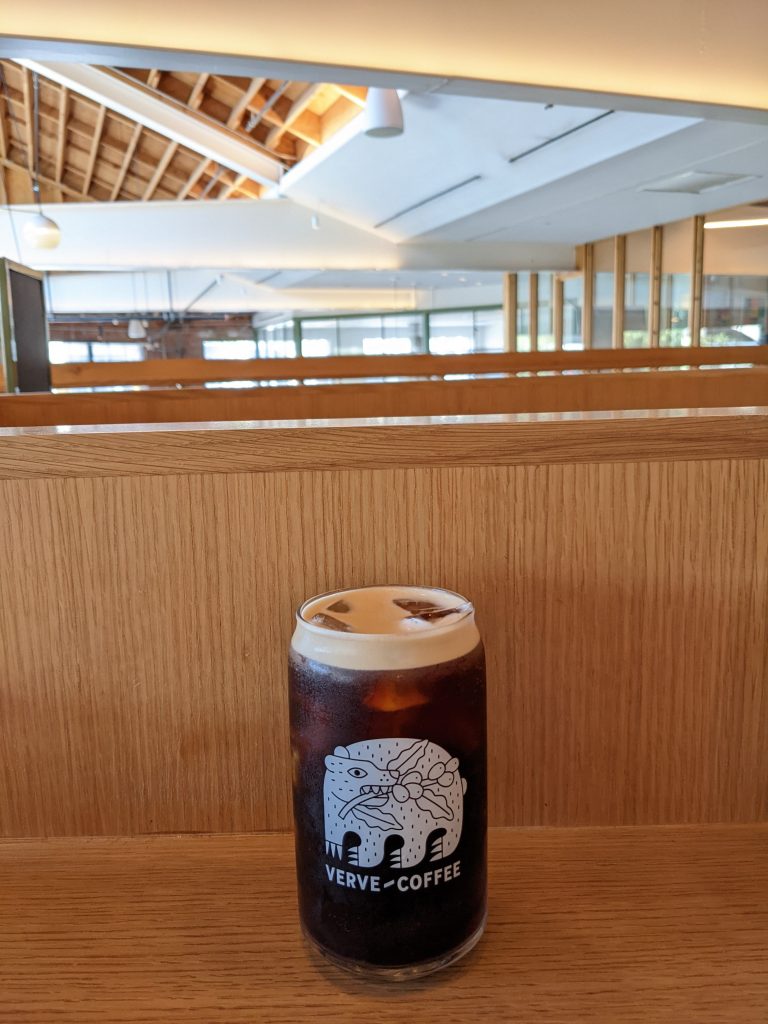 Parking
Parking is going to essentially consist of finding nearby street parking in the Arts District, which isn't terrible but will probably take some patience and possibly some skill in parallel parking. There is a lot here, but we wouldn't count on it at all.
---
---
---
---
Outlets
A major thing to note here is that there are essentially no electrical outlets for your phones or laptops, so you're going to have to rely on whatever battery you have for that.
Private area for classes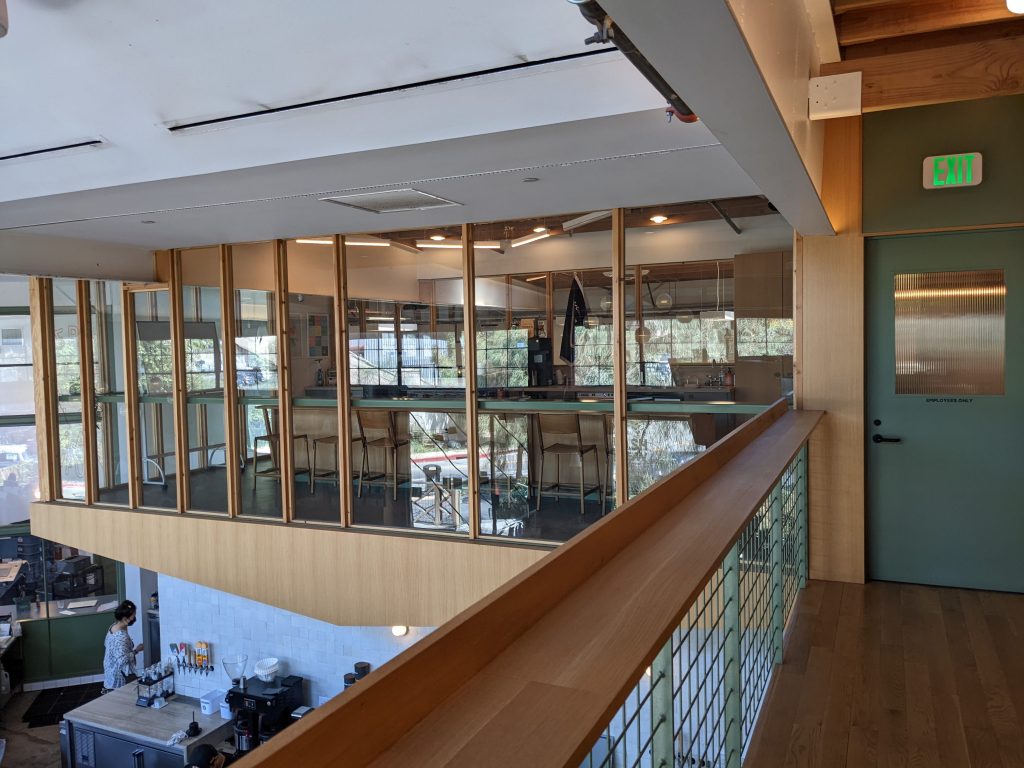 One interesting thing is that Verve seems to have a private area on the second level for classes on brewing and whatnot. We're not really sure more details, so you can try approaching the staff to learn more and see how you can get in on it.
---
---