626 Night Market has become a San Gabriel Valley and Los Angeles phenomenon since its first event in 2012; nowadays, each 3-day night market weekend event has a draw of over 100,000 attendees with over 250 food, merchandise, and craft vendors.
It's gotten to be so successful that it's not only held in its home at Santa Anita Park in Arcadia but also has had iterations at the OC Fair & Event Center in Costa Mesa and the Alameda Country Fairgrounds in Pleasanton.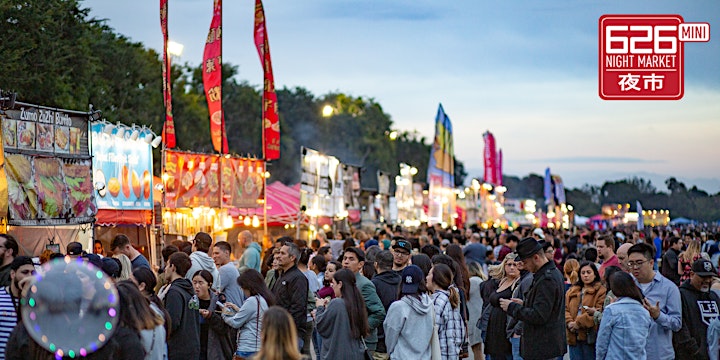 The latest flavor of 626 Night Market is of a smaller yet hopefully more peaceful variety (it sure can get crowded in the main night market event), and it'll be in Santa Monica! The event will be called 626 Night Market Mini and will be held weekends in March and April 2022. Best of all, it's free to enter!
---
---
---
---
Where
The exact location is at Lot 27 in Santa Monica. The address is:
1324 5th Street, Santa Monica, CA 90401
---
---
---
---
What
We'll let 626 Night Market describes the event in their own words:
Welcome to our new event series. We've partnered with Downtown Santa Monica to start a new series of markets beginning in late February. Similar to our flagship events that take place in the summer, with a curated list of recurring vendors to lead up to our regularly scheduled events. 

We hope to welcome new and returning food lovers from the Westside to join us. This event series will take place nearby Third Street Promenade at Lot 27 and will be free for attendees. 

With a smaller number of vendors we hope to have a more intimate and casual setting for attendees to enjoy our favorite vendors. The event will also feature an alcohol garden with limited edition cocktails. Reserve your tickets for our newest event today.  Capacity is limited.
---
---
When
626 Night Market Mini will be occurring on the following dates at the following times:
Saturday, March 26 & Sunday, March 27, 1:00 P.M. to 10:00 P.M.
Saturday, April 9 & Sunday, April 10, 1:00 P.M. to 10:00 P.M.
Saturday, April 23 & Sunday, April 24, 1:00 P.M. to 10:00 P.M
---
---
---
---
---
---