---
Some of the most notable painted walls and murals in Los Angeles for photo ops or just plain appreciation of the art.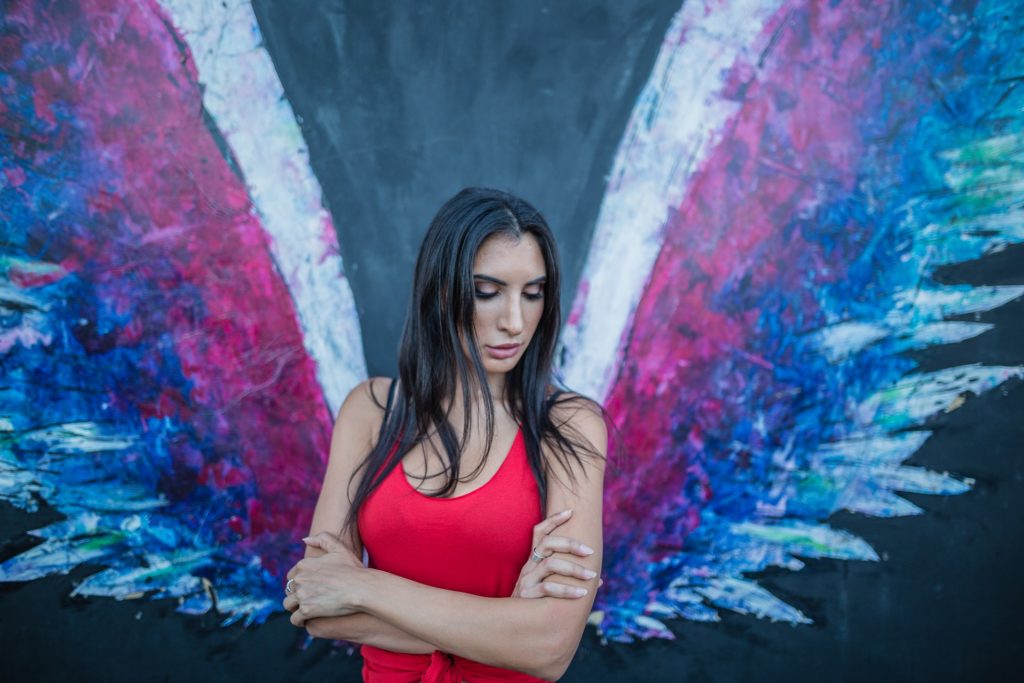 ---
---
---
These larger-than-life and eye-popping pieces have long been a marker for Los Angeles, and so we've compiled a list of some of the most notable and picture-worthy painted walls and murals of LA!
1. Pink Wall (Paul Smith)
8221 Melrose Ave., West Hollywood
If you haven't seen someone posing in front of this extremely pink painted wall, then you probably have not used the internet at any point in your lifetime. OK, that was kind of an exaggeration, but seriously—this wall is an absolute staple of Instagram, Facebook profile pics, and maybe even Coffee Meets Bagel pics!
---
[wpws id=2]
---
2. Love Wall (Curtis Kulig)
8538 Hayden Ave, Culver City, CA 90232
Nothing says "love" more than saying "love" like literally hundreds of times.
3. Polka Dot Wall (The Most Famous Artist)
The Springs, 608 Mateo St., DTLA Arts District
Polka dots are always in fashion, then out of fashion, then in fashion again. Instead of that kind of commitment, which we know millennials often struggle with, it's probably best to just come here and snap a picture.
[SEE ALSO: Delicious and Cheap Ice Cream Sandwiches: Diddy Riese Cookies]
4. Made in LA Wall
Cisco Home, 8025 Melrose Ave., West Hollywood
Contrary to popular belief, the "LA" this is referring to is not Los Angeles, but rather Louisiana.
Just kidding.
[SEE ALSO: Rodeo Drive in Beverly Hills is worth walking around]
---
---
5. Mondrian Wall
Artist & Craftsman Supply, 1660 S. La Cienega Blvd., Los Angeles
Are you into expensive art? Whether you are or you aren't, we're sure you see the artistic merits of this mural!
6. Look Into My Eyes (D-Face)
The Line Hotel, 3515 Wilshire Blvd., Koreatown
If you ever feel like all the eyes are on you, then we have the mural for you!
[wpws id=4]
7. The Angel Wings, Beverly Grove (Colette Miller)
St. Regis Wine & Liquor, 8401 W. 3rd St., Beverly Grove
OK, so for sure you've seen the Angel Wings, right? We know we made fun of the people who haven't seen the Pink Wall before, but if you haven't seen the Angel Wings before, then we guess your friends are not angels at all.
It turns out that there is not just one wall of Angel Wings, but rather many! It's part of the Global Angel Wings project created by Colette Miller in 2012 "to remind humanity that we are the angels of this Earth".
Just to give you options, we're gonna list a bunch more locations in LA.
---
---
8. The Angel Wings, Arts District
Traction & Hewitt St., DTLA, Arts District
Apparently, this was the first location of any of the Angel Wings. It features a pretty cool metal backing. By the way, while you're here, check out The Pie Hole just down the street!
9. The Angel Wings, Angel City Brewery
Angel City Brewery, 216 Alameda St, Los Angeles, CA 90012
If you wanna drink a few with your buds and also look majestic doing so, then Angel City Brewery is an oddly specific place to do that.
[SEE ALSO: Stuff to Do in Santa Monica]
10. The Angel Wings, Regent Theater
(Courtesy Gary Leonard, KCET)
Regent Theater, 446 S. Main St., DTLA
Only one in three children are angelic; the rest are just crazy!!
---
---
11. The Angel Wings, Melrose Ave.
(Courtesy Art of Colette Miller, Facebook)
7767 Melrose Ave
Melrose Avenue actually has a ton of art, murals, and fashion, so it's a great spot to go on a weekend adventure for shopping fun with friends. You should couple a visit to this wall with the Melrose Trading Post.
[wpws id=8]
12. The Angel Wings, UCLA Extension
UCLA Extension, 10995 Le Conte Avenue, Los Angeles, CA
If you're a UCLA Bruin, then the Angel Wings are only steps away (haha—please. Everyone knows "only steps away" at UCLA means that you'll be dying of exhaustion in minutes)!
13. Think About Someone You Love
Dangerbird Records, 3801 Sunset Boulevard, Los Angeles
This wall is great for spreading the love! And if you don't have anyone else to love, then, uh, we guess you can love yourself?
---
---
14. Unknown, Kobra
LGBT Youth Center & Annex, 1220 N. Highland Ave., Hollywood
Fantastic colors here reminiscent of a kaleidoscope.
15. The Great Wall of LA (Judy Baca)
12920 W. Oxnard Blvd., Valley Glen
Definitely not in the "basic" category, the Great Wall of LA is a remarkable lesson in the multicultural history that has played a part in the rise of America, California, and Los Angeles. Started in 1974, The Great Wall was created by over 400 youth and community artists.
It's over a half-mile long in the San Fernando Valley, and it serves as an amazing timeline to better understand the makeup of the country as a whole. While you can't get right up next to it to touch it—there's a fence separating you from it as well as the flood control channel it overlooks—you can walk along the pathway and snap pictures as you please.
---
---
16. California Dreaming
Chinese Laundry, 3485 La Cienega Blvd, Los Angeles
This is the sunset that we all want to see in California, and now it's semi-permanently etched into this wall! Check out those blue hues and pink fades. Beautiful.
17. Love Wall (Hearts)
Bardonna, 1601 Montana Ave, Santa Monica

Each heart represents a "like" you will receive on Instagram for posting a pic of you here! Well, except if you're like us, since we only have one heart because the only like was from ourselves 🙁
18. You Are a Goddess in a City of Angels
The Bloc LA, 700 S Flower St, Los Angeles

It doesn't matter who you are: you too can be a goddess in LA.
---
---
19. Saskia
Vidiots, 302 Pico Blvd., Santa Monica
Awesome teal and yellow brick wall! We are sure there is some sort of symbolism here.
...And many more
LA is huge, and new murals (including LeBron James ones that can't seem to avoid defacing) are popping up virtually every day. We'll be adding more to this list as time goes on, so check back!
[SEE ALSO: The City Lights and Views of Griffith Observatory]
---
---