Apple is known for their computers, phones, and aesthetics, and you'll be able to find the intersection of these at Apple Tower Theatre in Downtown LA.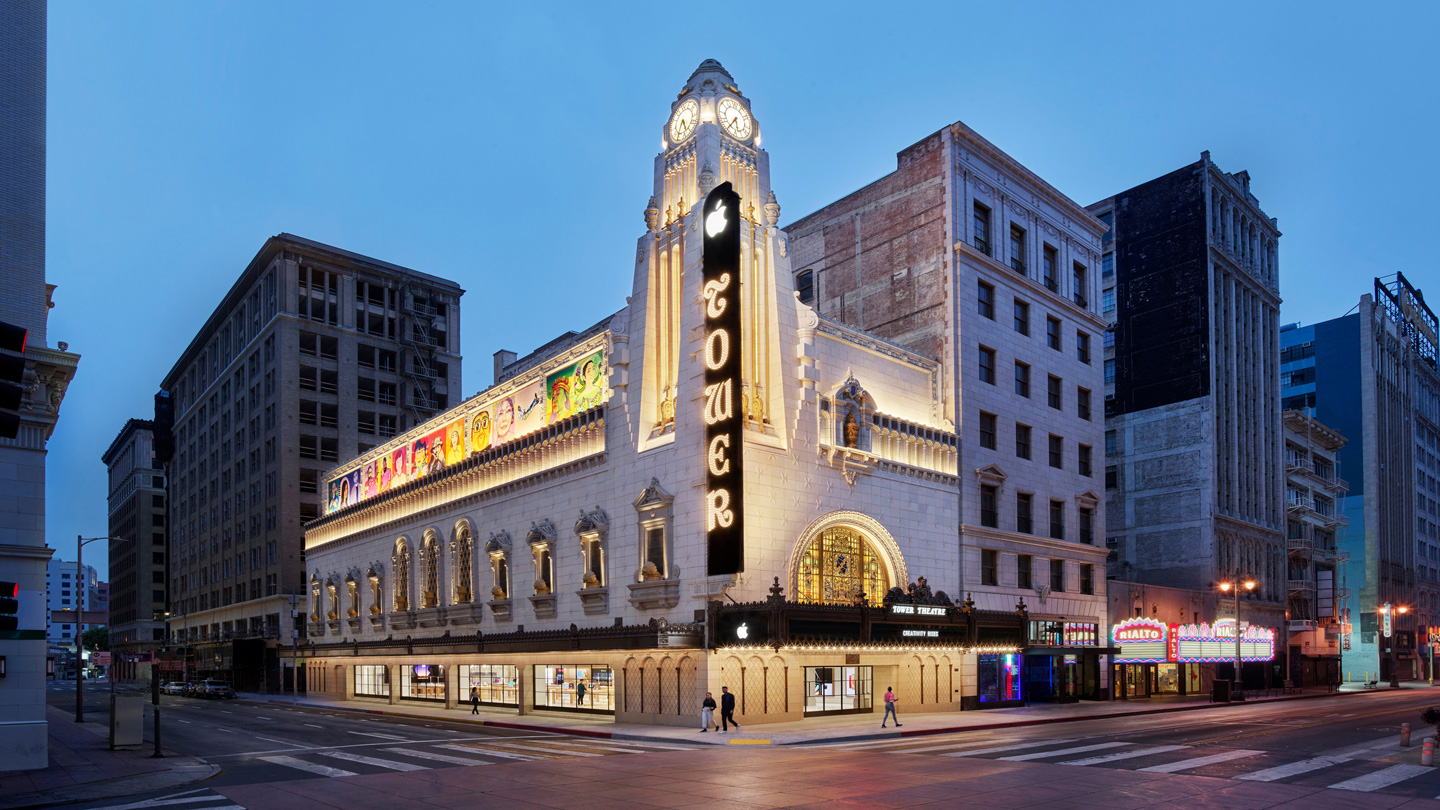 ---
---
If you're confused on what "Apple Tower Theatre" is, then just read on and we'll decipher it for you. It's pretty simple: it's an Apple store, and you'll be able to do whatever you do at other Apple stores here: check out the latest Apple gear, get your Apple stuff fixed at the Genius Bar, and buy Apple goods.
Having said that, this is a much cooler experience because the space that the store is in is absolutely fantastic. Pictures can do it way more justice than words.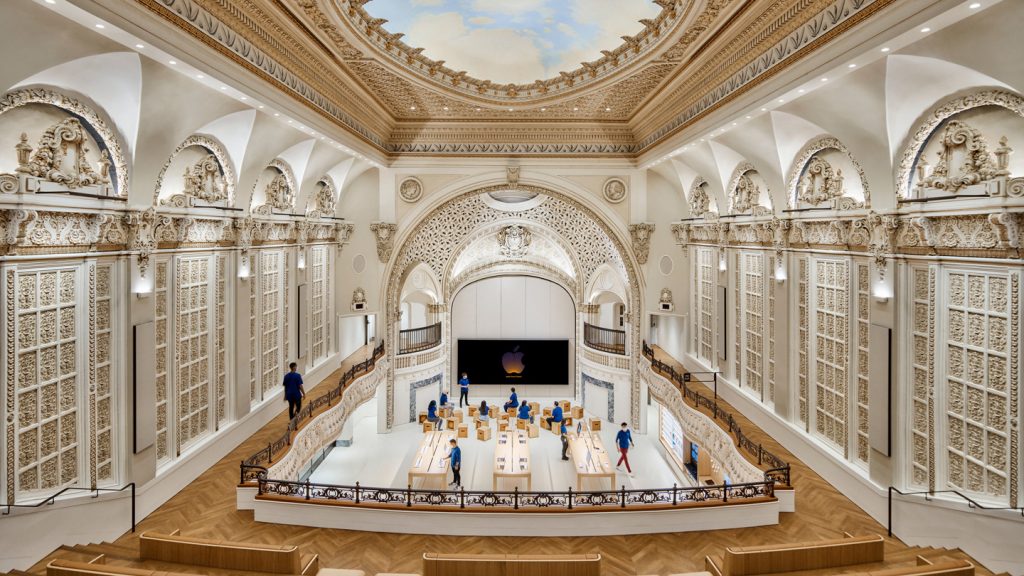 The store is Apple's 26th in the greater Los Angeles area, but this isn't one of your typical ones shoved next to a Spencer's Gifts (ironically, though, it's still next to a Vans and an Urban Outfitters, so there's a joke in there somewhere). It's in the historical 1927 Tower Theatre, which was designed by S. Charles Lee, a renowned motion picture theater architect.
The Tower Theatre is in the Baroque revival style, and it features French, Spanish, Moorish, and Italian elements all in terra cotta. Architect Doo Ho Lee, who serves as the design director for Apple's retail locations, helped oversee the restoration of the building.
---
---
In a press release, Apple described more about some of its design elements:
Apple Tower Theatre anchors the corner of Eighth Street and Broadway, where visitors will immediately recognize the fully restored clock tower, recreated Broadway marquee, clean terra cotta exterior, and renovated historic blade sign. After walking through the Broadway doors, guests enter the monumental lobby inspired by Charles Garnier's Paris Opera house, featuring a grand arched stairway with bronze handrails flanked by marble Corinthian columns.

Apple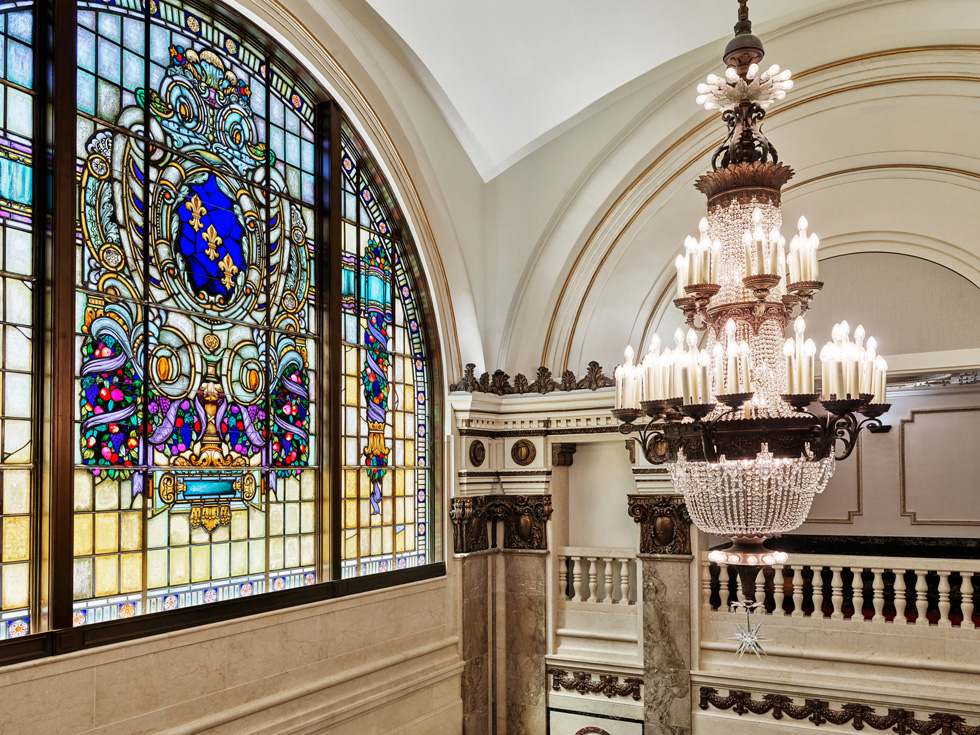 The Tower Theatre is itself a Los Angeles Historical-Cultural Monument, but it fell out of use for quite a while after shuttering its doors in 1988.
---
---
Thanks to Apple, though, it's back, and it makes for one of the coolest Apple stores in the world.
Even if you don't really have any Apple products, the building itself is definitely worth checking out, especially if you're already in DTLA. Since it's a retail location, you don't need to buy tickets or pay for admission or anything. Just come and walk right in.
---
---
We recommend going to the balcony on the second floor and just be able to take in the awesome high ceilings and gaze below at the view. You can't really go wrong anywhere you look here.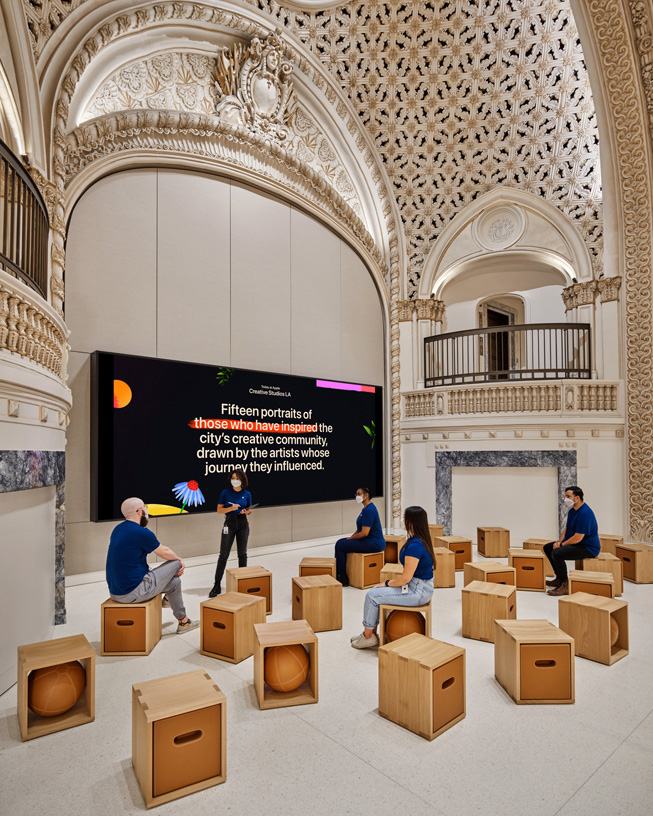 Parking
It wouldn't be a helpful article in DTLA if we didn't go over parking.
Well, in short, we're sorry to disappoint you, but it's not the greatest situation. There isn't a special lot or anything, so you're mostly left to fend for yourself with street parking. Watch out, because as in most of Downtown Los Angeles, it's metered. Just pay up with coins or a credit card and make sure you keep track with an alarm on your phone or with your watch when you should come back because the parking officers are on their game.
There are some metro and other means of public transportation available if that doesn't sound too appealing to you.
Instagram roundup
---
h/t to reader and friend of the site Nick Gibson for the tip.
---
---