Beyond Van Gogh: The Immersive Experience is a digital art experience features more than 300 of Vincent Van Gogh's iconic artworks. Whether you're an art lover or just one who occasionally likes to appreciate art, your senses will be hit by the projectors literally illuminating Van Gogh's works in a three-dimensional space.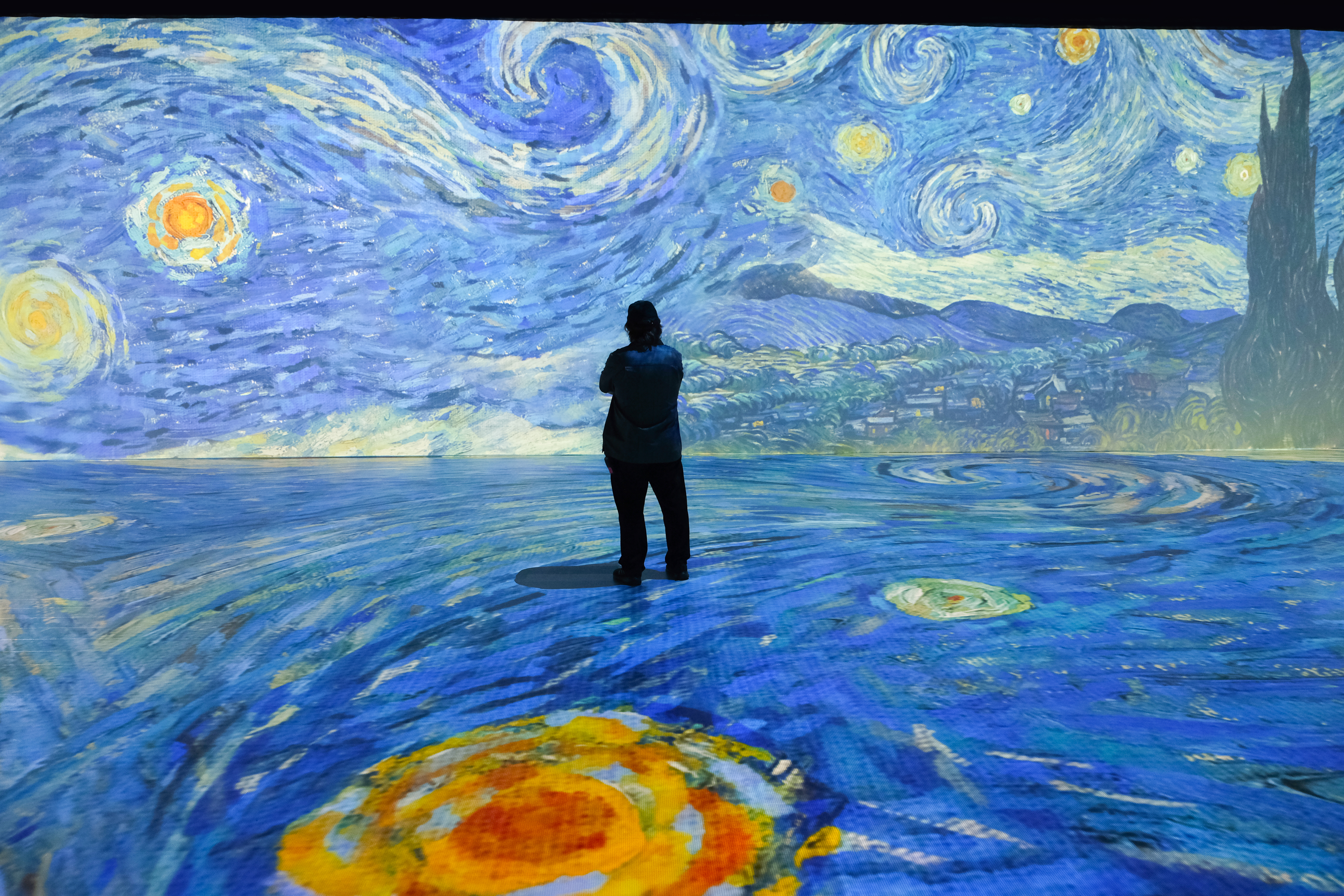 At the exhibit, you'll be able to walk through an all-new, exclusively designed course that will transport you into Van Gogh's world. In a way, you'll become one of the brush strokes on his colorful canvasses.
The exhibit is at Anaheim Convention Center in Anaheim, Orange County — just a bit of a drive outside of Los Angeles. It's basically right next to Disneyland. The address is also below:
Anaheim Convention Center
(ACC North – 200 Level, A-Side)
800 W Katella Ave, Anaheim, CA 92802
---
---
Using Van Gogh's dreams, thoughts, and words to drive an unmatched narrative experience, his exquisite works on projection-swathed walls invite guests to fully immerse themselves in his swirling and colorful flowers, cafes, and stunning landscapes.
As immersive art installations deeply resonate around the globe, Beyond Van Gogh: The Immersive Experience continues to amaze audiences and will stay in Anaheim for a limited engagement before moving across North America. Stuff in LA was able to be on the scene to give you a first-hand account of what you should expect if you go. Read on for more.
What you'll see there
First of all, the exhibit is in the very clean and modern Anaheim Convention Center. The outdoor area before you enter is a great place to relax and enjoy the OC air.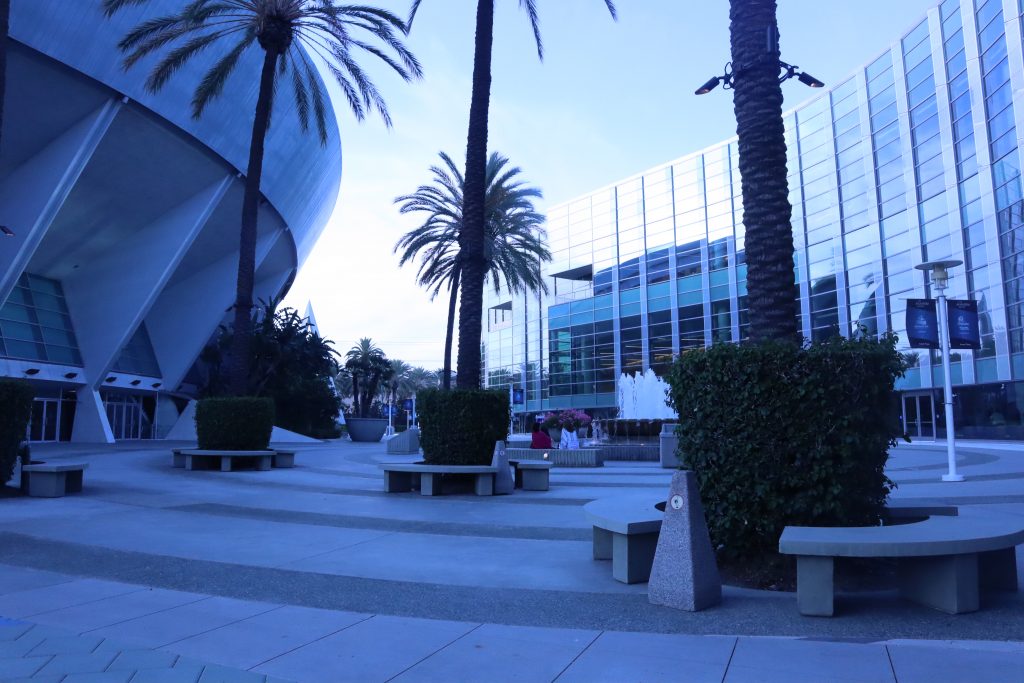 You'll most likely park in its parking structure (if you drove there) and then take the stairs or an elevator to the ground level, and signage will be available to lead you to the entrance.
---
---
Once you enter, you're immediately met with illuminated walls of Van Gogh's works along with great reading material. There are really cool frames that also hang up to really give a new experience into looking at art.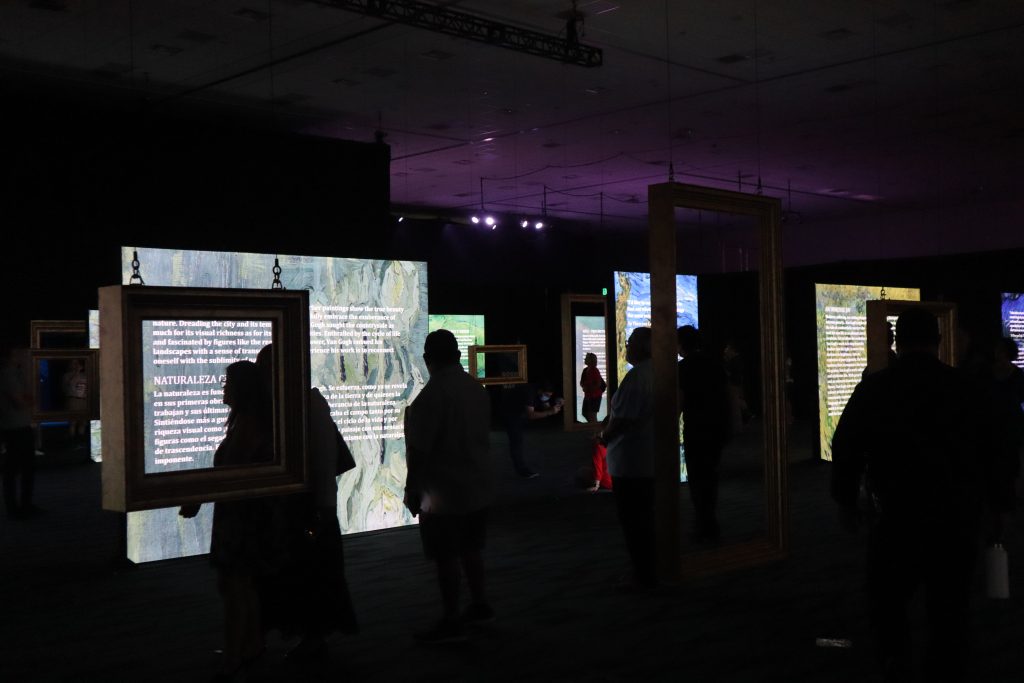 Here's a fun fact that we learned after visiting: the text is available in English as well as Spanish.
Once you make your way past that part, you'll eventually find yourself in what is one of the coolest digital art experiences we've seen in the greater LA areas: a room where tons of projectors play a 35-minute animated video (looping) on all the walls around you.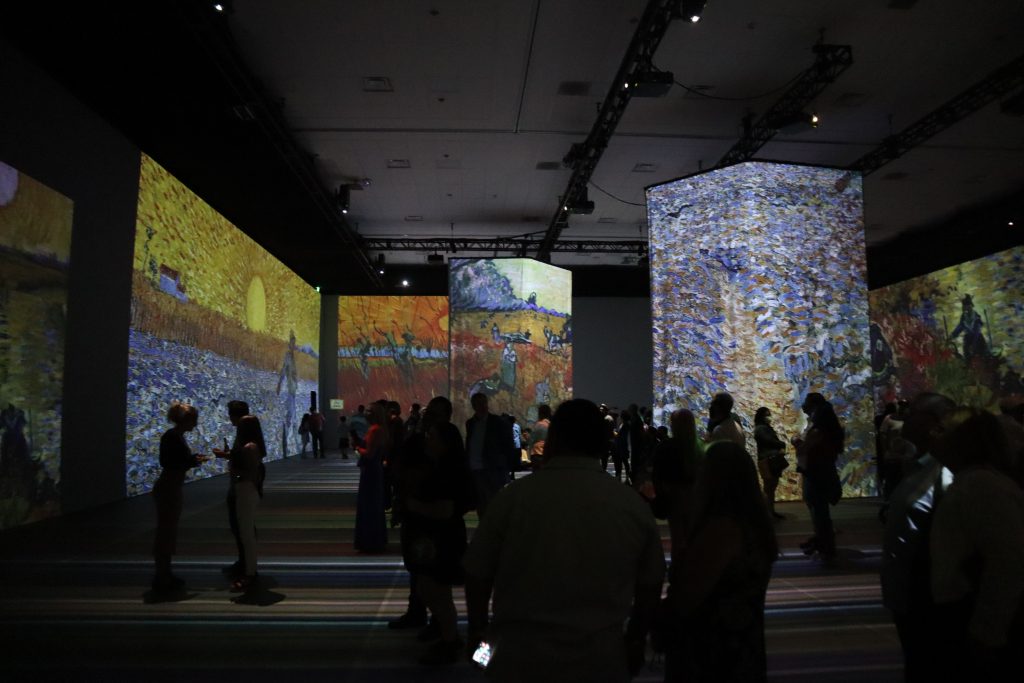 Tons of Van Gogh's works crawl their way across the screens and even move on the floor.
All the while, a fitting soundtrack plays to really create a unique atmosphere–couples and families and more were standing, sitting, and even lying down when we visited, and it's definitely socially acceptable to take pictures (just no flash photography!).
Parking
Parking is available in the Anaheim Convention Center parking lot.
Getting the elephant in the room out of the way, it's $20 for most vehicles and $40 for oversized vehicles to park there.
You'll also want to keep in mind that cash is not accepted. Acceptable forms of payment are credit or debit cards, Apple Pay, and Google Pay.
To get to the parking, we suggest just plugging in Anaheim Convention Center into your Google Maps or Apple Maps, and it should lead you into the parking lot fairly naturally. It's pretty intuitive as you drive around the center, and signage should definitely be present.
---
---
---
COVID-19 Information
Beyond Van Gogh is following the approved guidelines below:
Timed ticket sales to help reduce congestion and capacity.
Arrow markings to allow for separate entrance and exit directions.
Increased cleaning practices of high touch surfaces with approved cleaning products.
Multiple hand sanitizer stations throughout the exhibit and venue.
Contactless transactions only to lessen transmission risk.
Masks are only required within the facility for guests that have not been fully vaccinated.
---
---
Accessibility information
Wheelchairs, walkers, and scooters are all permitted.
Service animals such as guide dogs are also allowed, as are babies and strollers.
Any further questions can be sent to Hello@BeyondVanGoghOC.com.
---
---
Ticket information
Prices
OFF PEAK (Monday – Thursday)
Adult Timed Entry: $36.99
Child Timed Entry: $24.99
Student/Senior/Military Timed Entry: $32.99
Premium: $53.99
VIP: $93.99
Group Timed Entry: $30.99
Plus taxes and applicable fees.
PEAK (Friday – Sunday and holidays)
Adult Timed Entry: $46.99
Child Timed Entry: $24.99
Student/Senior/Military Timed Entry: $41.99
Premium: $63.99
VIP: $93.99
Group Timed Entry: $39.99
Plus taxes and applicable fees.
---
---
If you're wondering about what the different categories of tickets are, then read on for more information.
Children 4 years and younger enter for free.

Child: 5-15 years

Seniors: 65 years and older

Students: Up to age 25 with valid ID

Military Members: Valid ID required

Groups (8+): Save $5 off regular adult timed entry
Premium tickets allow you to enter up to two hours before or after the start time as stated on your ticket, subject to exhibit opening hours.

VIP tickets include Premium ticket benefits, priority access to the exhibit, and a Beyond Van Gogh Merchandise package.
Is it worth it?
This will probably come down to the individual.
If you're into Van Gogh fan or are an appreciator of his paintings, then you'll probably enjoy seeing some of his work being appreciated by others in a new modern form.
If you're into pretty things, then you'll probably enjoy it.
If you're into taking pictures of nice things or being in these pictures yourself, you'll probably like it.
If you're into unique experiences, then you'll probably enjoy it.
If you're into technology, you may enjoy seeing all the projectors and trying to figure out how this was achieved.
If you're into giving your kids a distraction, then you'll probably enjoy it (whether they will or not will probably depend on the above items).
Also, last thing, but the event partnered with Keurig, so there's free coffee at the end. You can choose which flavor pod you want and then use the machines. It's kind of a good touch and gives you a little more bang for your buck.
---
---