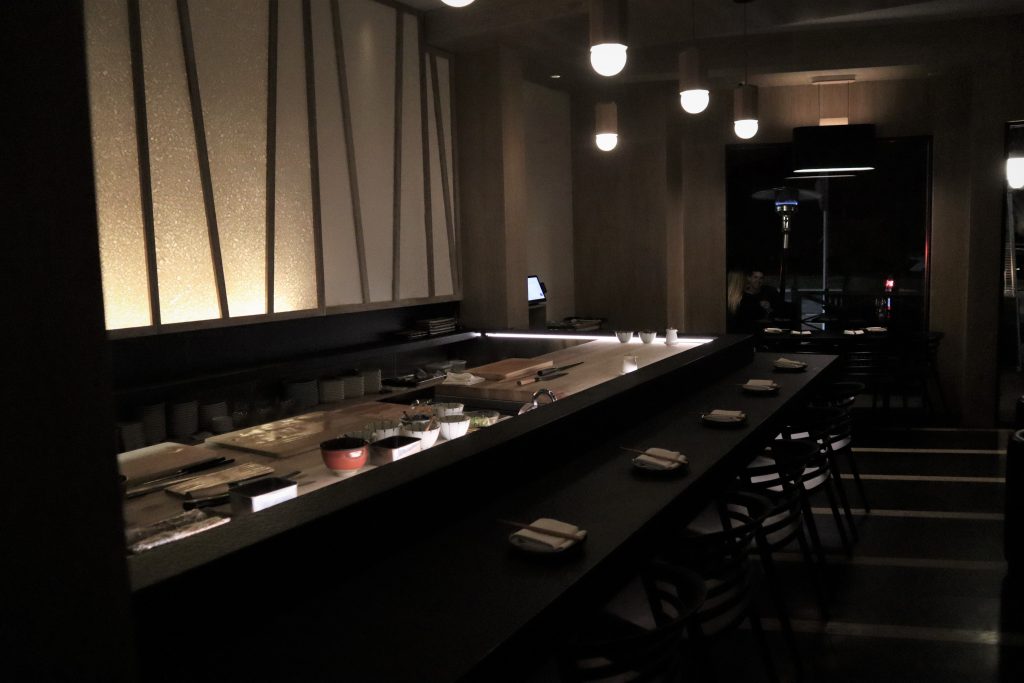 The first word that comes to our mind when thinking of Imari is balance.
Located in Brentwood, an affluent neighborhood in the west side of Los Angeles, Imari does balance right: its atmosphere is upscale in its design yet unpretentious in its execution, its food authentic to its Japanese roots yet inviting to an American audience.
---
---
While it sounds simple, striking this kind of balance isn't easy. There are too many restaurants to list and too many adjectives–stuffy, tacky, diluted–to describe them, and Imari doesn't evoke any of those. At its core, it's good washoku–essentially a term encompassing traditional Japanese cuisine–in a comfortable spot.
The restaurant is a good size, with a variety of seating: counter seats to watch some dish preparation, tables for groups of around four, booths for a more intimate feel, and even outdoor tables with heaters. Earthy wood tones are paired with black and white throughout the restaurant for a tasteful mix of modern and traditional interior design.
We here at Stuff in LA got to stop by to check it out, and we'll break down some of the experience for you so that you can consider going yourself.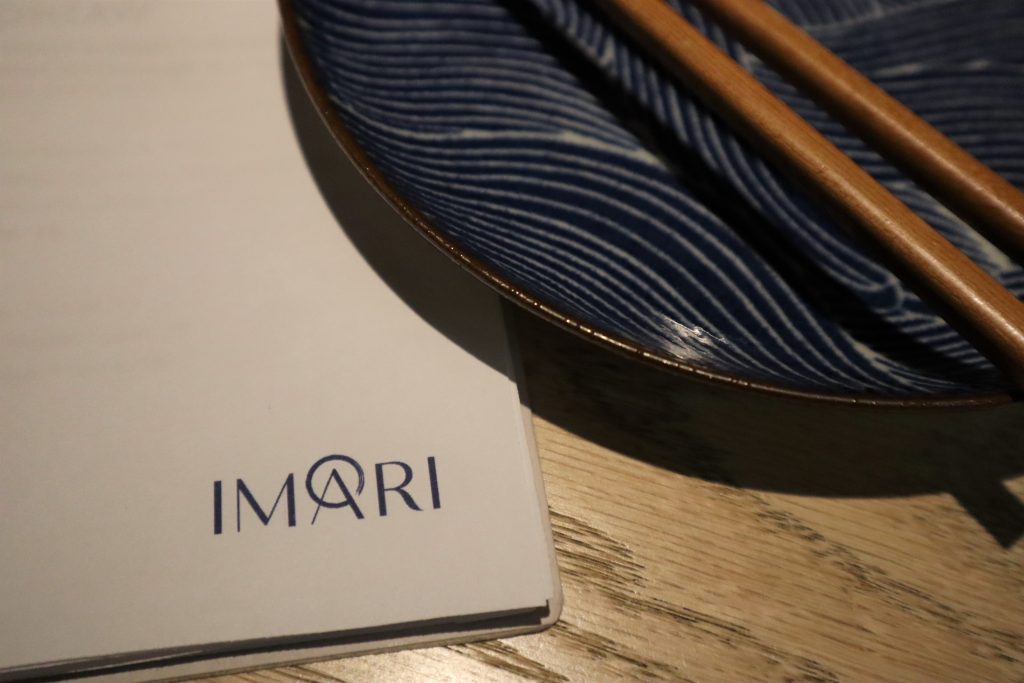 At Imari, things are just aesthetically pleasing from the aforementioned interior design to the nice logos they have on their menus. What really stands out at Imari is the selection of dishware that comes straight from Japan; for more examples, keep scrolling on to see how they work in the designs with the presentation of the food.
---
---
---
---
The credentials behind Imari are incredibly strong, starting with Imari's management by Philip Camino (a noted restauranteur behind restaurants like Fellow, The Hudson, and Earthbar) and Smith Dok (whose resume includes his hand in opening the infamous Katsuya in Hollywood and Glendale, running Takumi Sushi in DTLA, and working as an AGM at Culina at the Four Seasons in Beverly Hills).
---
---
On the food side is just as impressive, with Imari boasting David Schlosser of Los Angeles's Michelin-starred Shibumi as a consulting chef along with chef de cuisine Derek Wilcox who's the one and only chef from the states to finish a full seven-year apprenticeship at three Michelin-starred Kikunoi, a traditional Japanese kaiseki restaurant, in Kyoto. Chef Wilcox also worked at other top Japanese restaurants like Michelin-starred kaiseki restaurants Arashiyama Kitcho and Kodaiji Wakuden, a wagyu beef butcher Moriyasu Meats, and a traditional edomae sushi restaurant Ginza Sushi Aoki.
Simply put, there's a lot of experience in fine Japanese cuisine on deck at Imari.
---
---
---
---
Imari has a great selection of drinks, like wine (sparkling, white, and red) along with sake, the latter of which we got to try.
The black bottle with the flowers is Tedorigawa Kinka, which made for a complex glass filled with floral, lemon, green apple, and lemon custard tones. It was well-balanced and worked well with the food.
The burnt orange bottle is Masumi Yawaraka Junmai, which was a nice light sake with a thin texture that was smooth and gentle to the palette. It still offered some complexity but is a nice refreshing sake even for beginners.
---
---
The rightmost bottle is the Fukukomachi Tokubetsu Junmai, which was supremely smooth and rich and brought a nice temperature to the meal.
If you're celebrating a good occasion or just like sake, then we recommend giving some a try.
---
---
In the ethos of Imari is a desire to keep things simple and not re-invent the wheel, to not be fusion but to instead highlight the beauty of washoku Japanese food itself. Part of that simplicity is reflected in its ingredients with a focus in mind of using local California ingredients where it can shine, like in the vegetables that the state is well-known for.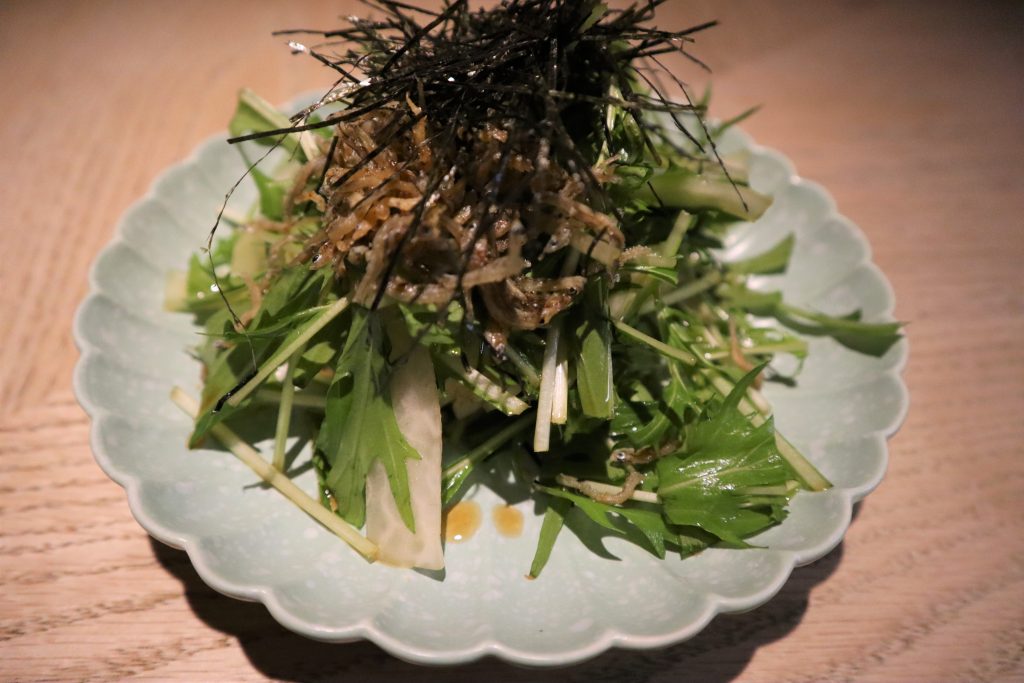 The first thing that we tried was the shaved daikon salad with celery, mizuna, and nori with an optional addition of microsardines (shirasu). The microsardines were crispy and actually a great addition texture-wise and flavor-wise, and the salad itself was light and fresh especially with the daikon and the tasty dressing.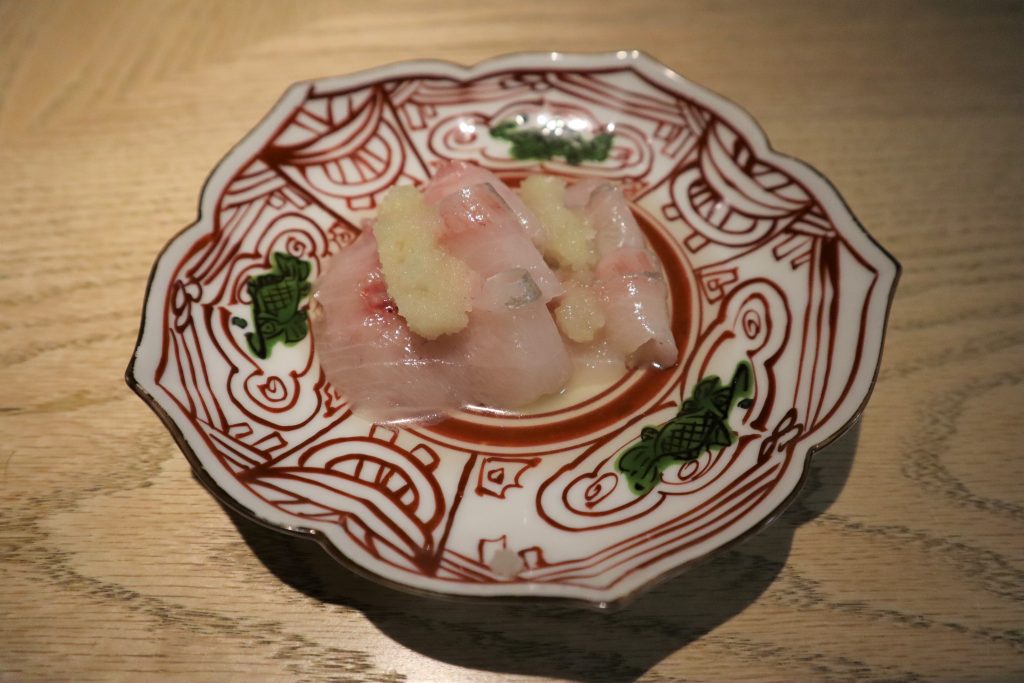 The next dish on the menu that we got was the kanpachi (amberjack sashimi) starter paired with white ponzu, grated horseradish, and wasabi. The freshness of the fish was extremely apparent from the color on the plate to the springiness in the bites, and the ponzu, horseradish, and wasabi balanced it out very well and made for a refreshing dish overall. Shoyu (soy sauce) isn't needed at all for this dish, and it's a definite must-try for any sashimi lovers.
Also, isn't that plate it's on absolutely beautiful? Great art there.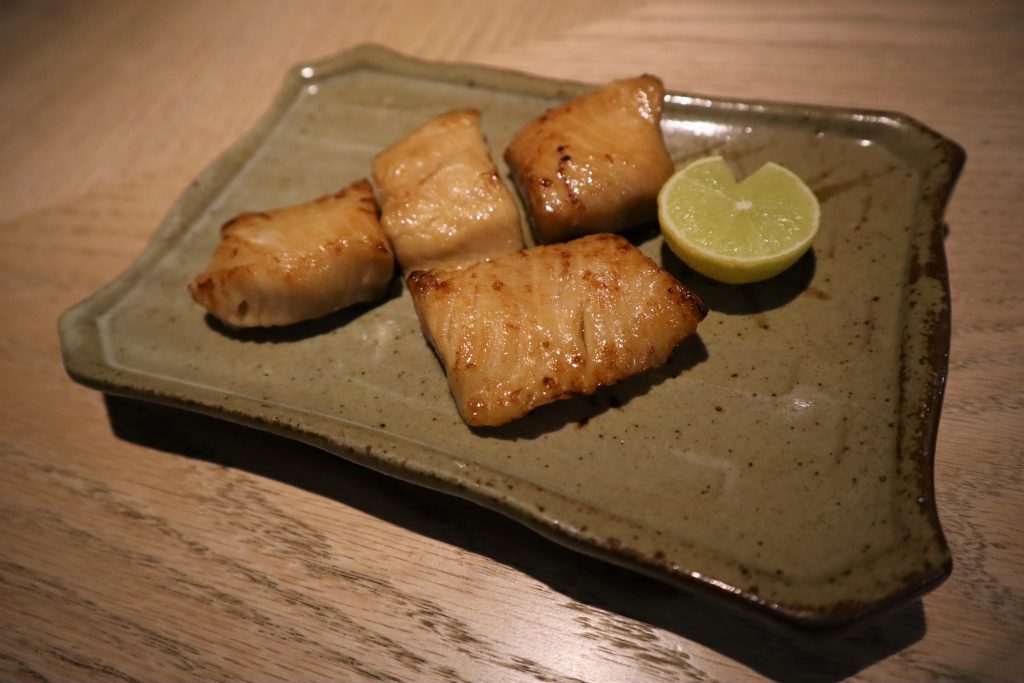 For an option beyond the starters, we next got the grilled gindara, or citrus marinated black cod. The simplicity in the presentation put all the focus on the fish, which literally was melt-in-your-mouth quality with a depth of the marinated flavor coming through with each bite. A squeeze of the lemon on each piece really brought a nice tartness to it, and really, we just want to emphasize how buttery smooth this dish is.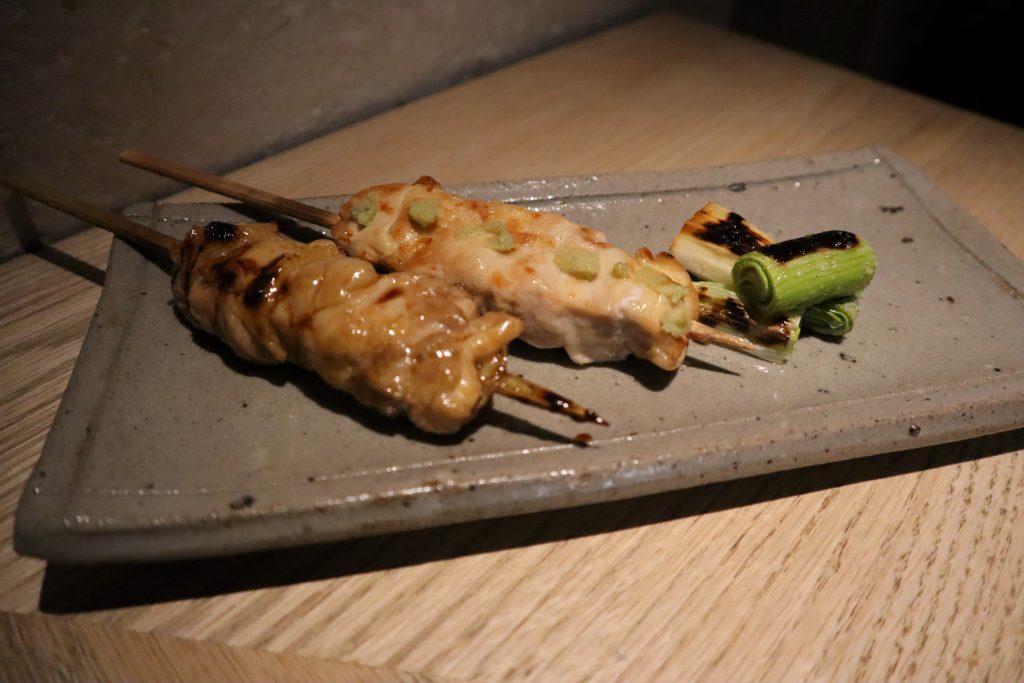 Up next is the heritage chicken, which essentially is yakitori grilled two ways. Both of these were wonderful in their own right and cooked very well, letting the quality of the meat do the bulk of the talking. The charred green onion was a great touch to add in between bites; this dish really shines a light on the balance between simplicity and elegance that Imari seems to be going for in their food.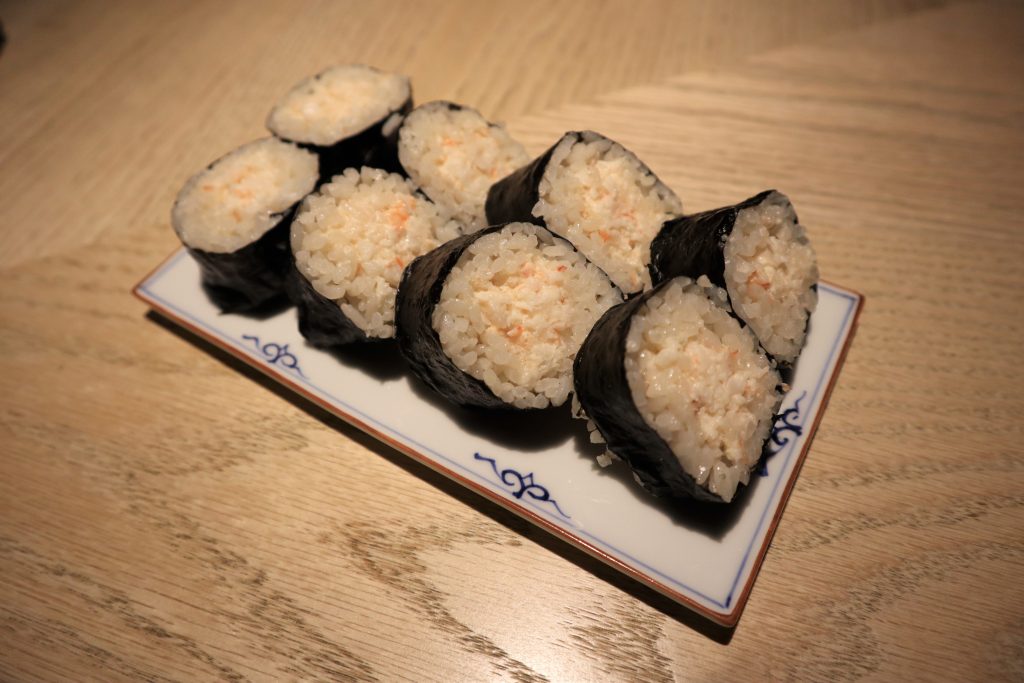 If you're looking for sushi rolls, Imari certainly has those, but with a nice elevated approach that doesn't come off at all gimmicky or unnecessary. Case in point is this ebi shrimp sushi roll mixed in with mentaiko cod roe. You're probably noticing a common theme here: the shrimp and cod roe were really fresh and mixed together perfectly, and the texture of the rice was excellent.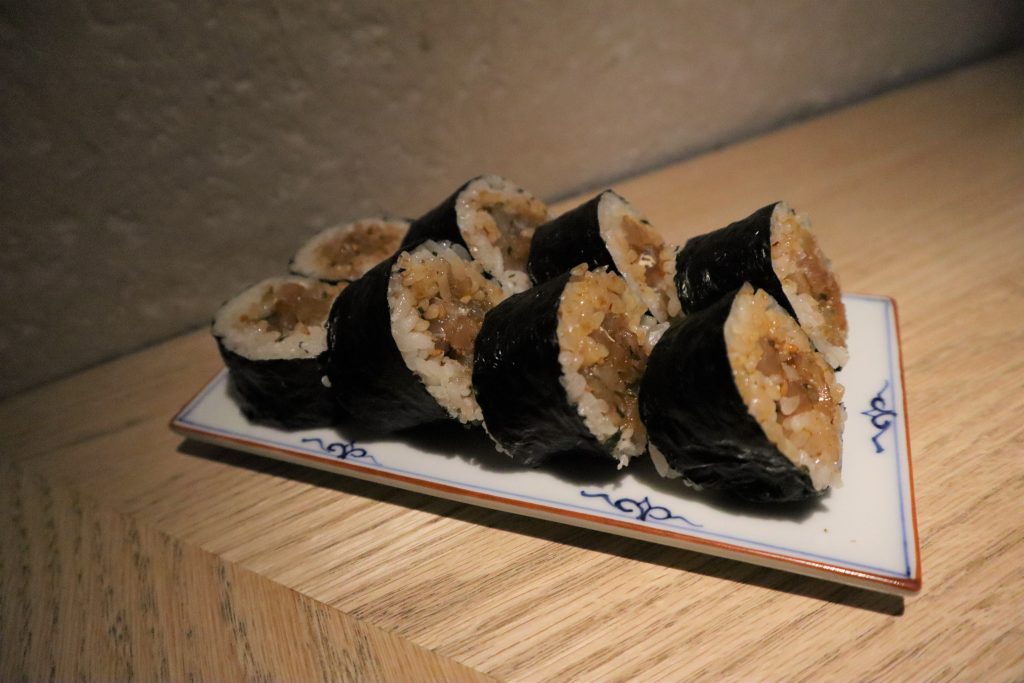 The next roll that we're going to feature is the tai (sea bream) roll with sesame and shiso which was a nicely executed combo in a flavorful roll that–again–has no need for soy sauce. The way that every roll feels when eating is a great experience, and the quality of the sushi is apparent compared to the typical sushi you may find elsewhere in the states.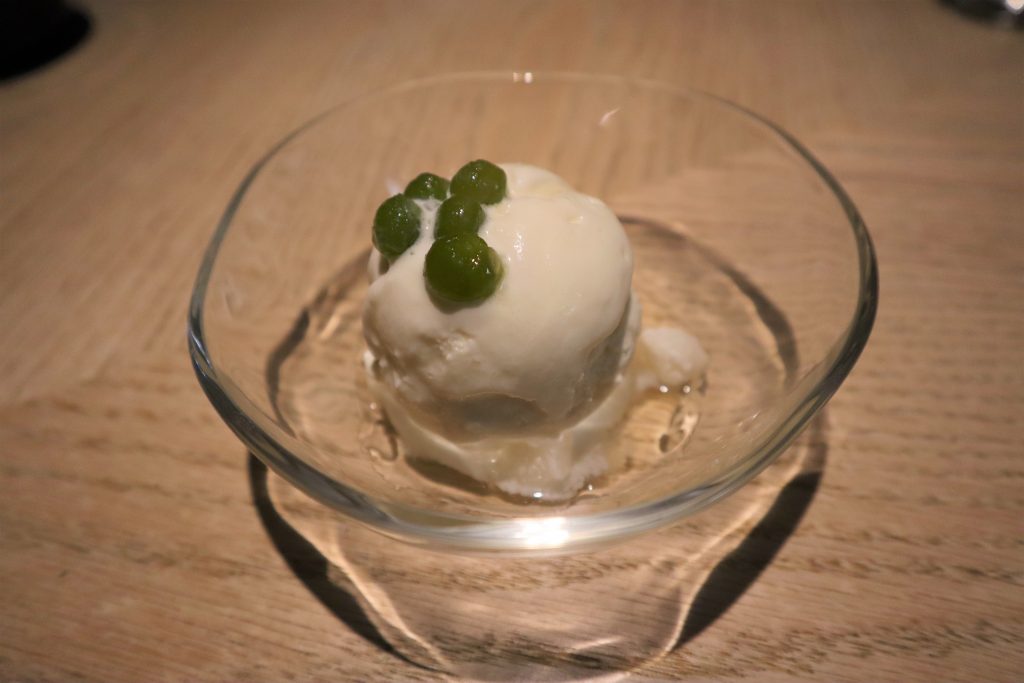 Lastly, you would be remiss to not give dessert a try, because the milk ice cream–in collaboration with Sweet Rose Creamery, a homemade ice cream parlor in Santa Monica–is spectacular. The mochi pieces create a nice difference in texture, and the endomame (sweet green pea) not only looks great but tastes great as well.
---
---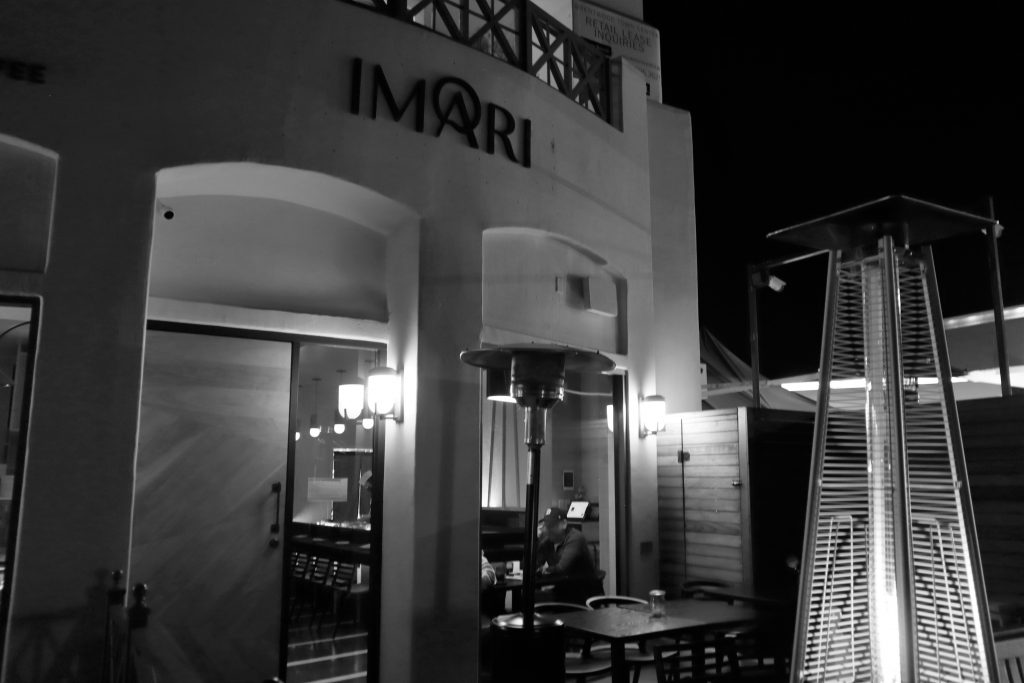 Imari's balance is on display as soon as you walk in, and the way that it presents its traditional Japanese food in ways that appeal to the people of Los Angeles is masterful. Any perceptions of this being another overpriced and inauthentic restaurant in West LA can quickly be dispelled once you try the food, and for that, it's quite the gem.
---
---