LOS ANGELES, CA — Los Angeles is known for its impressive wall art scene, and entering the fray is a new mural that not only seeks to be an awesome photo op, but also an opportunity to spread the ideals of promoting diversity and peace.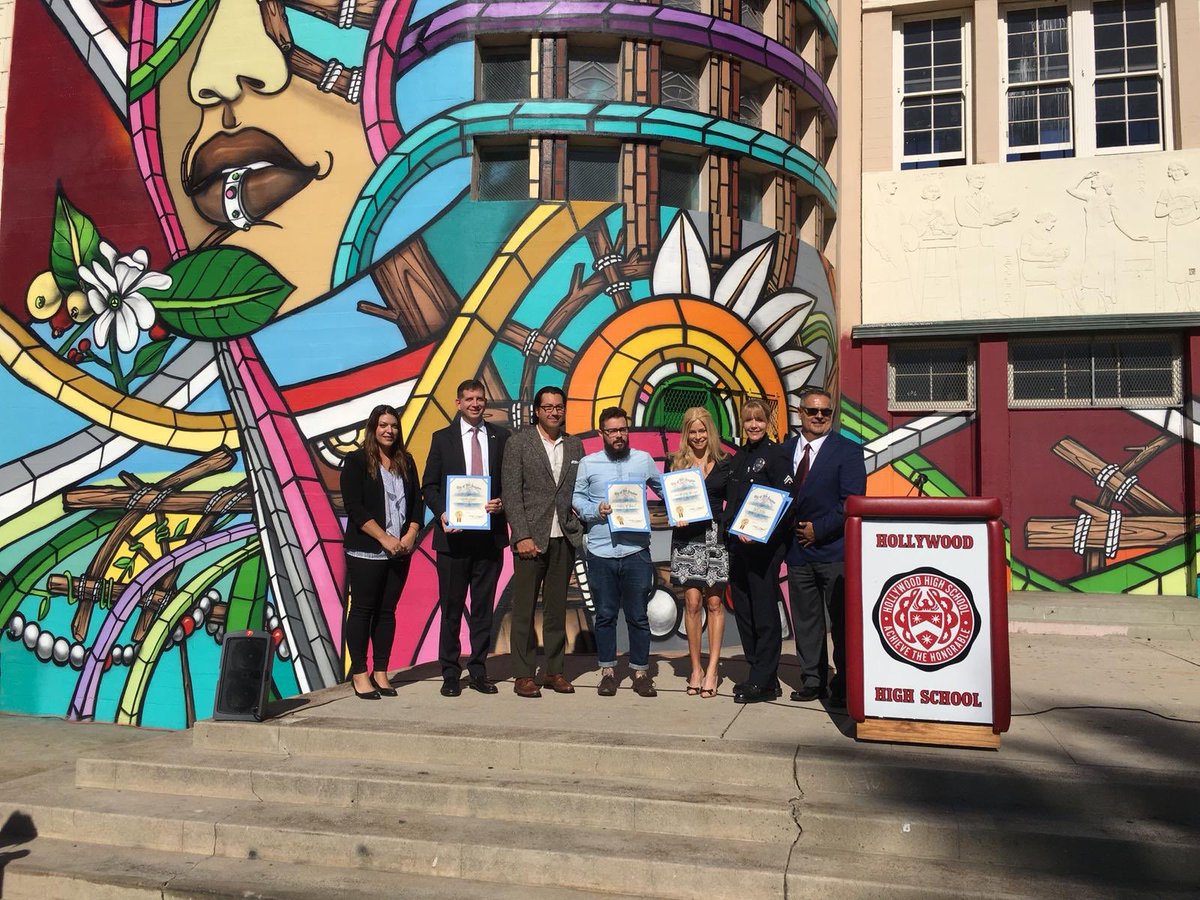 Hollywood High School Diversity Mural
WHERE: Hollywood High School, 1521 N Highland Ave, Los Angeles, CA 90028

WHAT: Mural, spray paint art

WHEN: From now!
---
---
HOW MUCH: Free to view

PARKING: Street parking
---
---

Led by the Israeli Consulate in Los Angeles, the mural takes inspiration from the fight to end antisemitism and discrimination in general; the mural seeks to include a wide audience across racial, ethic, and social groups to really live in its ideals.

In an impressive opening ceremony attended by LAPD, mural artist Don Rimx, representatives from the City of Los Angeles, Artists 4 Israel, Los Angeles Unified School District, and Councilmember Mitch O'Farrell, the mural was officially unveiled, soon to be seen by thousands of Hollywood High School students.

---
---
"What a beautiful way to start connecting folks all up and down Sunset Boulevard," senior lead officer of LAPD Julie Nony said. "It's such a historical, iconic location."
A major goal of the Israeli Consulate's mural is to start dialogue and increase communication in the Los Angeles community, and the towering art piece in a major place is a step in that direction.


"This is one of the most exciting projects that we've done at the Consulate in Los Angeles," Karin Eliyahu-Pery, Consul for Public Diplomacy and Culture in Los Angeles and Israeli Consulate said in a video interview. "It showcases the diversity of this school, the diversity of Los Angeles. Everyone passing by looking at this mural will definitely feel something."
Even on its own, the mural is striking. Painted with vivid colors, it's peppered with everything from oranges to artistic portraits spanning stories high, and it undoubtedly gives an already famous high school even more pizazz.


"I really think this is the future as far as overcoming conflicts and obstacles," Hollywood High School principal Edward Colacion remarked. "I think our youth really are going to be change agents as we move forward to a more peaceful world."
---
---
---
---