By Tremaine Eto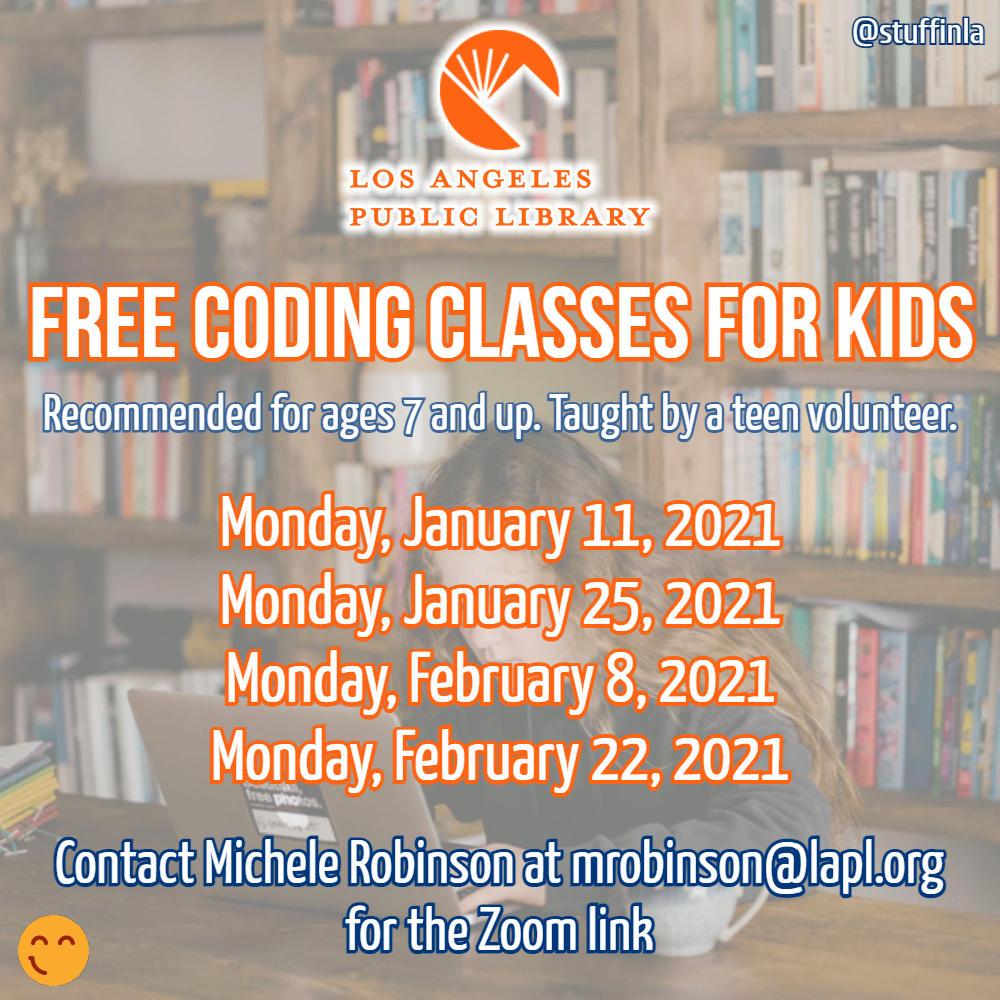 At-home school has been challenging for parents across the world, but one of the aspects I don't see discussed as much in the public sphere is the role that the lack of after-school activities has played in making things even more stressful.
Whether it's after-school clubs or study halls or sports, there's been a general void and a lack of transition from the classroom–virtual or not–to home.
Recently, I caught wind of the Los Angeles Public Library offering something to help with this, and it turns out that it's something I'm passionate about: helping anyone who may be interested in programming given the chance.
What is it?
For four Mondays in January and February 2021, the Los Angeles Public Library via its Rancho Park Branch is offering free online coding classes for kids (recommended for ages 7 and up).
The classes will be taught by a teenager volunteer with a passion for coding, and each class will cover a different topic.
When is it?
The class will be held on the following dates, all at 3:00 P.M.:
Monday, January 11, 2021
Monday, January 25, 2021
Monday, February 8, 2021
Monday, February 22, 2021
How do I sign my kids up?
Simply e-mail Michele Robinson at mrobinson@lapl.org mentioning this class, and she will send you a Zoom link to log into.
What kind of coding will be taught?
These classes will be totally introductory and will utilize a programming language and website known as Scratch. It sounds far more intimidating than it actually is; it actually was developed by MIT and is primarily targeted at kids 7-16 years old.
With Scratch, kids are able to code a wide variety of creations ranging from video games–as seen in the platform game "Jumper" below–to animations to simulations.
---
The Los Angeles Public Library is a fantastic resource, and even though it's not open for in-person visits, it's genuinely nice to see that they are still providing useful services like these free classes for the Los Angeles community.
---
---