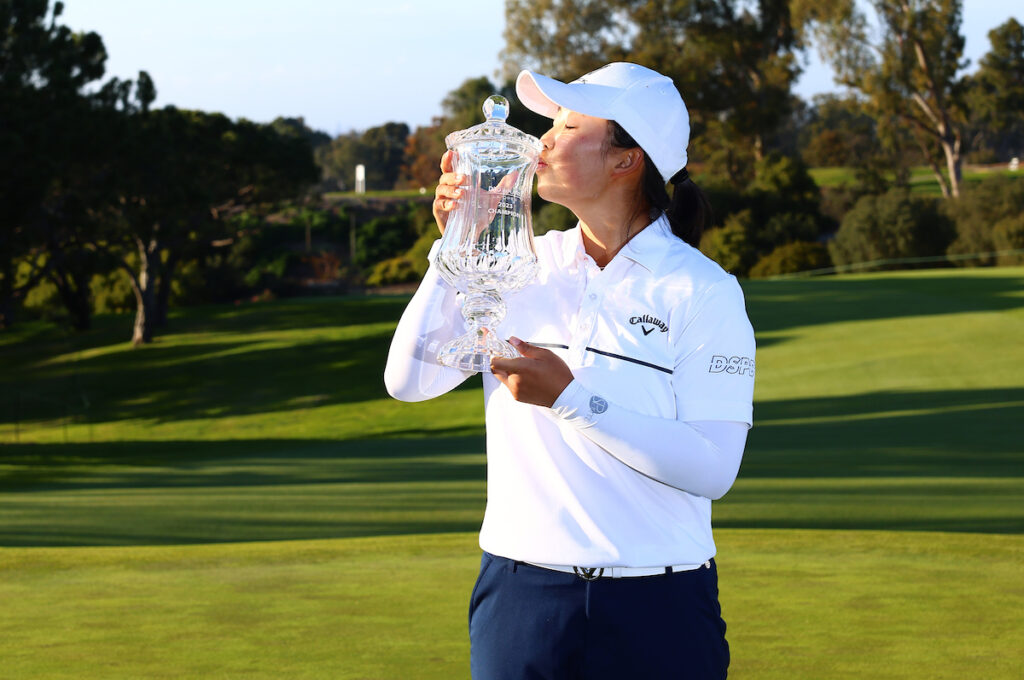 ---
---
by Dustin Watanabe and Tremaine Eto
PALOS VERDES ESTATES, CALIF. – The People's Republic of China has over 1.4 billion people, and yet, all these years going into 2023, it's only managed to produce one winner on the LPGA Tour.
That all changed in the wake of a breakthrough win by Ruoning Yin at the DIO Implant LA Open at Palos Verdes Golf Course, which saw hail at one point in the week but ended with a sunny Sunday finish. The 20-year-old phenom held off a charging field of elite players like Georgia Hall and Hyo Joo Kim and held on to her overnight 2-stroke lead to earn her first ever Tour victory.
Despite it being her first LPGA tournament in the lead going into the final round, Yin claimed to be cool-headed, even though nerves would be expected and even acceptable for a 20-year-old much less a more experienced player.
"I slept very well, actually," she said to laughs from the media scrum that gathered after her victory. "This morning I just looked up my Whoop app, and it says I got 95% recovery. I said, 'Oh, it's a good sign.'"
Once she got on the course after her afternoon tee time, things started off quite well, as they had been during her first three rounds of 68, 64, and 67. 1-under through the first two holes, Yin seemed poised to hold off the field when uncharacteristically to that point, three consecutive bogeys on holes 3 through 5 threatened to derail her round.
---
---
Where most players would falter, Yin showed tremendous resilience by bouncing back immediately with four straight birdies. The secret? Perhaps it was her inner determination. Or perhaps it was something a little more simple: ditching a golf ball with bad mojo.
"After [hole] 5 I just told myself, can't make one more bogey," Yin said. "I just switch a ball, and, yeah, four birdies in a row."
In golf, a little luck never hurts, too. An errant tee shot by Yin on the 14th hole bounced off a tree back into the fairway, and she capitalized by making a much-needed birdie to get some breathing room from Georgia Hall, who fired a bogey-free 67 on the day and shot a course-record 62 the day before to catapult into the final group.
Hall had the added motivation of coming off a playoff-losing 2nd-place finish just the previous week at the LPGA Drive On Championship in Gold Canyon, Arizona.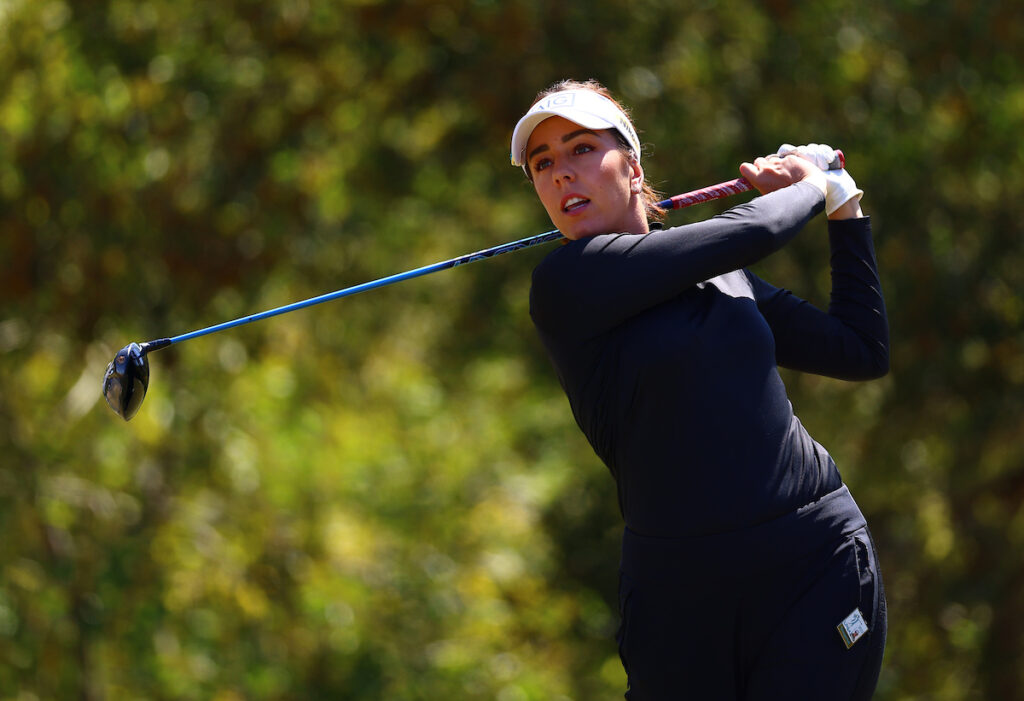 "Really proud of myself again. Just really gutted not to at least get to another playoff," Hall said after finishing one short of Yin. "The goal is to put myself in that position every week and I'm doing that, so I'm right where I want to be."
Hall kept things interesting up until the 18th hole, where her 2nd shot into the green nearly landed in the cup, and came to rest only a few feet behind the hole on the back of the green.
"I knew I had to strike it like 95%," she said. "I couldn't see until I got up there."
With Yin lipping out a potentially victory-sealing birdie putt, the stage was set for Hall to force a playoff.
A second playoff for Hall was not meant to be; a misread caused her birdie putt to miss and slide by on the left side of the hole, as several other players in previous groups had fallen victim to with the deceptive downhill putt.
"The greens this time of day are very bobbly, and it was tough to know what was the right line to pick," she said in the post-round interview. "Unfortunately just bobbled off line."
Yin, who admitted that she thought for sure the day would be headed to a playoff with Hall at that moment, had just a tap-in for par for the win–which she punctuated with a Tiger Woods-esque fist pump.
"It just came out, yeah," she said with a laugh. "I'm not calm, I think, because…My hands [were] literally shaking."
Still seeming to process what had just happened–everything with the trophy, the pictures, the influx of questions, the winner's check for $262,500 in her hand–Yin suddenly was thrust into some reflection on the heels of her historic victory.
When asked who was supporting her through the difficulties of navigating the LPGA Tour as a young rookie vying for a career-launching first win, Yin was quick to give credit to her family.
---
---
"Biggest supporter is definitely my dad and mom," she said, nearly tearing up. "Even [if] my mom is not here, I know she's watching. But I just want to say, 'I love you guys.'"
While the win marks the personal fulfillment of a lifelong dream for Yin, it also carries monumental significance for the greater golf community as she becomes only the 2nd LPGA Tour winner in history from the People's Republic of China behind Shanshan Feng.
Feng, who retired in 2022 to the surprise of many, had an impressive career that included 10 LPGA Tour wins – including one major championship at the 2012 Women's LPGA Championship – as well as a bronze medal at the 2016 Olympic Games.
"I mean, I can be the second Chinese player after Shanshan Feng, that means a lot," Yin said after her win. "I think maybe I can push [a] little more Chinese kids to play golf and push more people to focus on China golf."
For any player's first victory on Tour, it'd make sense to have a big celebration to release all the stress from the hard work that went into it. So would Yin do anything special while she's in Los Angeles in the afterglow of her win? "Probably not. I fly tonight, so back to Orlando," she said, smiling, before conceding: "Maybe get some good food and sleep."
What will last longer than any celebration, though, is the confidence she gained during her week in the Palos Verdes Estates.
"I think right now I know I'm capable to win on this tour, and I'm not just going to set my goal at making the cut," she said. "I'm going to think about win[ning] every tournament."
---
---