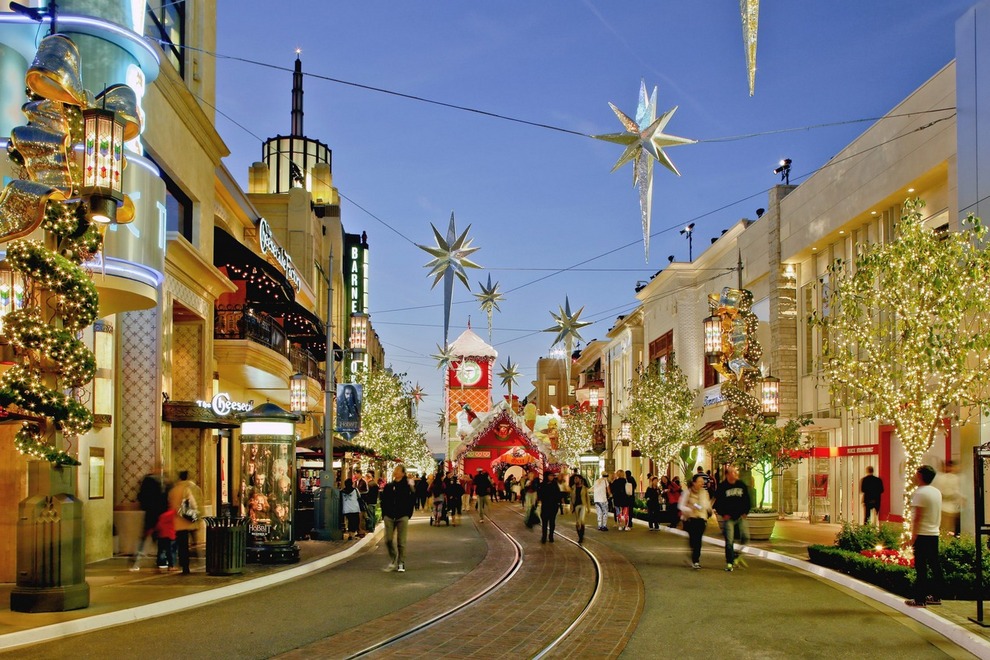 Bougie shopping center that is good for all ages.
Where: The Grove 189 The Grove Dr, Los Angeles, CA 90036
What: Shopping, walk, food, date spot, photo op, outdoors
When: Year-round
How Much: Free (to walk around)
Parking: Parking garage
STUFF TO DO IN LOS ANGELES | BEVERLY HILLS | HOLLYWOOD | THE GROVE
Shop 'til you drop, baby!
(Get it? We said "baby", and there's a baby in that picture. We know we're funny, you can stop laughing)
We're not sure about you, but there have been plenty of times that we feel like keeling over at Nordstrom Rack or something just because of all the sales and yet none of the sizes we want!
At The Grove near Beverly Hills, you have your share of options! With stores including Topshop, Vineyard Vines, J. Crew, American Girl Place, a movie theater with all the latest releases (and often free movie posters!) and some other fun stores like Dylan's Candy Bar, you're sure to leave with full bags and an empty wallet (kidding--sort of).
The Grove is more than just a glorified mall, though. It's an incredibly fun and picturesque area to walk around; there's a nice fountain that serves as the central piece, and the buildings on either side create an effect that feels open but also encompassing. You truly have to walk around to feel it; in our estimation, it almost feels like Downtown Disney in that sense.
The dining options at The Grove are plentiful and full of variety: you got Umami Burger, you got Maggiano's Little Italy, you got Sprinkles Cupcakes, and not to mention a lot more.
One of the most unique features of The Grove is the train that drives through the shopping center. It sounds dangerous, but it really isn't--it goes at a slow pace to really let riders enjoy the views around them. This is perfect for dates, elderly relatives, and kids!
It's no question that Beverly Hills is a nice area, but that doesn't mean you have be rich to access its finest points. The Grove is a wonderful place for all--even those that don't particularly believe in "shop 'til you drop".