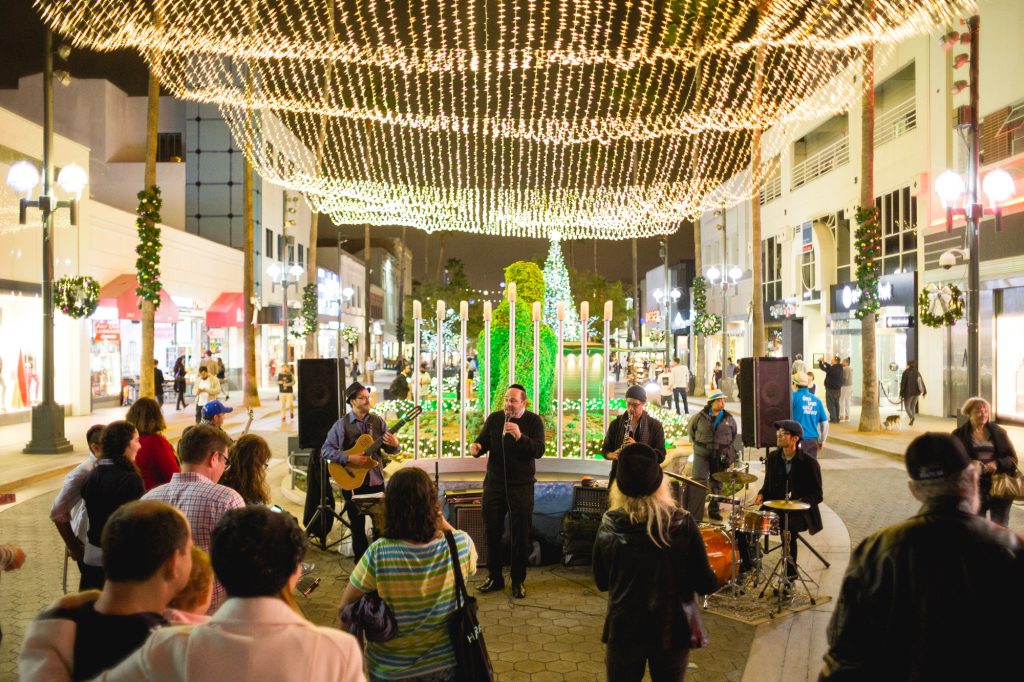 The Third Street Promenade in Downtown Santa Monica is already beautiful, but add in some holiday decorations and Christmas lights and it's even better!
---
---
What is it?
Let's put it in the words of Downtown Santa Monica per its website:
Winterlit returns to Downtown Santa Monica to brighten up the holiday season as Downtown Santa Monica, Inc. (DTSM) transforms the world-class Third Street Promenade into an immersive one stop holiday experience.

Downtown Santa Monica
Essentially, Winderlit is the name of the overall experience encompassed by Christmas lights, a Menorah lighting, pop-up markets, decorations, and a very big Christmas tree.
It's a nice photo op to accompany an already interesting experience of seeing street performers and exploring the retail stores and eating at the restaurants on Third Street Promenade.
---
When is it?
It's going on until right after Christmas (December 5, 2021), so you have some time to check it out.
---
---
Where is it?
The address is as follows:
Third Street Promenade
1351 3rd Street Promenade, Santa Monica, CA 90401
Pop in Third Street Promenade into Apple or Google Maps, and you'll probably be okay.
---
---
How much is it?
It's free! I'm sure that you may end up spending something at one of the shops, though, and depending on your mode of transportation (looking at the majority of visitors, you'd be driving), you may have to pay for parking.
---
---
---
---
Is Santa coming?
Heck yes Santa is coming. He'll be there and available for photos from November 19 to December 24.
And good news, pet owners: your furry friend can sit with Santa specifically on the days of December 15 and 16!
---
---
When are the menorah lightings?
The menorah lightings will take place nightly during the Hanukkah season from Sunday, November 28 through Monday, December 6.
It'll begin at sundown during those dates and will be at the 1400 block of Third Street Promenade (located between Santa Monica Blvd and Broadway). Go check it out.
---
---
---
---
What will parking be like?
Not great, but not horrible. There are a lot of City of Santa Monica parking structures for you to park in. There is also some metered street parking, but we wouldn't necessarily count on it.
This page has a pretty comprehensive list of places you can park.
---
---
---
---
Is this a family thing? Like, is it good for all ages?
Definitely. Kids will enjoy it (especially Santa and the fake snow that will come at times), and adults will probably enjoy the atmosphere, shopping, and people watching.
---
---