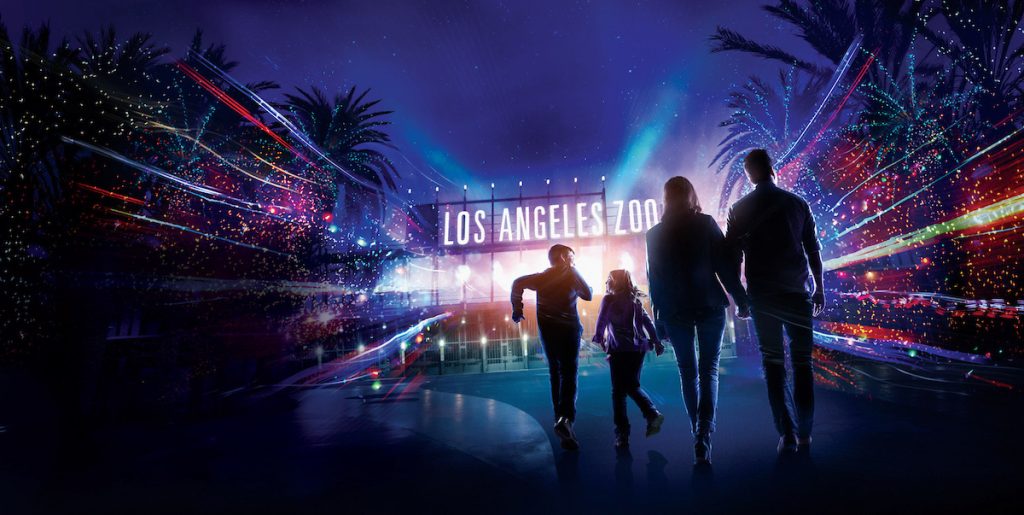 Enjoy the LA Zoo's awesome Lights experience with glowing animals, illumination displays, and holiday lights strung all over the grounds.
---
---
What is it?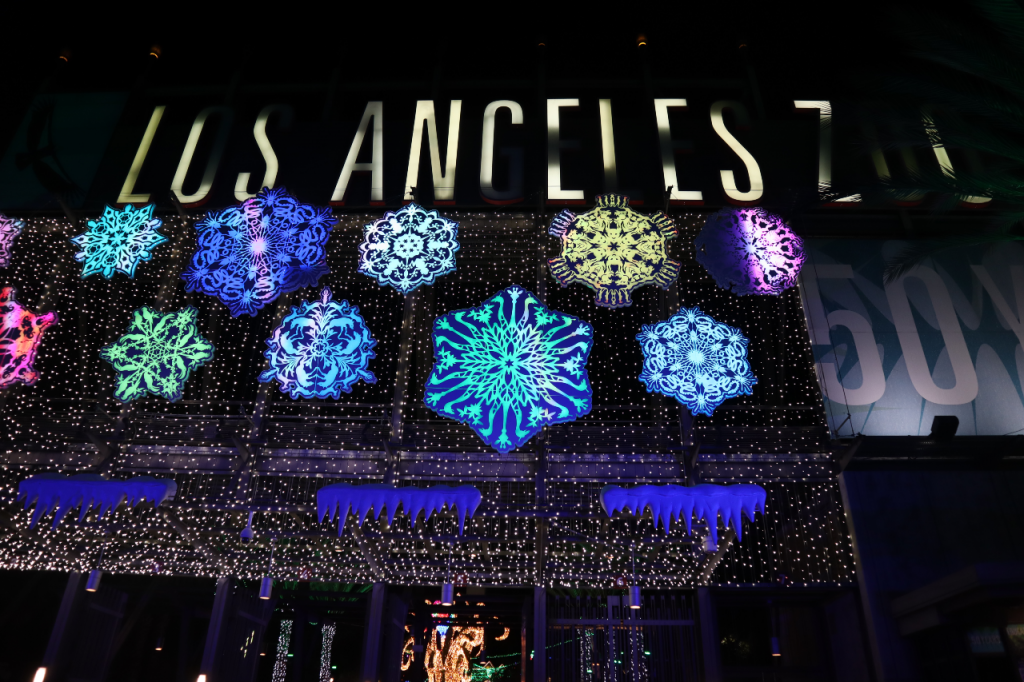 LA Zoo Lights is an annual event—as of 2014–at the Los Angeles Zoo that bills itself as a "nighttime journey", and that it was. We here at Stuff in LA were lucky enough to check it out in person and have come back with a field report of what you can expect there.
On its website, the LA Zoo describes the event with the following:
L.A. Zoo Lights returns for the 2021-22 season and we're glad to welcome you back with more glowing animals and an unforgettable nighttime journey that includes the world's largest illuminated pop-up storybook, a magical disco ball forest, giant glittering snowflakes, and a twinkling tunnel filled with dynamic swirls of color. L.A. Zoo Lights is a not-to-be-missed holiday light experience and has glowed brighter each year since its debut in 2014. This year's event features more light animals than ever before, spectacular new additions – both hand-crafted and high-tech – and returning favorites.

Los Angeles Zoo
In other words, you'll be able to enter the Los Angeles Zoo and see a bunch of holiday displays and holiday lights throughout the park. It's fun to be able to take pictures of the exhibits, and there will be opportunities for you to take pictures with some backdrops as well. Food and drink vendors serving up goodies like hot chocolate and churros are also on site.
---
---
---
---
What can we see there?
Since we attended, we can give a sneak peak of some awesome sights you can check out once you're at LA Zoo Lights.
So first of all, let's get this out of the way: you won't be seeing any of the LA Zoo's live animals. This is primarily a lights experience; to see those animals, you'll have to visit the LA Zoo during the daytime.
Now that that's cleared up, inside, you'll encounter an impressive display with lit-up animals (like meercats and frogs!).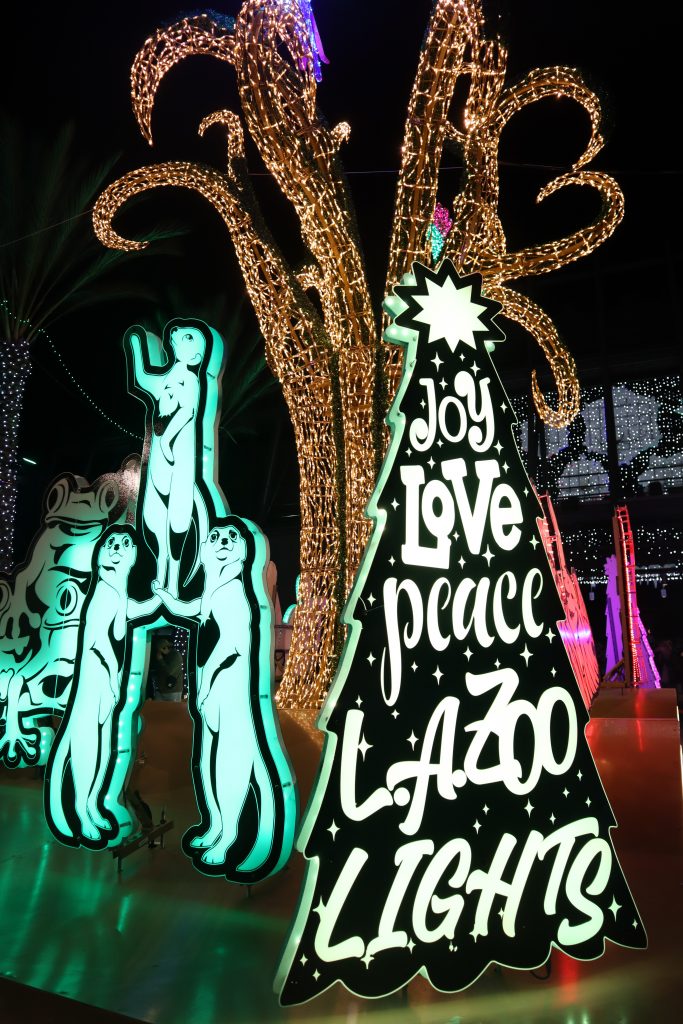 Like we said, there will be a few picture opportunities for you to be in yourself, like this giant LA ZOO LIGHTS sign.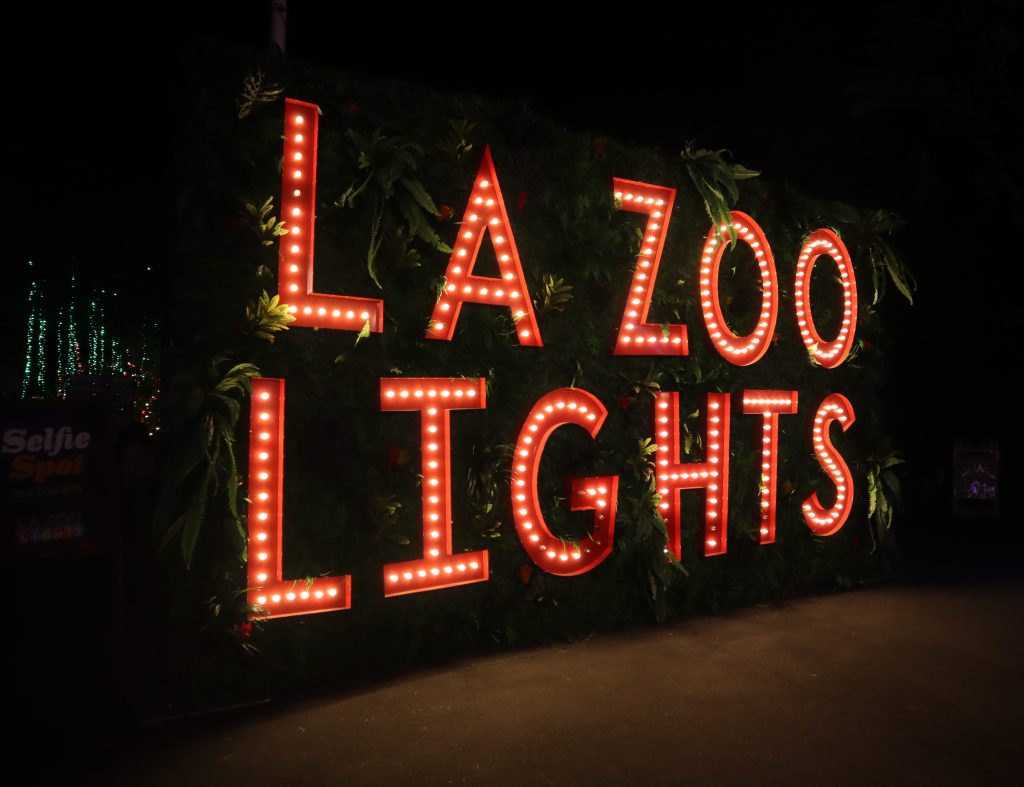 The lights inside are beautiful and varied. We don't want to spoil everything, but we'll give you a little taste since you seem nice.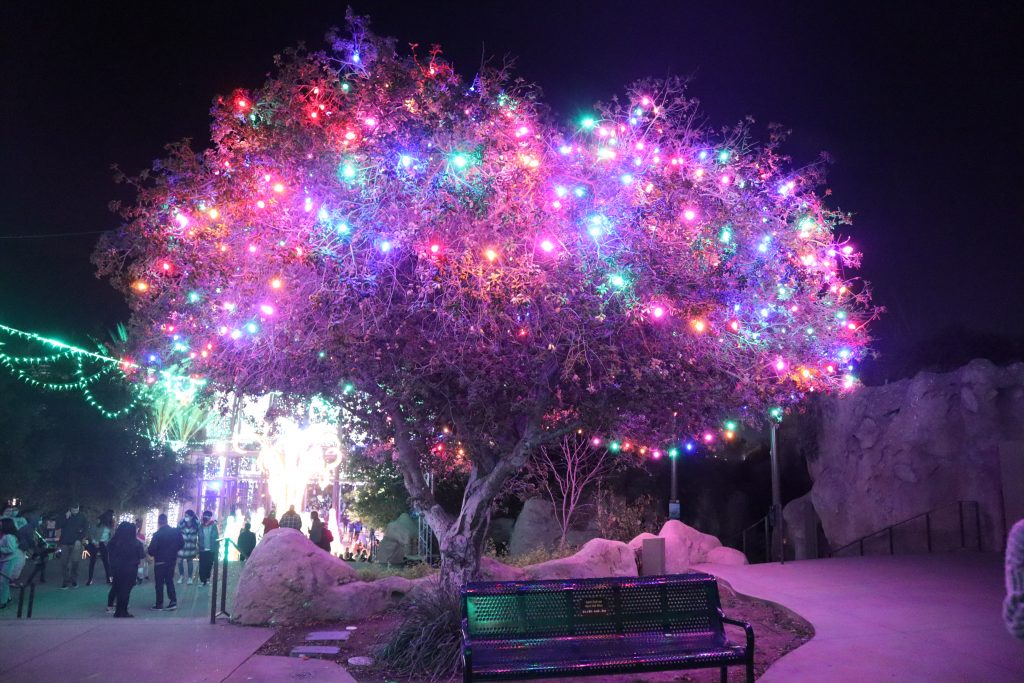 Since this is a zoo after all, there are more illuminated animals!
---
---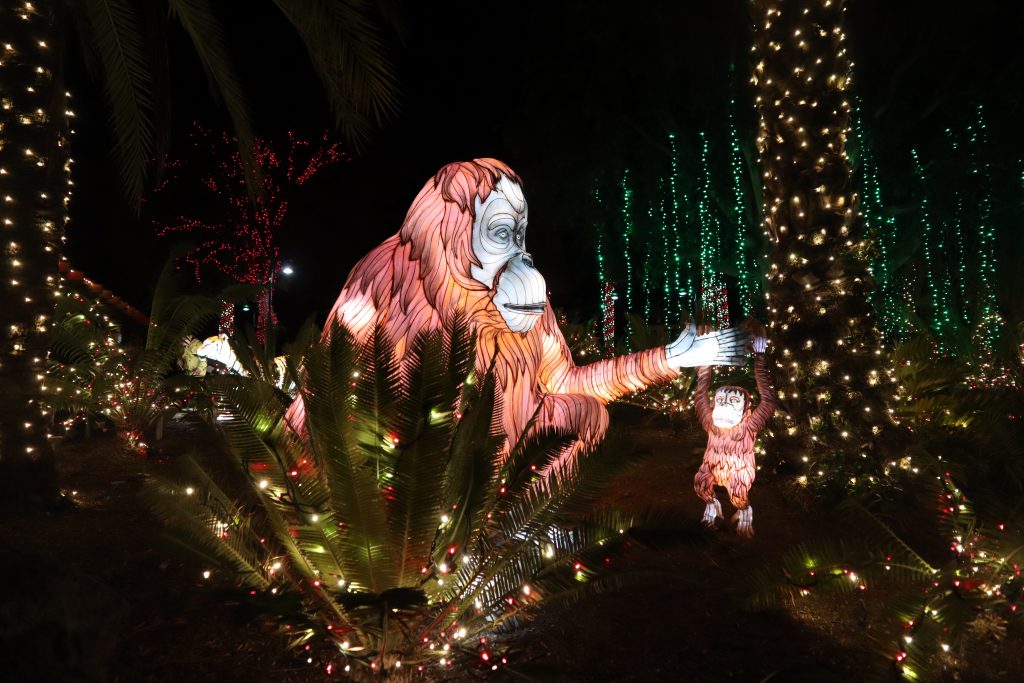 What really struck us about going–despite how popular this event is–is that the atmosphere feels nice. It's nice and mostly outdoors with paved paths since it's just exactly where the zoo usually is. Also, the lights are plentiful, and there aren't many dark areas. There are also gift shops available to offer some variety.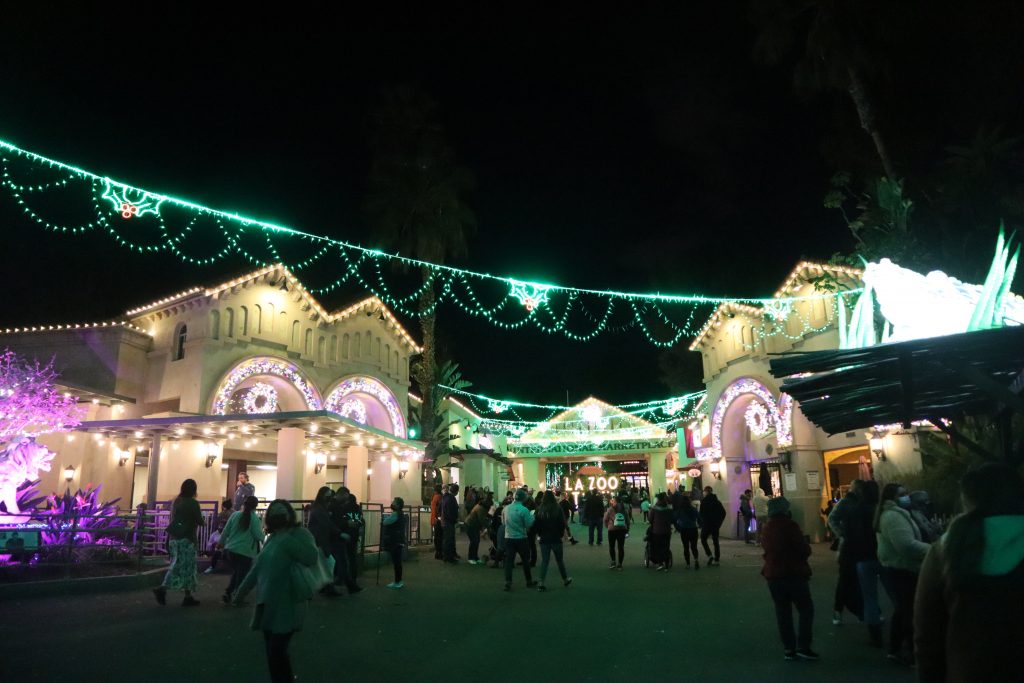 Those looking for Christmas specific decorations will be delighted by the huge tree they have on grounds.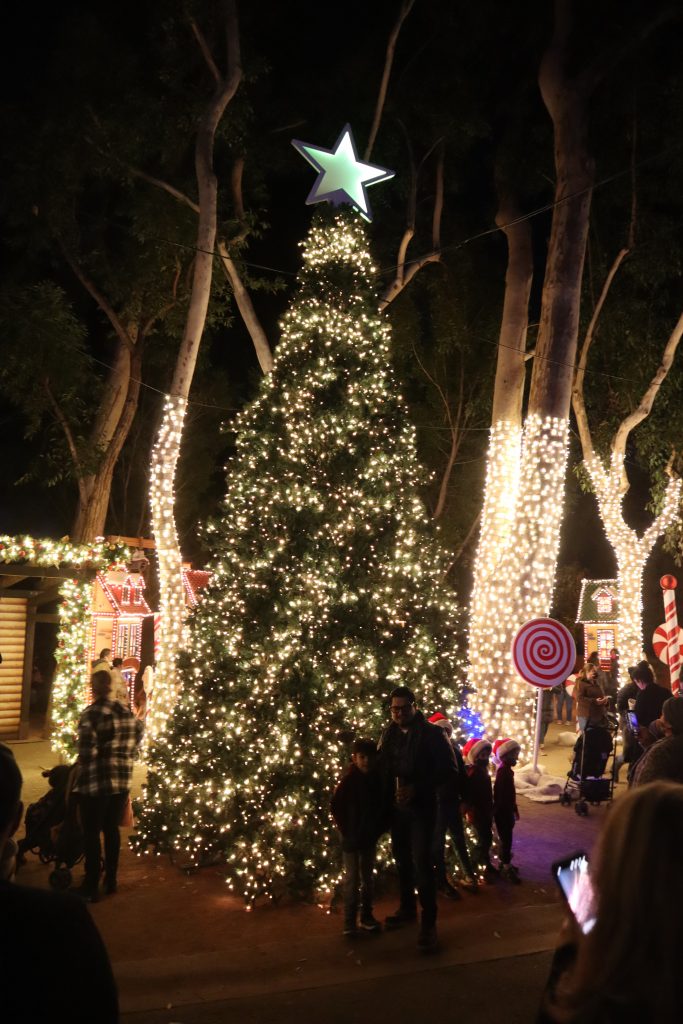 Fun shadow activity? I'm a bit surprised you asked about that, but they do have that here, yes.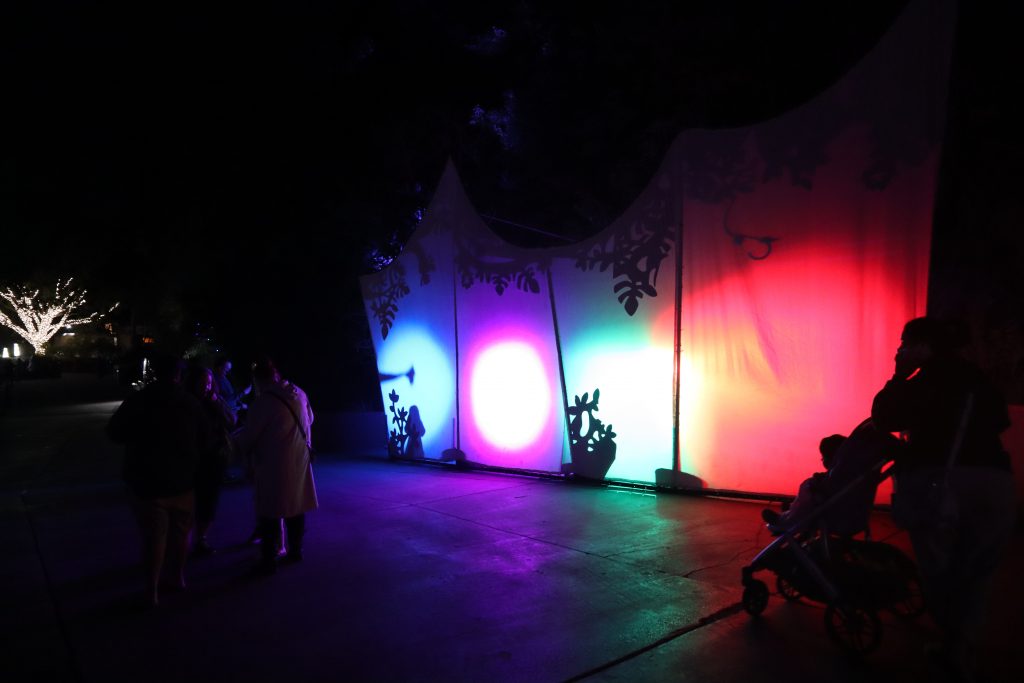 Warning: if you don't want to see a majestic flamingo, then don't scroll on. If you do, though…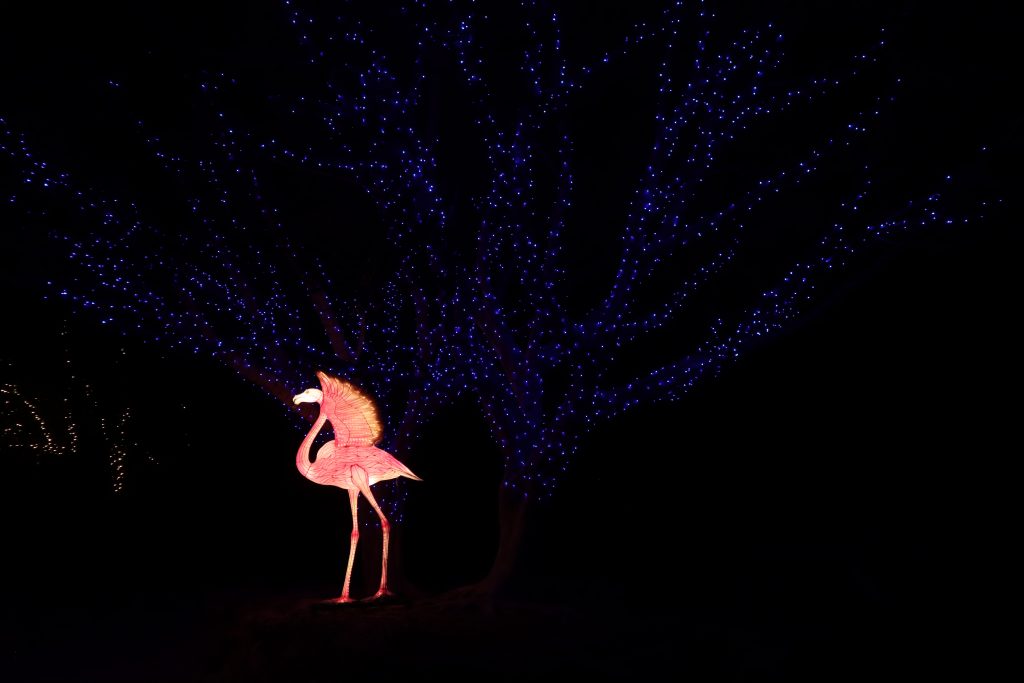 ---
When is it?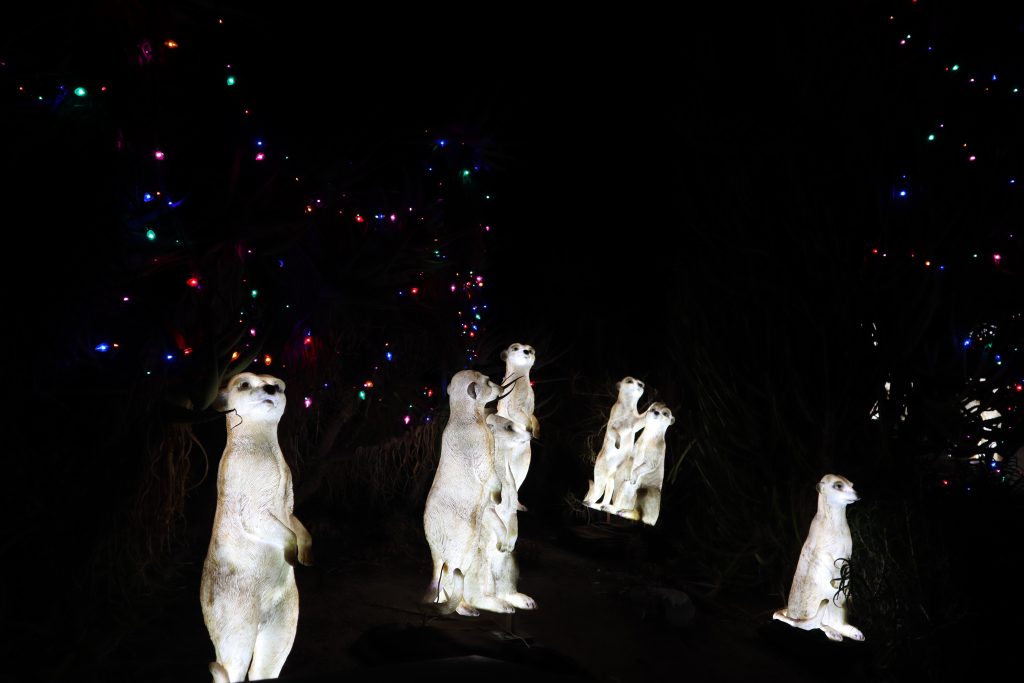 The LA Zoo Lights is going on from November 19, 2021 to January 9, 2022. It'll run nightly–rain or shine–from 6:00 P.M. to 10 P.M. in that timeframe.
Notably, it's closed on November 25 (Thanksgiving Day), December 24 (Christmas Eve), and December 25 (Christmas). That also means it's open on December 31 (New Year's Eve) and January 1, 2022 (New Year's Day).
---
---
Where is it?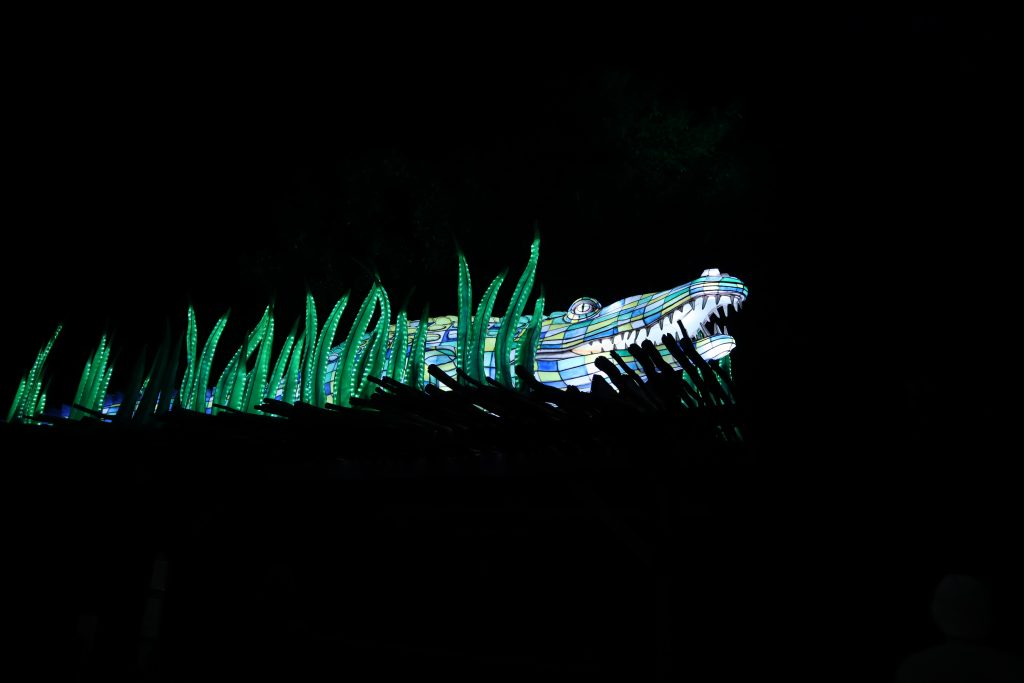 The address is as follows:
Los Angeles Zoo
5333 Zoo Dr, Los Angeles, CA 90027
Pop in Los Angeles Zoo into Apple or Google Maps, and you'll probably be okay.
---
---
How much is it?
Pricing depends on what day you go.
On Value Nights, which are typically weeknights, tickets are $22 each for adults, which is those 13 and older. Children 2 to 12 are $16, and those under 2 are free. Members of the LA Zoo can get in for $15.
On Premium Nights, which are typically weekends and Friday nights, tickets are $22 for adults 13 and older, $17 for children 2 to 12, and $15 for members. Those under 2 are still free. Honestly, that's not a huge jump compared to the Value Nights, which is kind of nice considering we've seen many other events bring the prices up significantly for higher demand nights.
---
---
---
---
Is there timed entry?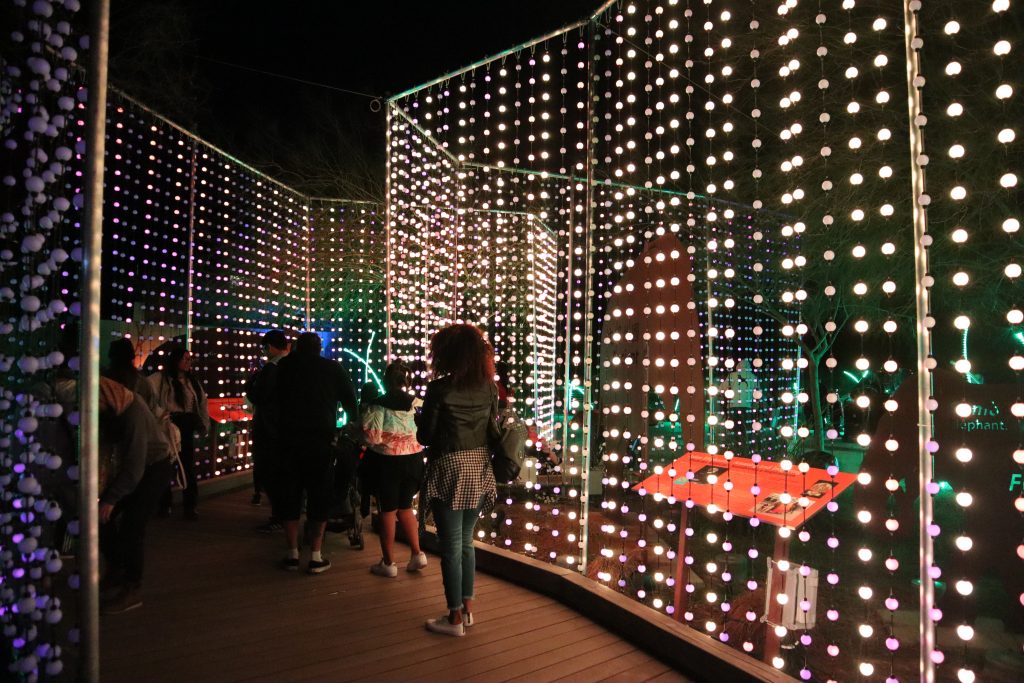 There indeed is.
What we mean by that is that when you buy your ticket(s), you'll have to choose whether you can enter at 6:00 P.M., 7:00 P.M., or 8:00 P.M.
When you get there, you'll have to get in the appropriate line for your time slot. There should be big flags at the front of the line for you to doublecheck. You can also ask any staff or ushers there if you're confused (alternatively, you could also ask those in line, as they probably would know).
The line at first seems huge on weekends, but it goes fast once the clock hits your time.
---
---
Is there a vaccination requirement?
Yes–or at least a negative COVID-19 test taken within 72 hours of when you want to enter. Straight from the LA Zoo's website for proof of vaccination:
All guests 12 and older are required to provide proof of full COVID-19 vaccination or a negative COVID-19 test taken within 72 hours of entering the Zoo. Guests 18 and older must also provide a matching photo I.D.

Before guests can access the Zoo, staff is required to check the guest's proof of full vaccination. For those guests who appear to be 18 years of age or older, the Zoo must cross check the proof of vaccination status with photo identification. Guests have the option of providing proof of a negative COVID-19 test taken 72 hours before entry.

One of the following options will demonstrate proof of vaccination:

– vaccination card issued by the U.S. Centers for Disease Control and Prevention (CDC), or similar documentation issued by another foreign governmental agency, such as the World Health Organization

– photocopy of a vaccination card or a photograph stored on a phone or electronic device

– personal digital COVID-19 vaccine record issued by the State of California, or similar documentation issued by another state, local, or foreign governmental jurisdiction, or by a private company

LA Zoo
Similarly, for a negative COVID-19 test:
A printed document, email, or text message displayed on a phone from a test provider or laboratory that shows results of a Polymerase Chain Reaction (PCR) or Antigen COVID-19 test that was conducted within 72 hours before entry. The printed document, email, or text message must include the person's name, type of test performed, date of the test, and negative test result. Home testing kit results will not be accepted for entry.

The City and County of L.A. are providing free COVID-19 tests at drive-thru, walk-up and mobile testing sites. For more information and to find a site near you, visit the County of L.A. website.

LA Zoo
The check for one of these happens in the initial line that you're in. Make sure to have it ready so by the time you get to the front you're good to go and not fumbling around to get situated. Once you get past that first check, the line to scan your ticket to enter is super quick, at least in our case, so don't worry too much.
---
---
---
---
What will parking be like?
It's honestly very easy. There's a free lot with plenty of parking available. There's even traffic control personnel on hand to guide you into the correct areas, and it should be pretty apparent where you have to park. If you navigate to the LA Zoo in your navigation app, it'd likely lead you to the correct place. After all, all parking gates are open.
One other note we'd like to add is that parking is also available at adjacent lots at the Autry Museum and the lot south of the main lot. Those are good bailout options you may want to have on hand before you go.
---
---
---
---
Is this a family thing? Like, is it good for all ages?
Oh, absolutely. We would hazard to say that the majority of attendees were families with kids. However, that doesn't mean that adults going alone or perhaps couples or friend groups are a bad idea at all. We definitely saw a lot of those as well, and it pretty much boils down to how much you enjoy walking around and seeing holiday lights and displays.
Buy tickets
---
---