---
One of the most comfortable and quaint shopping centers in the greater Los Angeles areas, the Pacific Square Shopping Center (or Plaza) is fantastic for Asian food, drinks, desserts, and more.
---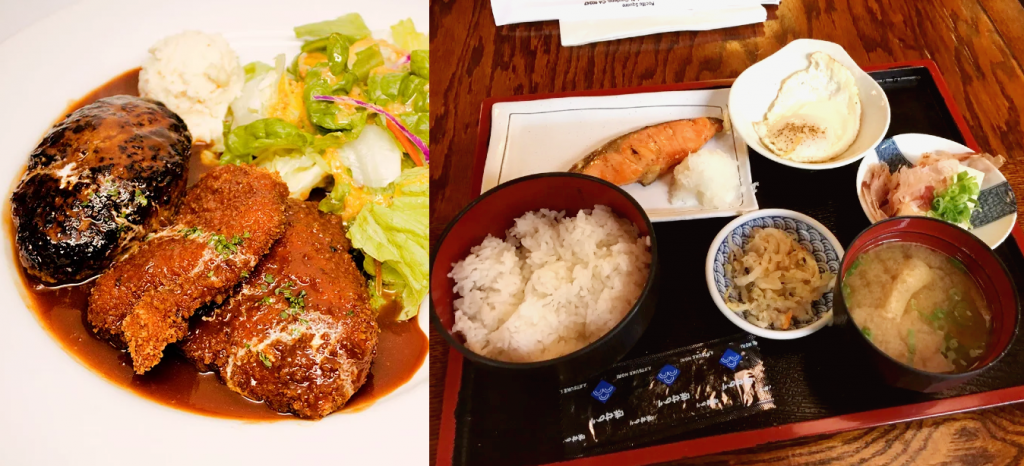 ---
---
Akane Chaya is one of the few Japanese pasta restaurants in the greater Los Angeles area. It's kind of hard to even go past one hand to count them all.
If you've ever had Japanese pasta before, it's Italian mostly in name but not in form. That's not a knock on it at all; actually, it's wonderful, delicious, and often pretty light. Akane Chaya in general serves yoshoku food, which basically means Japanese food with Western inspiration.
Akane Chaya uses spaghetti noodles with a variety of sauces and servings; there are tomato sauces and cream sauces with everything from seafood (like salmon, mussels, or cod roe) to mushrooms to basil to spinach to meat sauces to bacon to ham to beef steak. The variety keeps you coming back; one of our personal favorites is the Seafood Pepperoncino pasta which features shrimp, squid, scallops, chopped clams, olives, chopped tomatoes, garlic, parsley, red chili peppers with white wine and olive oil.
Akane Chaya also has fantastic hambagu plates (a rarity in the United States) and curry plates, both of which are very well executed.
For their full menu, check here.
---
---
Fukagawa is a nice and authentic Japanese restaurant that is most notable for serving authentic Japanese breakfast. Below is the menu as of 2019; please note that the exact details might have changed, especially when restaurants are on a take-out basis: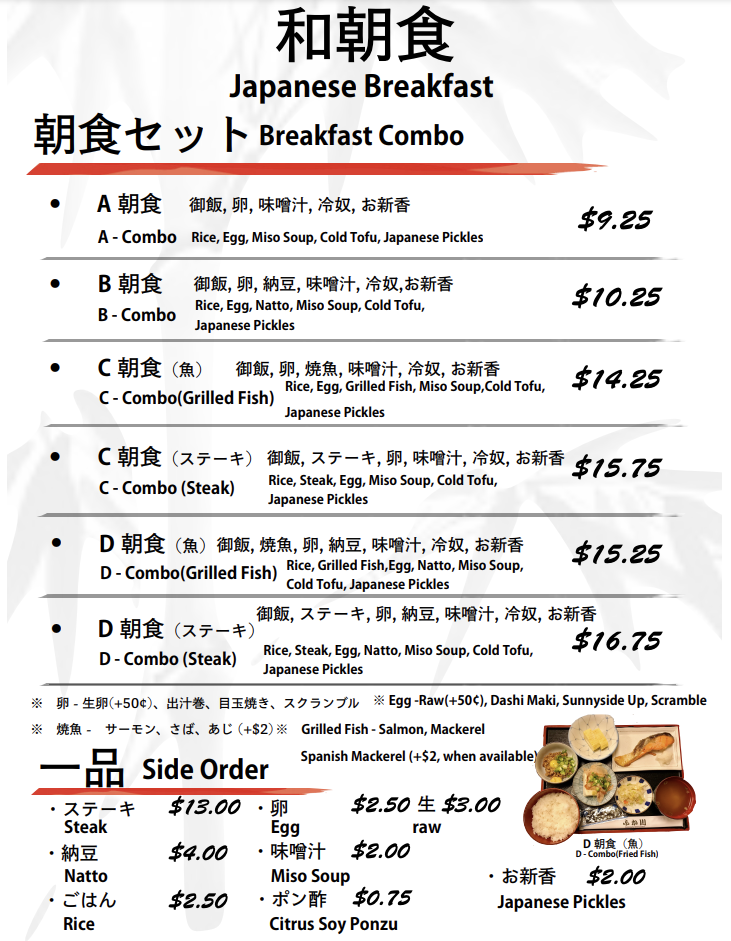 Fukagawa is also open for lunch and dinner; we highly recommend trying the katsu, the salmon, mackerel, steak, chicken teriyaki, croquette, and the deep fried oysters. Also on their menu is buta shogayaki (豚の生姜焼き定食), which is pork and ginger sautéed together, as well as gyu shogayaki (ビーフ生姜焼き定食), which is beef steak sautéed with onion and ginger sauce.
Fukagawa's menu expands even more, so it's kind of a question of what don't they have rather than what they do; also what might fit your fancy are udon, soba, curry, sukiyaki, tempura, shabu shabu, and more.
You can check out their complete menu here (PDF).
---
---
NIKUMAN-YA is best known for their Japanese bao, or buns. They have steamed pork bao, melty cheese pork bao, vegan bao, seafood bao, and even sandwiches called baowitches.
Bao is not all they have, though; count fried rice, fried noodles, and gyoza among the other goodies available.
---
---
All we really have to say is Chinese hot pot and that should be enough for you to check it out immediately, but it's sort of our job to better explain it, so we will!
O Young's Rock Pot is a great alternative to Boiling Point, which is one of the well-known hot pot establishments in the United States.
O Young's Rock Pot serves already-made hot pots–so no need to dip and cook it on your own. The spiciness level varies from not at all to extremely spicy, which is the way all hot pot restaurants should be (the anonymous author of this article is partial to the spicer side of that scale, but he or she suffers greatly from the pain sometimes).
The hot pot options range from beef short rib, dry pot, japanese miso, whole crab, fish fillet, beef, and more. Additionally, great add-ons like dumplings, beef noodle soup, green onion pancakes, and more can really round out your meal.
With the differing broths like numbing spice broth available, most people would be satisfied with the options and be able to order something they like.
---
---
Sweet Rice is a fantastic Thai restaurant where you can get authentic and cheap Thai dishes and then finish it off with amazing desserts.
Try their khao soi, tom yum noodle soup, yellow curry, green curry, crab omelettes, and more. Don't forget to try the mango sticky rice after!
---
---