---
A bunch of famous peoples' names on stars on the sidewalk. You look to find ones you recognize. Simple!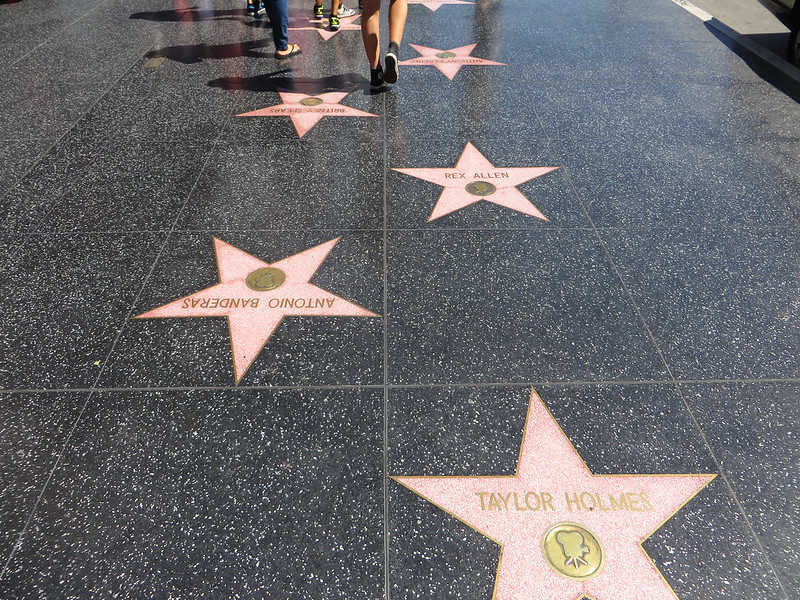 ---
By Maximillion 
I'mma be real here. The Hollywood Walk of Fame is something you probably wanna do just once in your life, but any more than that is slightly tortuous.
Now, I know I'm being a hater, but sue me. Let me get into the good of the Hollywood Walk of Fame before I get into the bad. 
The Good
The Stars
First of all, it's definitely historical and definitely a part of the LA fabric. I mean, you got all these super famous names lining the sidewalks, and it's definitely an honor to get one of these stars. I mean, you got legendary stars here. Jennifer Aniston, Gene Autry, Shrek...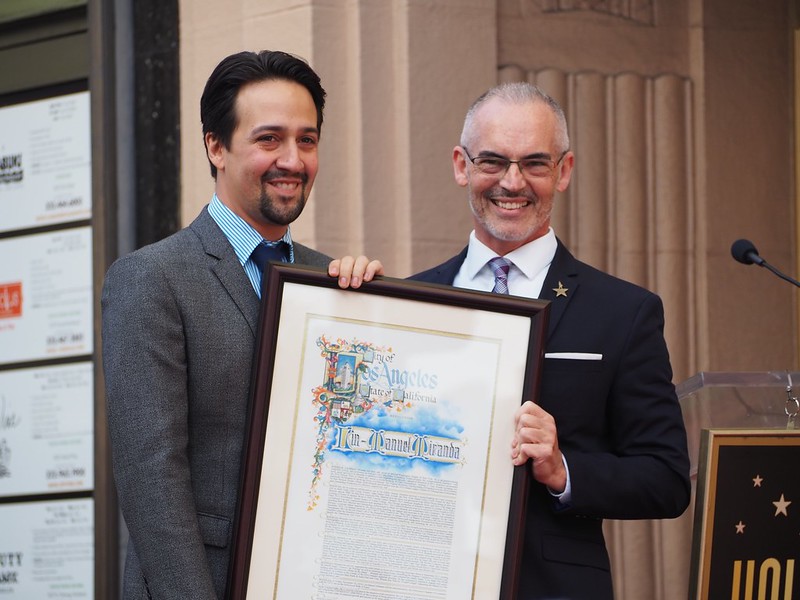 I mean, don't get me wrong. It's awesome and touching to see some of these art legends get recognized for their hard work and dedication, and it's cool to walk along and be like, "Oh I love her! He's the best! Oh man, this guy?! I forgot about him!"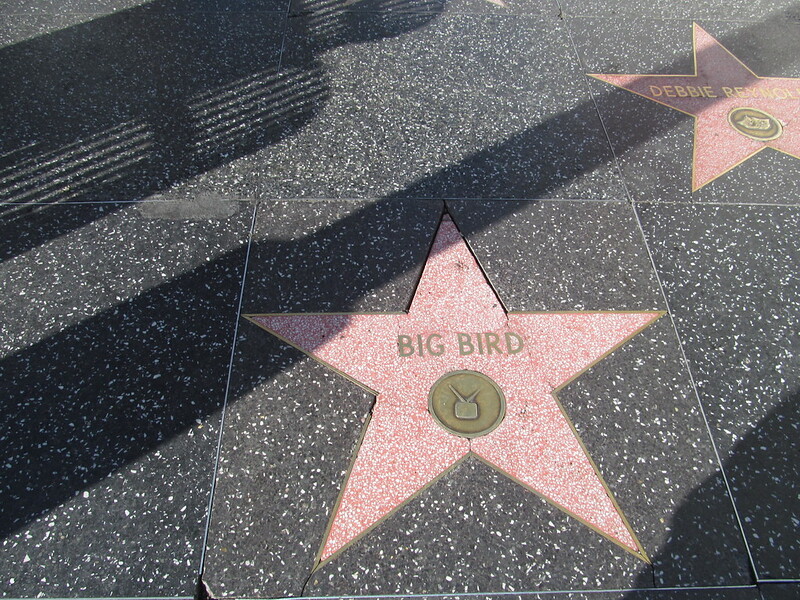 I think you gotta have something like this in LA because to a lot of the world, LA and Hollywood is all about this kind of movie and entertainment thing. Again, I'm not hating at all; I think this is a really cool thing to do. It's cool rolling up to the Chinese Theater for the first time just to see this thing you've seen millions of pictures of, and it's cool that celebrities get their stars there and they do THE THING with their hands and shoes in the cement and all.
I also acknowledge that sometimes the people who get stars are sort of controversial, but you're gonna get that for sure. I'm not gonna name names as long as we can all agree that Shrek belongs no matter what.
---
---
The weird stores and stuff
Hollywood & Highland
I'm gonna be real here and say that this mall is actually sweet. I don't lie with you guys since your guy isn't being paid to put on these places, but I mean, look at this view at night.
I honestly love the open format of this mall because it's so LA, man. We're known for good weather so we definitely should take advantage of it. I also like that the stores in here are accessible and aren't just upcharging because of the location. They know a store is a store and you still gotta be mostly fair. I think this is actually one of the chiller spots in Hollywood because you don't have as much garbage places and people around. 
---
---
Souvenir stores
Alright, at this point we're still kinda in the good territory but sort of leaking into the bad. The thing is, shopping in this area is kind of hit or miss. First of all, you got the super cheap tourist trap souvenir stands (if you ever wanted a $5 I love LA hat, fake Grammy awards, and Marilyn Monroe cardboard cutouts, then you're gonna go absolutely H.A.M.). Now, if you're looking for something to last you a long time to remember your trip, I just gotta say to be careful. Things are made pretty cheap here so be mindful of what you choose. I swear the ink on some of these things rub off in your shopping bag.
Madame Tussauds
I don't like this picture but I want to subject you guys to it.
---
---
Next, you got like Madame Tussauds, which is one of those wax museum places you see in tourist trap areas. I'm not gonna lie, it's not my favorite place but I went to one recently and actually had fun (mind you, I got in for free because your boy got hooked up, so that probably played a part in my enjoyment). It's cool seeing celebrities from the past and present and to see them actually look like the actual person. That said, it's not like you're gonna get extreme massive value out of your trip, but getting a few pictures with your friends isn't the worst thing in the world. Honestly, I like Madame Tussauds for mostly one reason only, which is that we get videos like this one.
Jimmy Kimmel Live 
I know what you want. You want me to stop rambling and just tell you how to get tickets to Jimmy Kimmel's late-night show, which he films on the Walk of Fame. So I'm gonna shut up and provide them.
I'M NOT GETTING ANY KICKBACK ON THIS BECAUSE IT'S FREE, BUT GET YOUR KIMMEL TICKETS HERE
Yes, it's legit. I've used it before. No, I'm not being paid. Your boy isn't racking up those sponsorship dollars yet. I'm just giving the people what they want because that's what this website is honestly all about. The tickets are free which I always thought was pretty dope about TV tapings.
The Bad
I don't love crowds, but you're just gonna get that in these touristy LA areas. Complaining about them is like complaining about bananas in your banana sundae. I also don't love excessive parking fees, and if you're not careful around here, you're gonna get those. 
Undoubtedly though, my least favorite thing about the Hollywood Walk of Fame has got to be the annoying street "performers". What I mean by this are the terrible people who dress up in nasty Elmo or Mickey Mouse costumes and then proceed to pressure poor tourists in paying up for photos!
Hear me out on this one. I respect the hustle. I love it at times. I think it's cool to be able to stand up all day and make somewhat of a living out of it. 
That said, it's mostly that these guys go about it the wrong way at times. First of all, the costumes definitely are not that great sometimes and definitely need an upgrade instead of the bare minimum. Secondly, I just hate how they get so rude and mean to tourists who didn't even know they were encouraged to pay in the first place. I've seen these guys in, like, an Elsa costume straight up cuss out parents for not paying up. There's no place for behavior like that.
I know some of these folks are decent, but in general I find myself avoiding them like the plague. Also just be wary of anyone offering you CDs or just really anything in general, because if you're trolling around here, it's most likely you're just trying to get that tourist cash.
Alright, rant over. I'm just gonna think about Shrek and get back to my happy place.
---
---
---
---