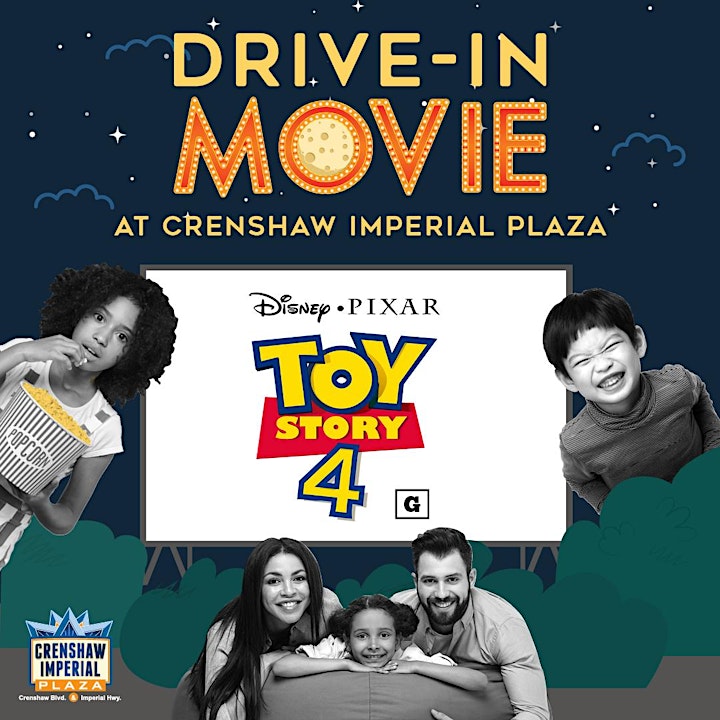 What
Crenshaw Imperial Plaza, a shopping center in Inglewood, California north of the 105 freeway, is putting on limited-space drive-in movie right in their parking lot next to various eateries, stores, and businesses.
They will be showing the fantastic Pixar film Toy Story 4.
The event will be observing all state, county, and CDC guidelines for COVID-19 safety.
---
---
When
The screening will be held Tuesday, January 29, 2021 at 5:30 P.M.
You should arrive between 5:30 P.M. and 6:15 P.M.; the earlier, honestly, the better, because you'll have to redeem your online reservation by showing your driver's license. It will also be on a first-come, first-serve basis, so we honestly suggest to arrive at 5:30 P.M. at the bare minimum to be safe.
Where
The event will be held at:
Crenshaw Imperial Plaza
2900 W Imperial Hwy,
Inglewood, CA 90303

---
---
How to reserve tickets
Simply head over to the EVENTBRITE PAGE TO RESERVE TICKETS.
The tickets are technically free, but it's $10 for each car to enter. That's not bad at all compared to some of the other drive-in movies that have popped up in the last year, to be honest. It scales pretty well for families, and it's not bad for couples either.
How to check-in once you get there
The organizers describe on the Eventbrite page:
A no/minimum contact check-in station prior to entering the parking area
Just hold up your ID against your rolled-up car window (Stuff in LA note: this is great because you don't really have to expose yourself–and vice versa–to another person)
Please wear a face covering when interacting with others at check-in
Cars will be permitted in event parking area at 5:30 P.M.
When you arrive, park your vehicle and order from the from any of the favorite Crenshaw Imperial Plaza eateries. You can pick up your meals and relax before the movie begins at sunset
Again, reservation check-in window is between 5:30-6:15 P.M.
All reserved tickets will be surrendered at 6:15 pm to non-ticket holders

---
---
Do I need to stay inside my car?
Yes, for the most part you will have to stay inside the car. You can, however, pop your trunk and watch from there or put out lawn chairs next to your vehicle, but you'll have to wear face coverings and maintain social distancing rules. The Eventbrite page goes on to describe additional safety precautions:
State of California guidelines for COVID-19 safety are being followed to ensure this event meets recommended standards. To help ensure safety, we will leave enough distance between you and surrounding vehicles. We ask that all guests remain in their vehicles, leave at least 6' between your household and others, and wear masks when outside your car. In the event it is necessary for a guest to leave their vehicle, guests must use safe and social distancing practices.


Eventbrite
What is there to get to-go from at Crenshaw Imperial Plaza?
They have the following restaurants and eateries:
Chipotle
Five Guys
Jamba Juice
McDonalds
Norms
Ono Hawaiian BBQ
Subway
If you're hungry, make sure to get to-go before the movie so that you can munch and watch.
---
---