---
50,000 square drive-thru feet experience from with 18 vibrant exhibits ranging from a flower superbloom to a rainbow road.
---
---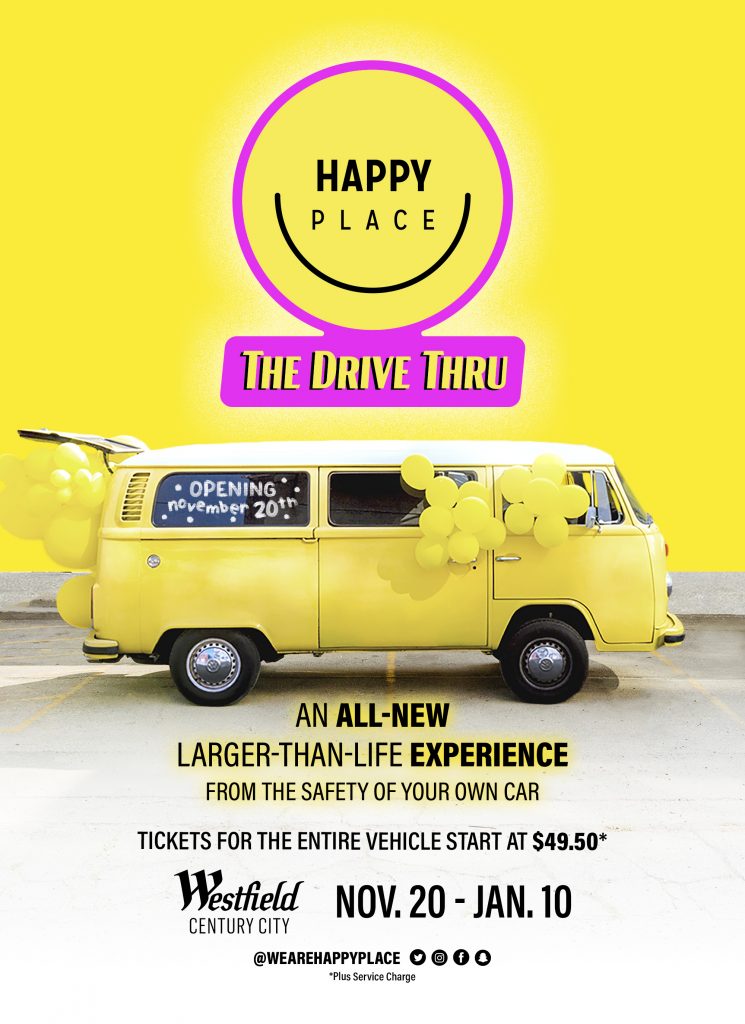 ---
---
WHERE
Happy Place: The Drive Thru will take place on the 3rd floor of the Westfield Century City mall's parking structure.
The address you can put into Google or Apple Maps is:
10250 Santa Monica Blvd, Los Angeles, CA 90067
---
---
HOW TO BUY TICKETS
already on sale
on
Happy Place's website
. They start at
$49.50
plus fees for the entire car, so it's even more worth it if you bring the people you live with.
---
---
WHEN
The Happy Place exhibit will be at the mall from November 20, 2020 to January 10, 2021.
---
---
WHAT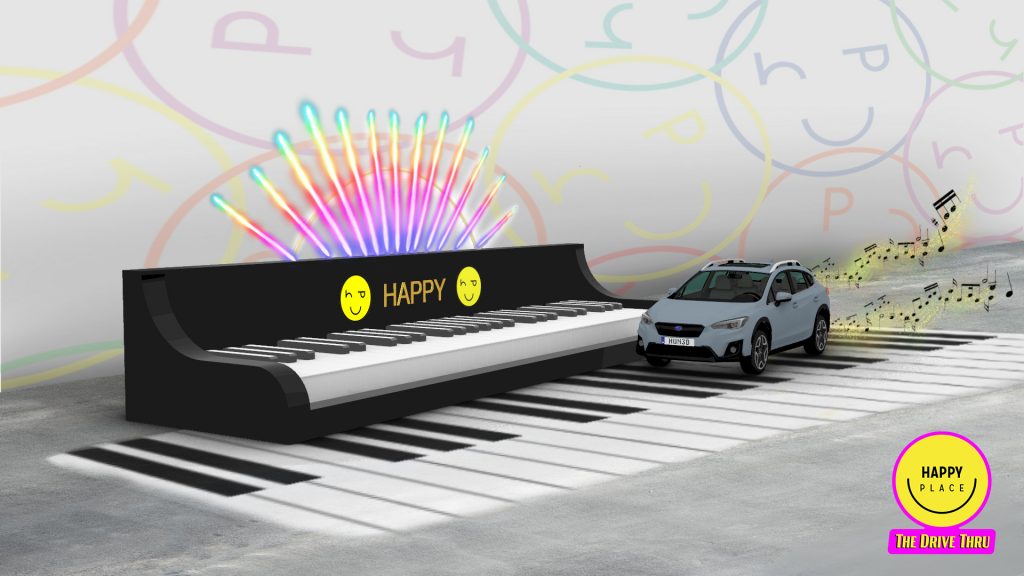 After making its sold-out debut in 2017 in Los Angeles and subsequently embarking on a world tour with stops including Chicago, Toronto, Boston, Sydney, Australia and a Las Vegas Residency at the Mandalay Bay Resort and Casino, HAPPY PLACE returns to L.A. this winter with an all-new reimagined Drive-Thru experience: HAPPY PLACE – THE DRIVE THRU.
This one-of-a-kind event will deliver HAPPY and pure entertainment from the safety of your car. Starting at $49.50 plus fees for the entire vehicle, it'll be an experience everyone can enjoy and is likely to brighten your 2020.
The journey begins on the 3rd floor of Westfield Century City's parking structure, covering over 50,000 square feet, leading you up to the picturesque rooftop. HAPPY PLACE – THE DRIVE THRU will feature over 18 unique and vibrant exhibits, designed to embrace and accentuate experiencing the event from your own vehicle.
Attractions

Guests will experience this event with their windows down while keeping their masks on to enjoy this multi-sensory event's Happy themed scents and sounds. Below, we'll give a brief description of some of the cool exhibits you can see.
California Dreamin'
A road trip through the glorious Golden State.
Tickle the Keys: The Giant Piano Experience
The world's first car-operated piano, measuring over 30 feet long and over 11 feet tall.
Club Happy
A pulsating nightclub experience… for your car.
Rainbow Road
Vibrant displays in every color of the rainbow.
Sweet Tooth Street
A joyful candy supersized wonderland.
Super Bloom
A HAPPY PLACE favorite, reimagined with 40,000 handmade flowers.
…and 12 more!
That's just the tip of the happy. There are over 12 more attractions and exhibits spanning the rest of the 50,000 square feet area, so you'll have to go and find out what they are.
---
---
More background
"When we first created HAPPY PLACE, we never could have imagined the over the top reception the residents of L.A. would give us, and it was truly overwhelming for myself and our entire hard-working creative team" said Jared Paul, founder of HAPPY PLACE. "There has never been a more important time than now for people to have the much needed chance to do something fun with their friends and family in a safe way.
"We are so excited to have been able to reinvent HAPPY PLACE in a way that truly embraces and accentuates guests enjoying themselves in their cars in a completely unique way," he continued. "We cannot wait to return to our hometown of Los Angeles and spread some much needed moments of excitement and happiness."

"Westfield is thrilled to partner with HAPPY PLACE and its world famous experience enjoyed by so many,"
said Louis Schillace, Senior General Manager of Westfield Century City. "With the holiday season upon us, our destination will provide many festive and safe experiences for Angelenos looking to shop, dine, be entertained, or simply spend time with friends and family,"
---
---
---
The Happy Place Lemonade Stand Charity
HAPPY PLACE- THE DRIVE THRU will also feature a new take on its Lemonade Stand, where net proceeds benefit Los Angeles-based charities. The Happy Place Lemonade Stand has donated over $100,000 to more than 25 charities around the world. That makes us happy.
---
---
Get tickets
After two previous sold-out runs of HAPPY PLACE in L.A., tickets may not last long for this once-in-a-lifetime drive-thru experience.
Due to safety restrictions and logistics of this event, space is limited, so get your tickets while they last.
Head to www.HappyPlace.me now to sign up to be the first to buy tickets. Tickets for the entire vehicle start at just $49.50 plus fees.
---
---
---
---