---
Moderate hike with an ocean view in Los Angeles — what's not to like?
---
---
What: Los Liones Canyon Trailhead Hike
Where: 580 Los Liones Drive, Pacific Palisades, CA 90272
Los Liones Canyon Trailhead is a moderate 2.6 miles (roundtrip; just 1.3 miles to the top) hike in the Pacific Palisades.
The main vegetation is
chaparral
, which is pretty common for LA hiking.
---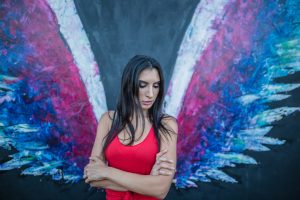 [Also on Stuff in LA: A List of Painted Walls and Murals in Los Angeles]
---
There aren't many trees for shade, so you're pretty exposed to the sun. For that reason, definitely wear sunscreen, a hat, maybe some sunglasses, and definitely bring lots of water.
[wpws id=8]
The view
The end of the trail is by far the most memorable part of this hike; it features a nice view of the Pacific Ocean and has a few benches for views of the Pacific Palisades and Santa Monica.
How to get there
Driving instructions
You're going to want to drive to Los Liones Drive. It's the second left off Sunset Blvd from the Pacific Coast Highway (PCH). If you miss the left, then it's kind of annoying because you're going to go a little bit before you can turn around. Trust me–I've done it, and it kind of sucks.
---
---
There's a Fire Station on the corner, so if you see that, you're in the general area.
---
---
The last time I was here, I could park on the right side of Los Liones Drive. Then, I just entered the gate at the end of the cul-de-sac.
[wpws id=6]
How long is it?
It's 1.3 miles up to the viewpoint. Not bad, but also not something you want to do in flip flops or anything like that.
What is the elevation gain?
The elevation gain is 544 feet.
How hard is it?
It's challenging for most people, but it doesn't mean that you have to be in amazing shape. Just be prepared with adequate water and decent health because it isn't a total walk in the park.
More info
For more information, check out the LA County Trails' official website for the Los Liones Canyon Trail.
---
---