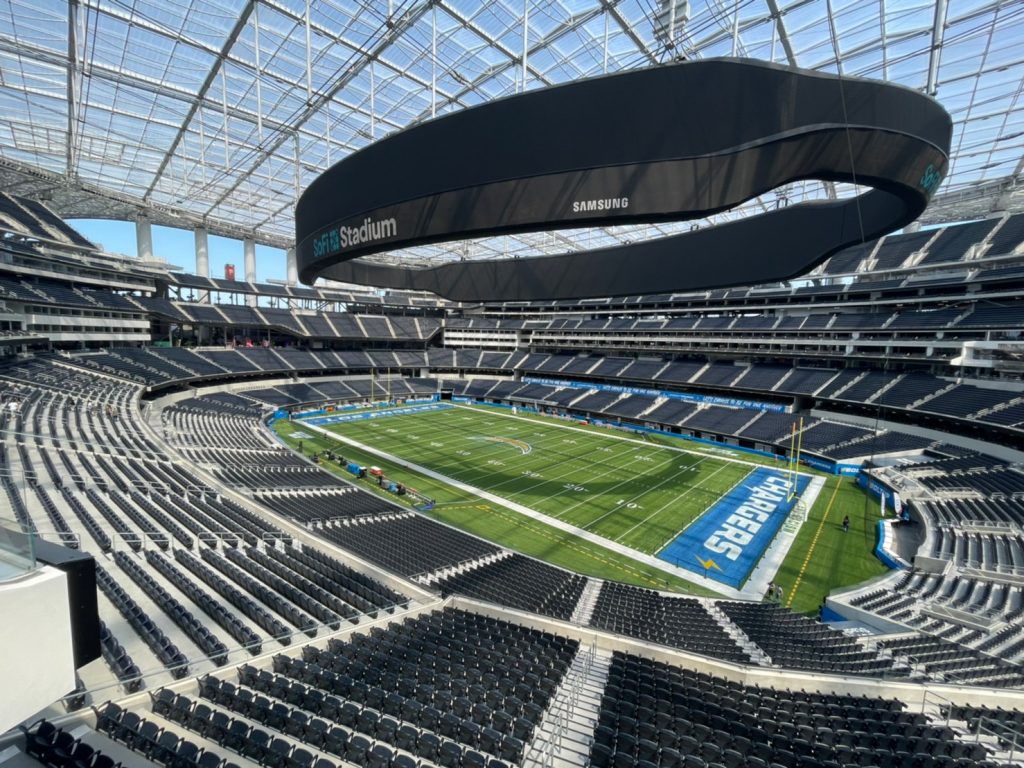 If you like football, and especially if you like the Los Angeles Rams and/or the Los Angeles Chargers, then you'll enjoy SoFi Stadium.
If you like musical venues built with music in mind, then you'll enjoy SoFi Stadium.
---
---
SoFi Stadium in Inglewood, California next to the historic Forum and in Hollywood Park officially opened in September 2020, and in addition to hosting the Rams and Chargers, it serves as the home of the Jimmy Kimmel LA Bowl.
---
---
It also is going to host some huge events coming up like Super Bowl LVI in February 2022, the College Football National Championship in January 2023, WrestleMania–yes, Wrestlemania!–in April 2023, as well as soccer matches and the opening and closing ceremonies of the 2028 Summer Olympics.
Not a bad lineup.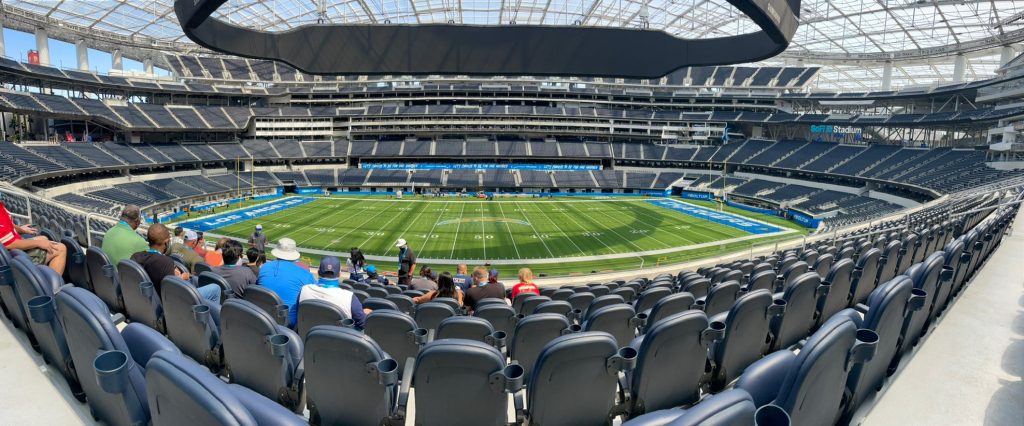 SoFi Stadium is flat-out huge; it has a whopping 70,240 seats for most events but can actually tack on an extra 30,000 for events that need it. Over 100,000 folks in house is absolutely epic, and SoFi Stadium can apparently handle it.
In addition, SoFi Stadium has an expansive pedestrian plaza with an awesome man-made lake and waterfall along with a music and theater venue called the YouTube Theater which itself can seat 6,000.
---
---
SoFi Stadium was built privately and cost between $5 and $6 billion, making it the most expensive sports venue that's ever been built. The quality is certainly clear–Stuff in LA got an exclusive look of the stadium, but the best part is that so can you!
In this post, we'll go over the paid stadium tour that is 100% open to the public; we'll show you photos of some of what you can expect (won't spoil it all so that you get your money's worth), break down some neat facts, and even give some tips to make sure that it's easier for you once you arrive to take the tour.
About the tours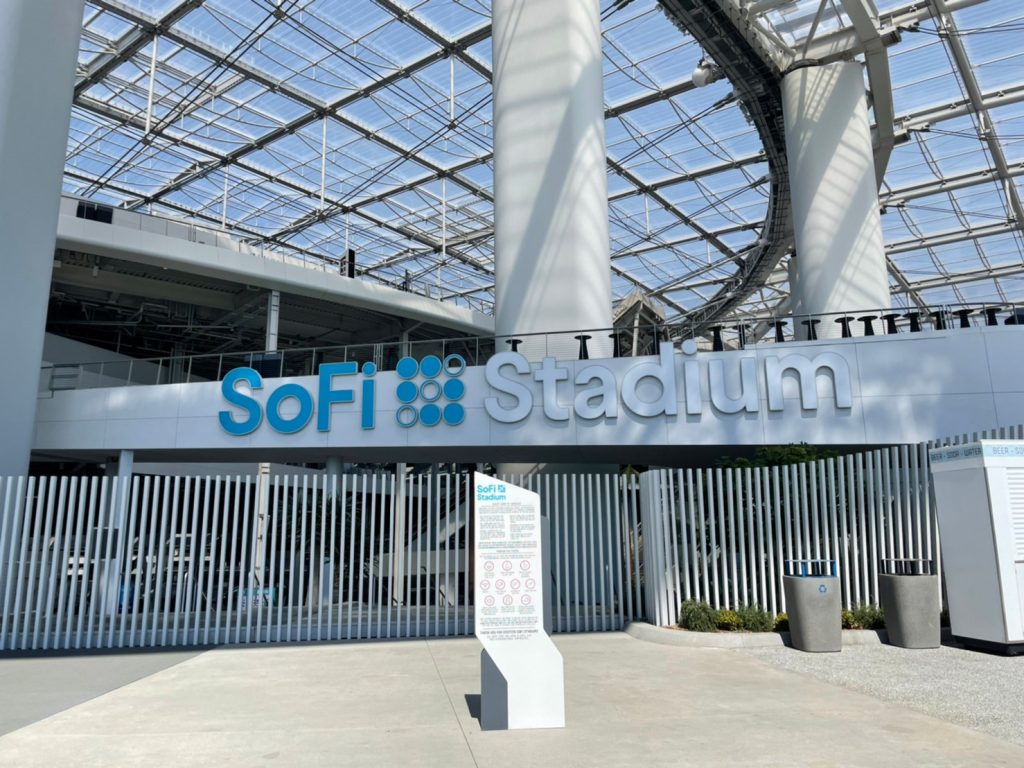 On the SoFi Stadium tours website, they explain the tours: "Here you can experience what it's like to be a LA fan, game viewer, broadcaster, player and more, on and off the field. We invite you to explore the transformation of the 300-acre Hollywood Park in Inglewood, CA, with our tours now available for purchase."
Additionally, during the NFL season, SoFi stadium is offering special Rally Day tours: "Rally Days give NFL fans an experience of a lifetime, the day prior to Los Angeles Rams and Los Angeles Chargers home games. Hosted exclusively during the NFL season, these tours feature an elevated, team-focused atmosphere that is perfect for the ultimate football fan!"
---
---
The pedestrian plaza
SoFi Stadium has a really awesome pedestrian plaza where you can walk around and take around your surroundings. One of the first things you'll see is an absolutely humongous SoFi Stadium sign that is perfect for photo ops.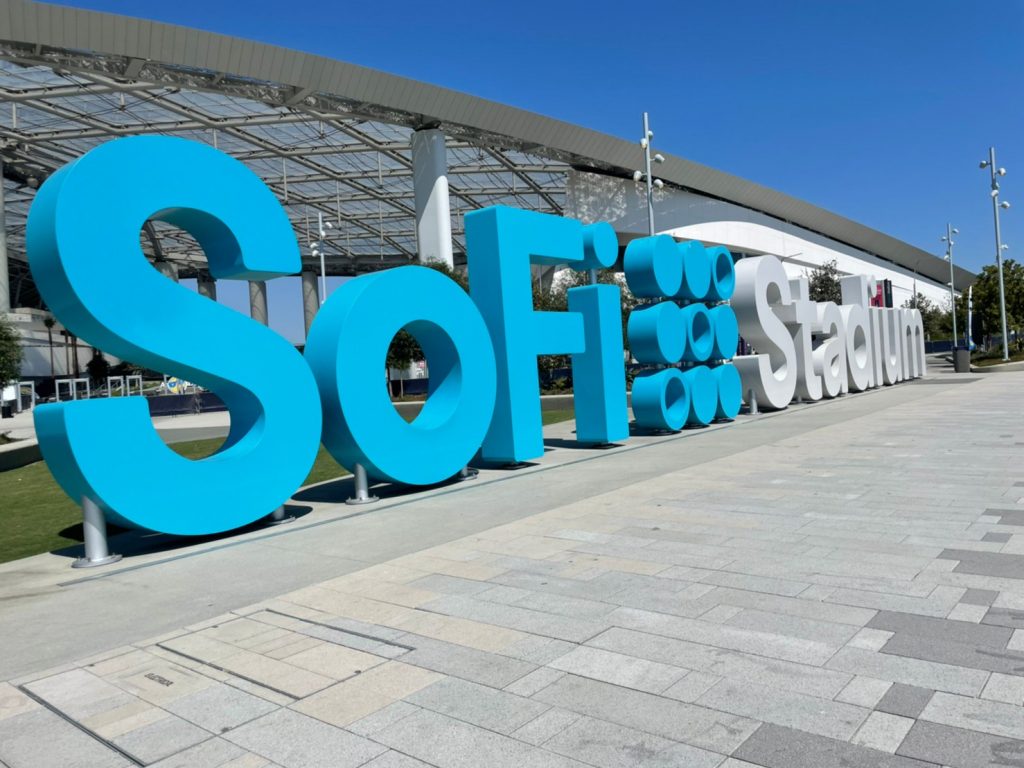 Also impossible to miss is Rivers Lake, which is a 6 acre man-made lake holding 11 million gallons of water–in other words, a lot of water. A cool fact here is that it's designed to catch 70 to 80% of rainwater to be used to water plants all around the stadium.
Also in the lake is a waterfall which is lovely and was being enjoyed by seagulls on the day we visited.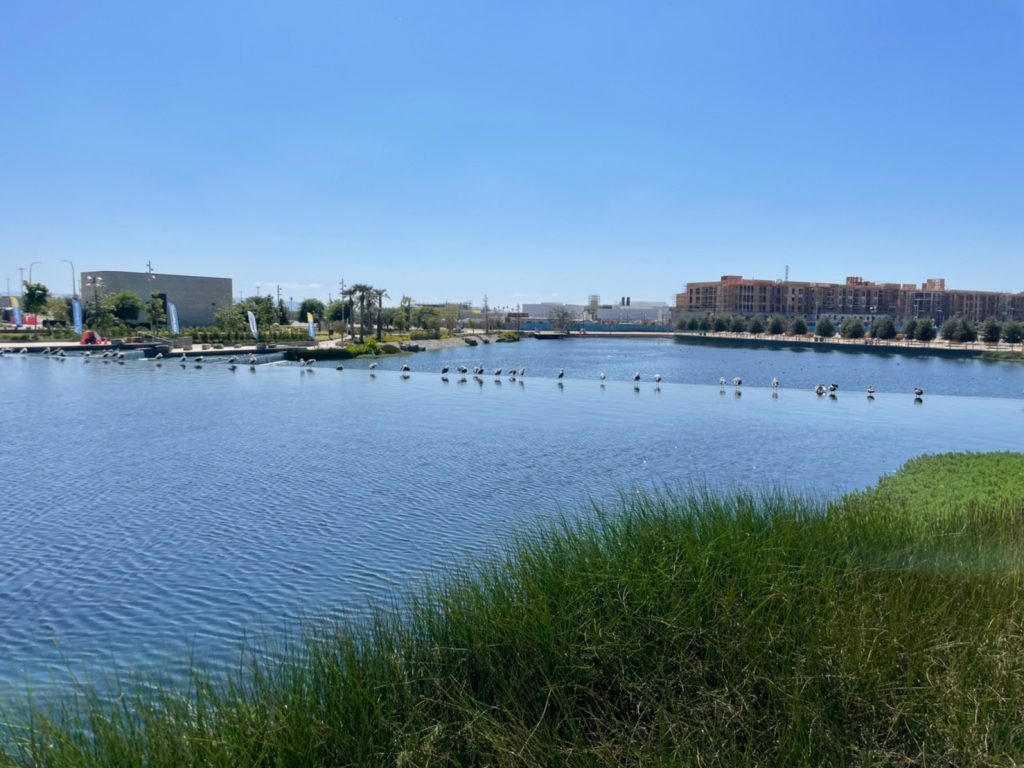 There also are palm trees in the plaza that immediately drive home the fact that the stadium is in Southern California in Los Angeles County. Can never have too many palm trees.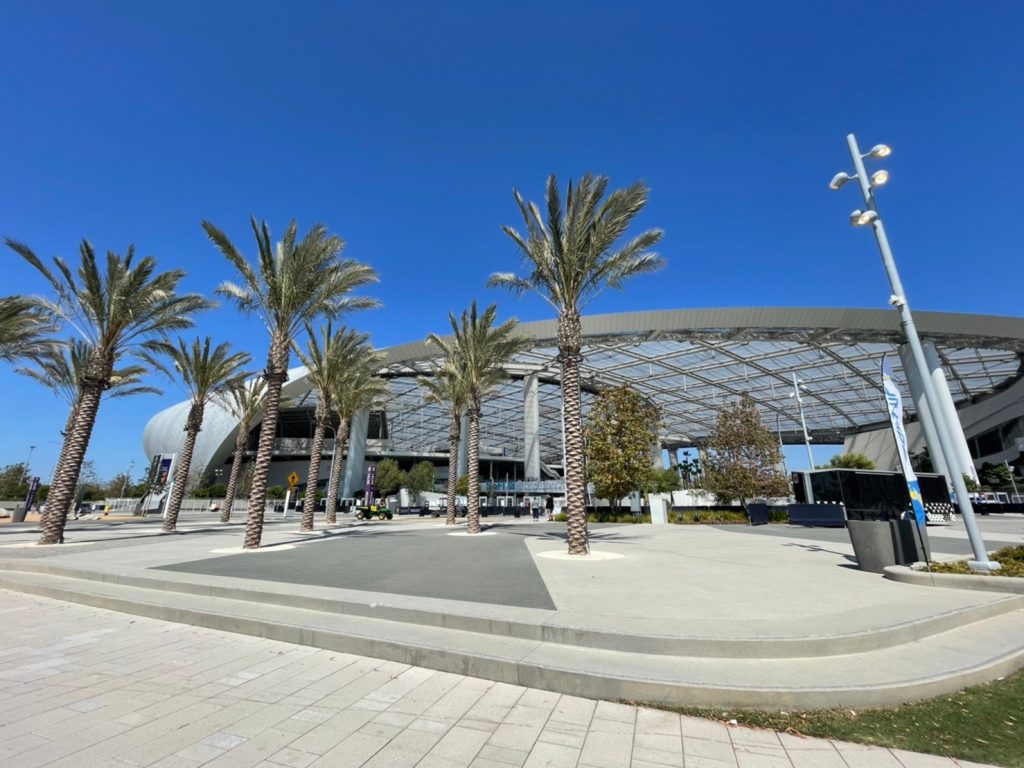 ---
---
The tour
Tours are designed to last about 2 hours and 30 minutes for the full experience, and that includes a portion that includes some physical activities. Those activities are of course optional, so no worries if that's not your thing. We'll go into what those entail later, but here's a hint: it's related to the sport that most will come to associate with SoFi Stadium.
So on the tour, you absolutely will be able to enter the stadium and get to go to places where you simply wouldn't be able to normally without shelling out a lot for tickets or access. From that standpoint, it's pretty cool to be able to see all these different areas in one package, and especially cool to be able to see them with no crowds.
The day that us at Stuff in LA were able to go was just one day before a home Chargers game, and so the view of the field was Chargers'd out.
And honestly, it's just hard to take a picture where you don't have a really cool view of the roof, the massive Infinity Screen (that thing is 2.2 million pounds!), and the field.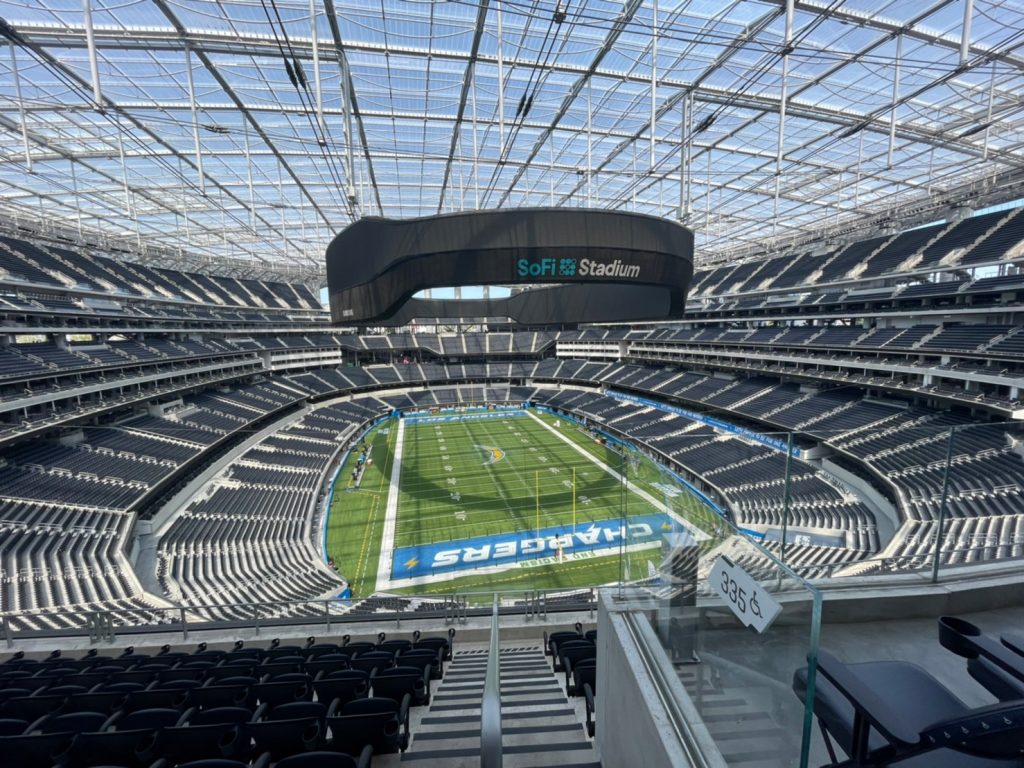 As part of the tour, you'll also get to see some of the best seats in the house at the 50-yard line and really take in the views; as part of this, you'll probably imagine what it's like with really large men tackling each other and sprinting across the field and backflipping into the end zone.
Well, I hope you will, because if it was just me, that's just sad.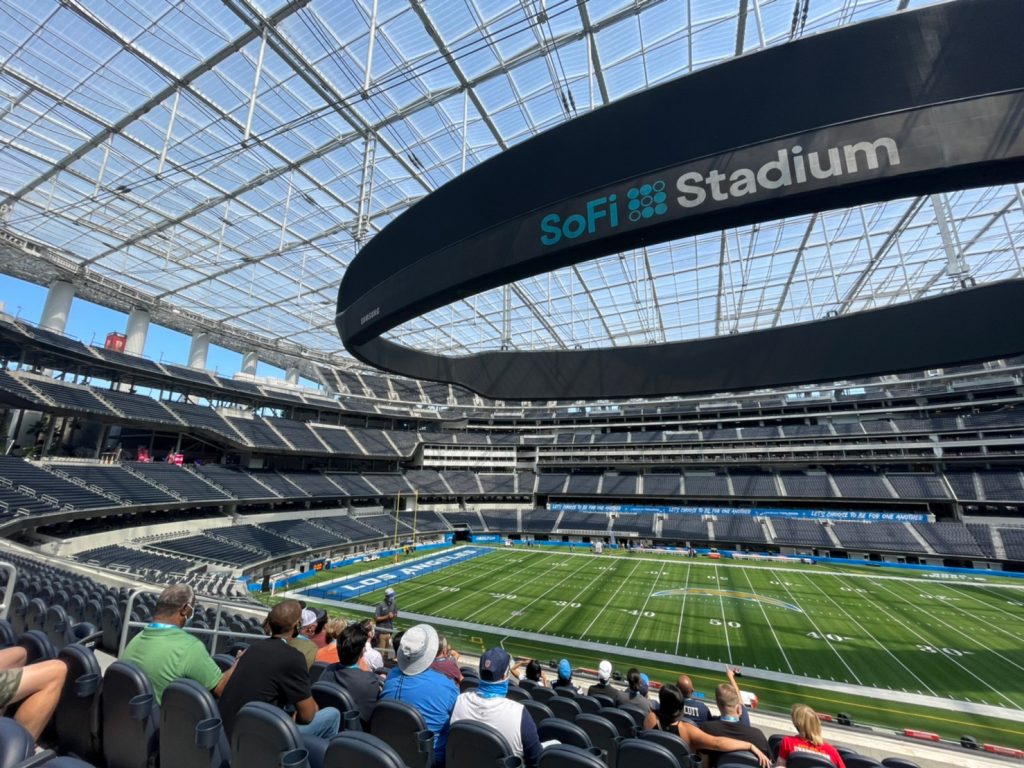 ---
---
Some other cool experiences that you'll also get to explore are the suites, where most fit anywhere from 12 to 30 people and can cost around $15,000 to $45,000 per game (it depends on a lot of factors, like the opponent, for example) and a pretty penny if you want to own one for 365-day access to SoFi Stadium and all its events.
It's safe to say that you're getting some decent value for your buck by being able to enter them for the relatively cheap price of the tour.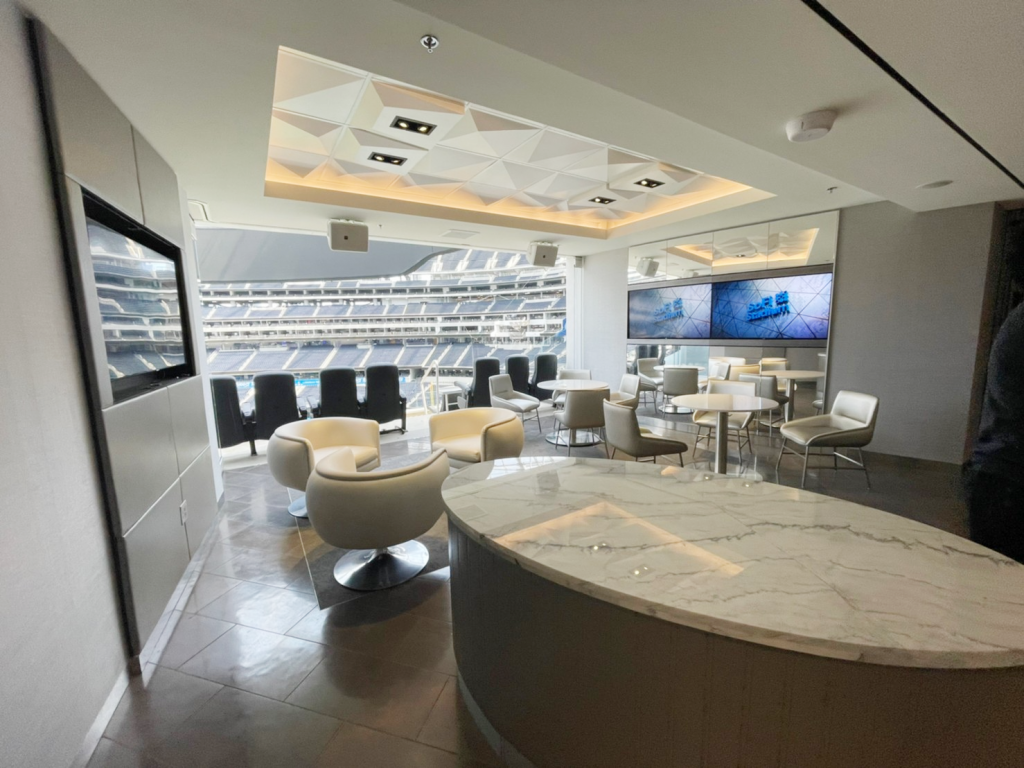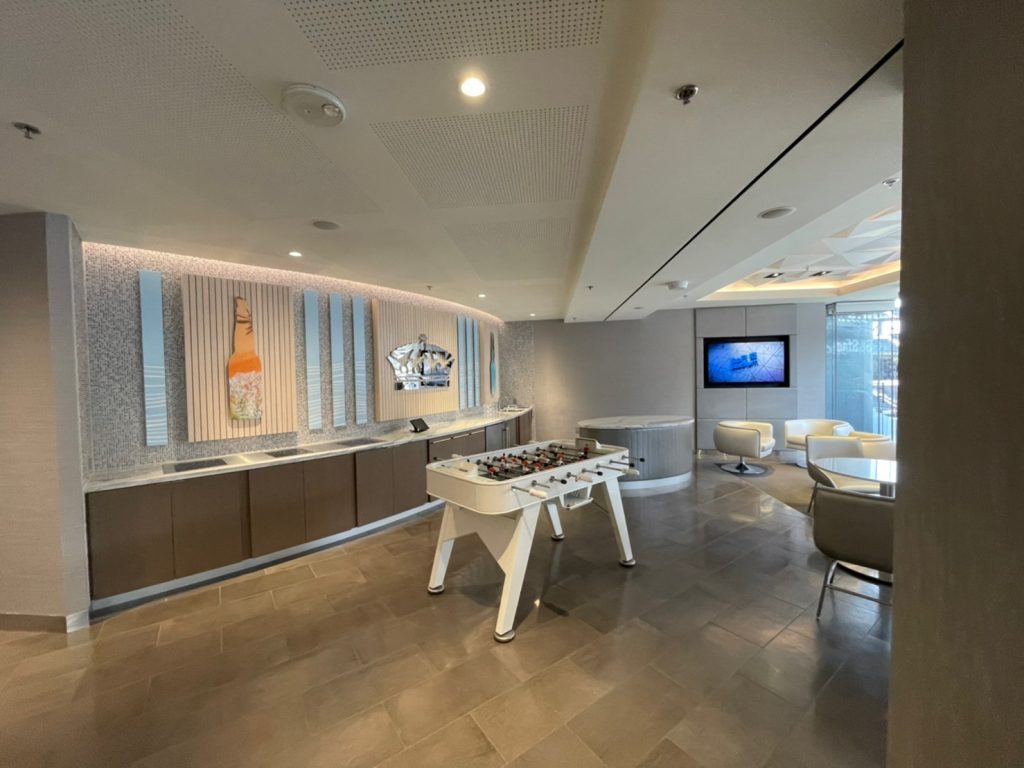 ---
---
One of the things you'll notice is that those who designed SoFi Stadium made sure to make it have a good mix of outdoors and indoors, and it creates for a unique and airy atmosphere.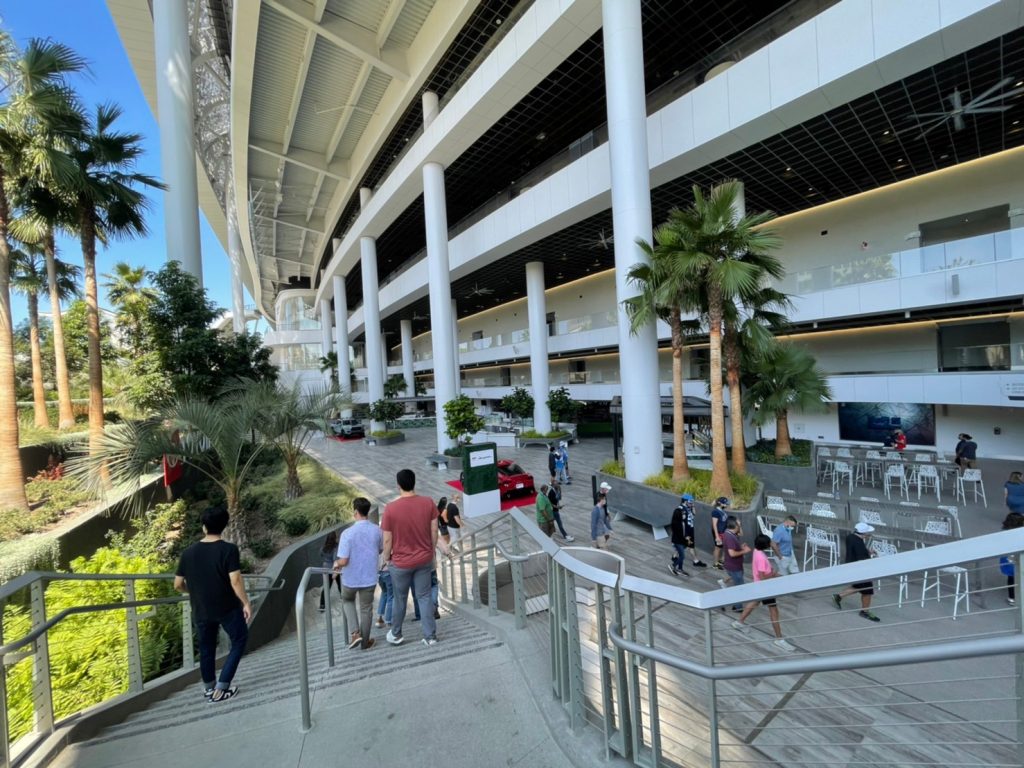 Some areas are just literally made for drinking and having a good time.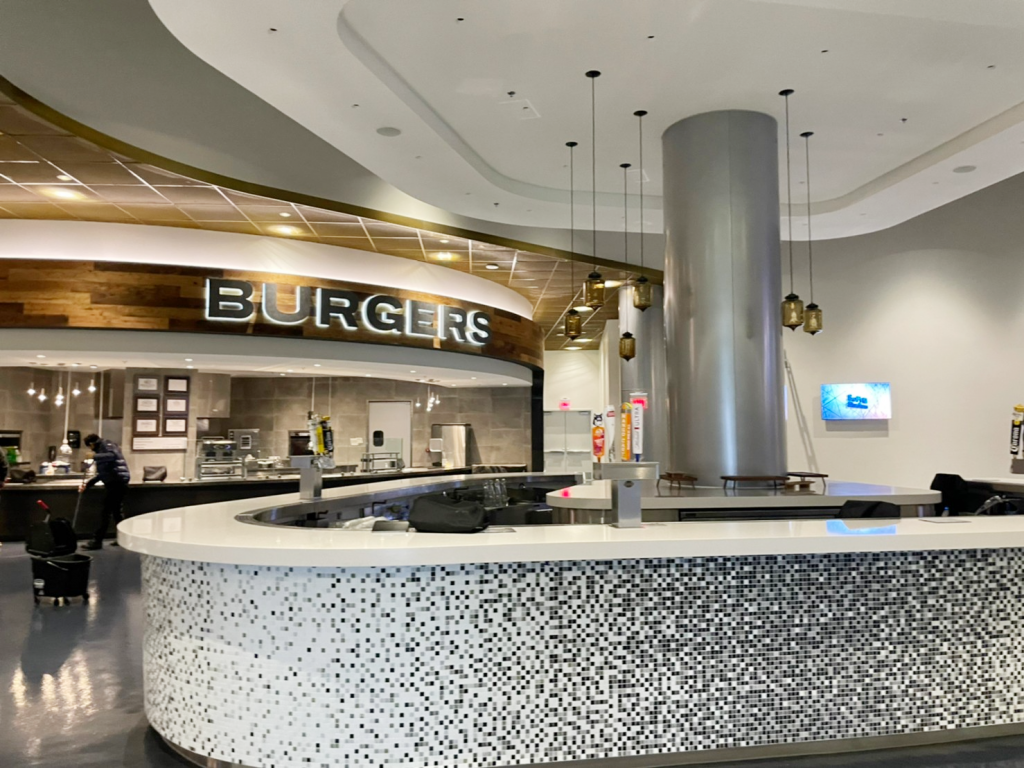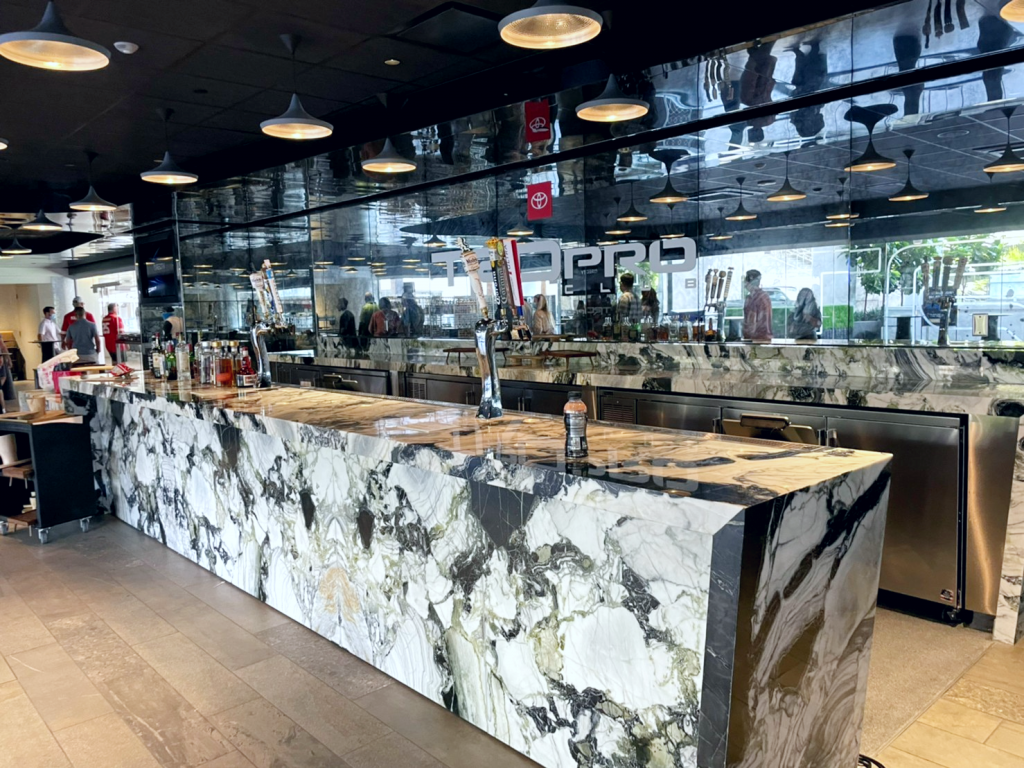 ---
---
On the tour, you'll see all kinds of futuristic spaces filled with plenty of other bar spaces and food options. The monochromatic color palette really feels modern and makes the stadium more of a multipurpose one for the various events and concerts they'll hold. With acts like Los Bukis, The Rolling Stones, Kenny Chesney, and more all performing at SoFi Stadium, it has to be more than just football-focused.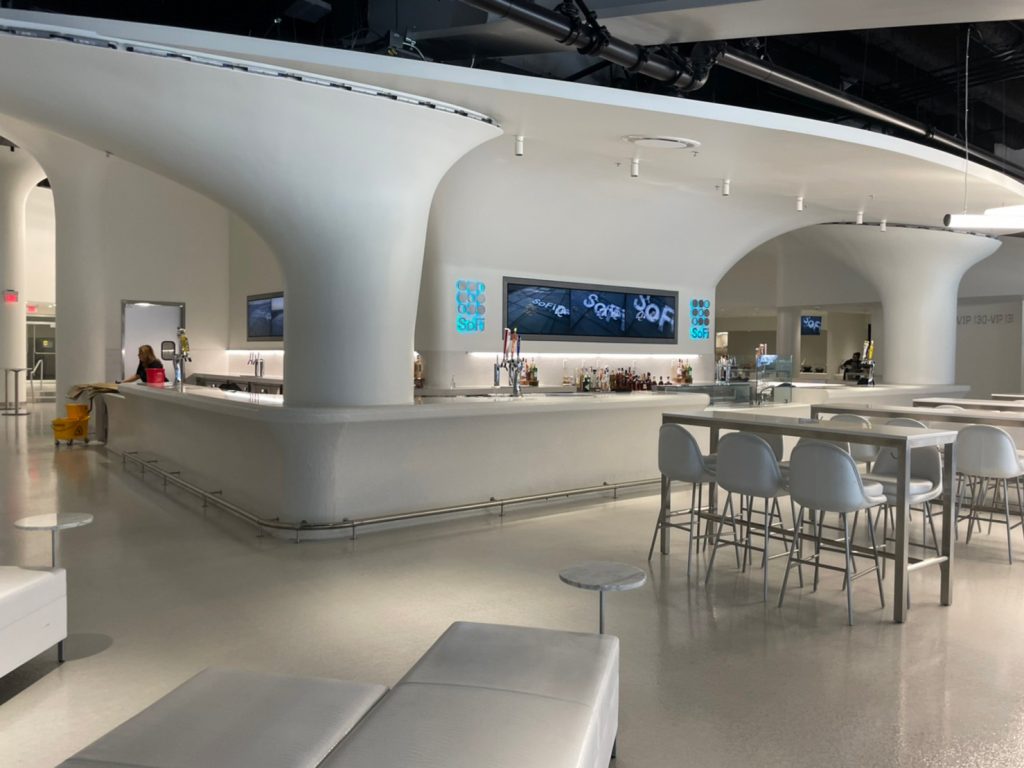 One of the coolest parts of the tour is when you can literally get down to field level. Before that, though, you get to experience a really cool tunnel run experience. It's literally a bunch of screens that hype you up as fog machines and music go off as you run onto the field just like the players do. Pretty epic.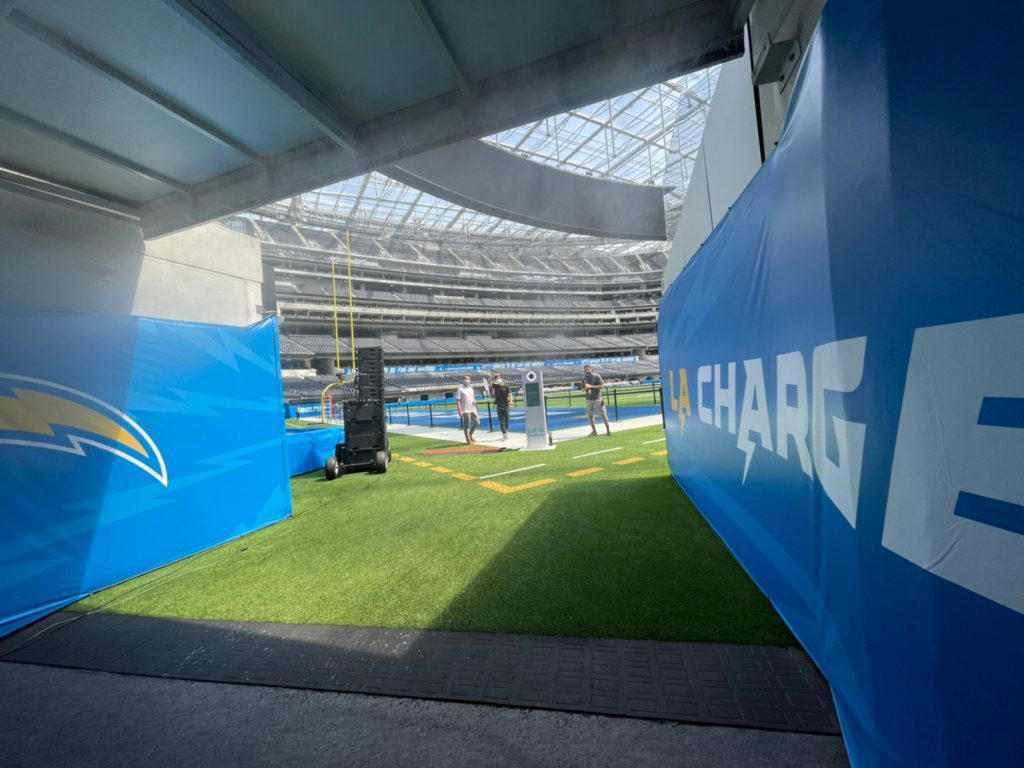 ---
---
Once you're onto the field, the expansiveness of it hits even harder. There are even cool field activities where you can do things like throw footballs at a target machine. On days other than Rally Days (on those days, there's a game the next day, so you can't go directly on the gridiron since the paint needs to be protected), you can even try your hand at kicking field goals and the 40 yard dash.
Whether you were a former high school stud athlete or not, these are some pretty fun opportunities built into the tour and let loose a little.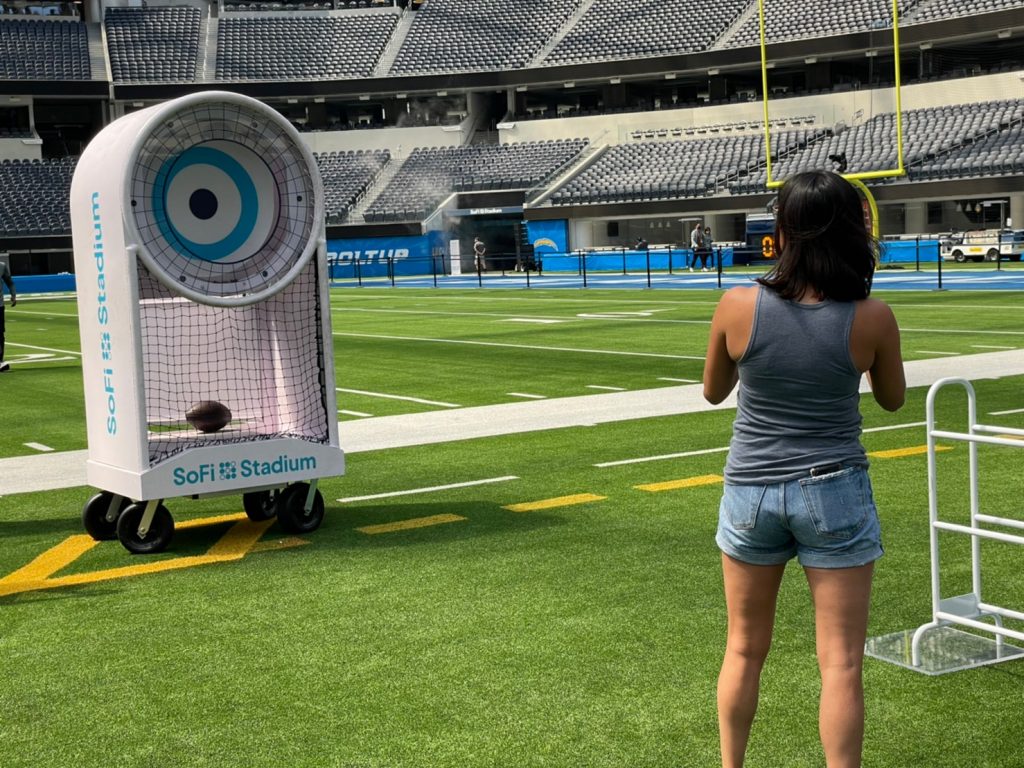 As part of your tour you are also likely to check out the actual team locker room, which is just plain cool knowing you're where the stars are on game day.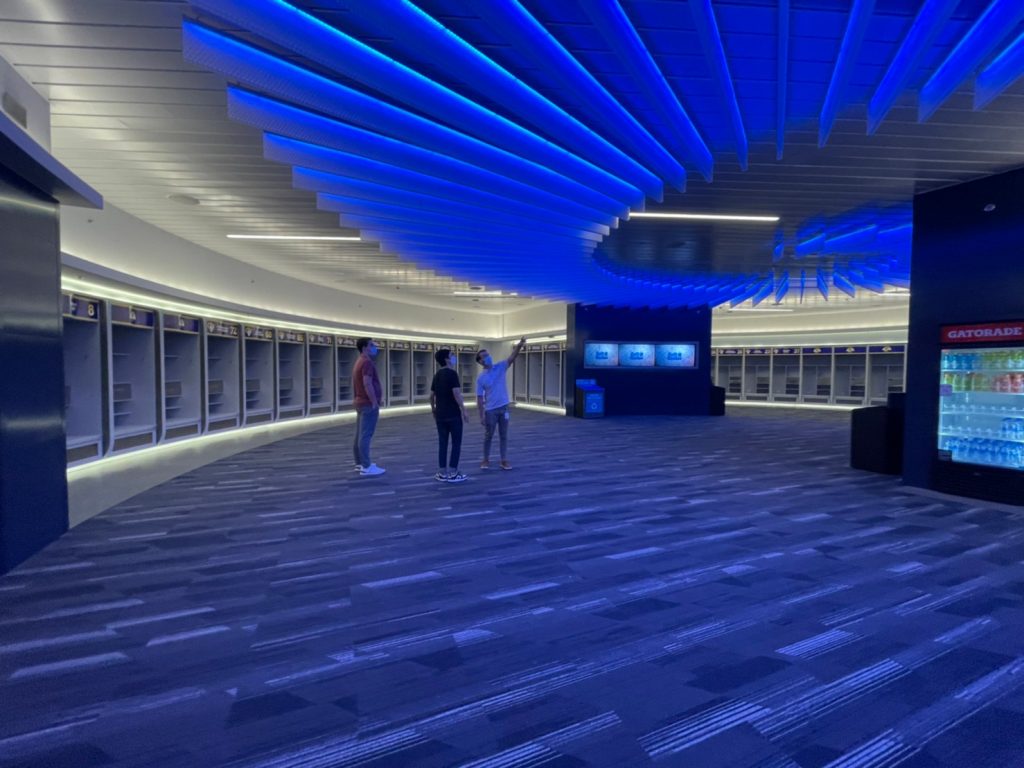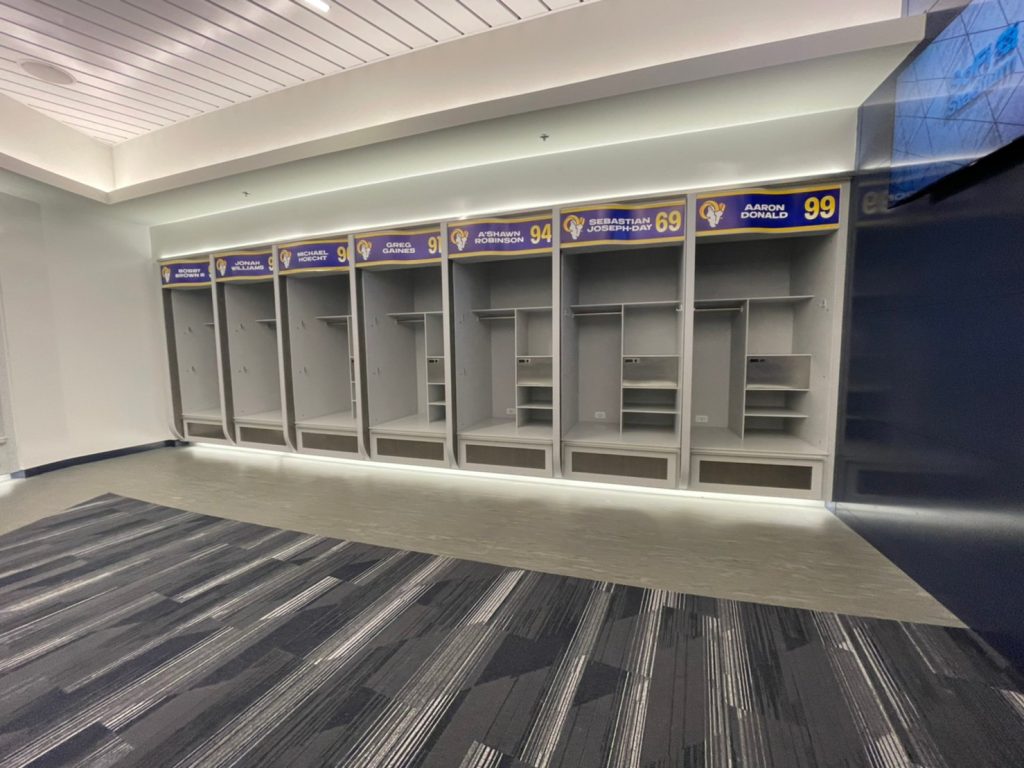 Tour pricing
So the pricing is dependent on if you take a tour the day before a game day or not and also what level of tour you choose.
Rally Day: the day before game day
On the days before game day, the standard option is $39 and includes a one hour guided tour, an on-field photo opportunity, and the tunnel run experience onto the field that we mentioned earlier.
You can also go for the plus option which runs for $49 and has all of the above but also includes $15 worth of concessions or merch from the pro shop.
All other days available
On the other days, you actually have three options.
The first one is the standard option for $30, which gives you a 1 hour guided tour and then the tunnel run experience onto the field.
The second one is the combination option for $39, which gives you the above standard activities but also throws in a digital photo package which has a $30 value usually.
The final option is the all access option for $49, which gives you everything in the standard and combination options but also gives you a $15 concession or team store voucher to use.
What do you suggest, Stuff in LA?
It honestly depends on your budget and what exactly you want to get out of your tour. If you want to save a few bucks then just go with the standard options. If you want some official photos that were designed for fans, then paying a little extra seems like a good move.

If you want all of that and want to try out the stadium food or just want a convenient option to chow down rather than finding a place outside the stadium, then the options with the voucher make sense. And lastly, if you're looking to buy some Rams or Chargers gear, then the voucher option seems like a logical coupon for you to find some savings. Here's all the options and what they offer again in a nice table format courtesy of SoFi Stadium:
---
---
Book your tour
If you want to buy tickets to go on the tour, then follow the below link. We don't make any money if you book through this; we just think the tour was cool and worth it if you're into this kind of stuff!
---
---