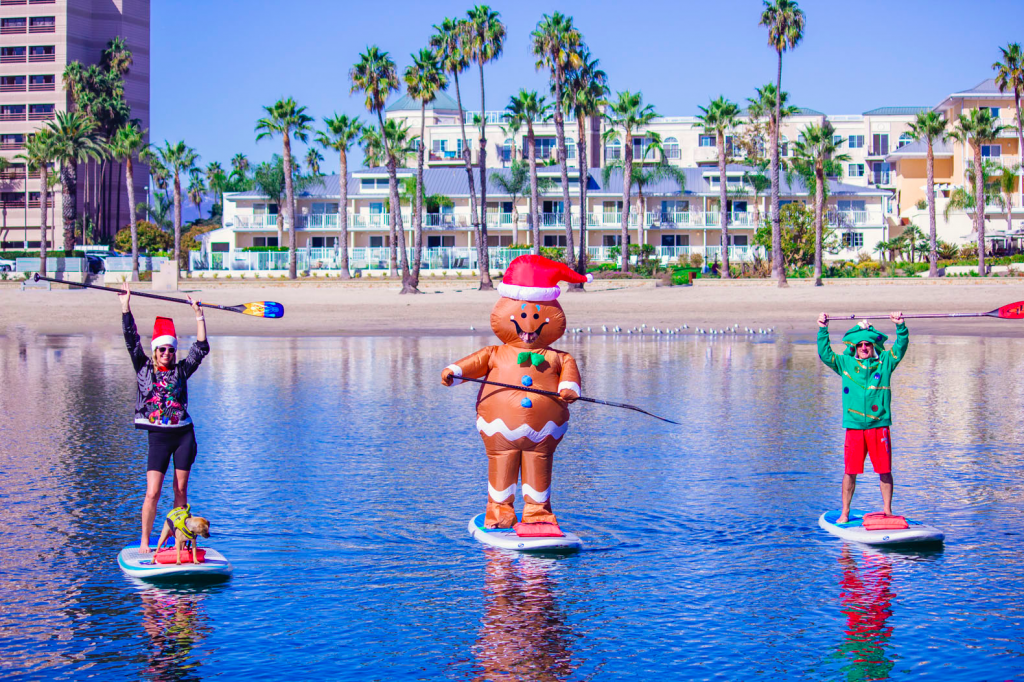 This one here is a very unique event that looks like a ton of fun: a stand-up paddle boarding (SUP) and kayak holiday parade!
In Marina Del Rey, the Pro SUP Shop is a well-known business that provides stand-up paddleboards and kayaks for rent year-round. It's a great way to get a full-body workout–believe us, it's full-body–while also taking in the trademark Southern California weather.
This holiday season, they're kicking off an event that is ultimately planned to be an annual: the Pro SUP Shop's 1st Annual Holiday Paddle Parade and Toy Drive.
---
---
What is it?
It's an organized parade with others where you'll be able to have a 60-minute guided tour with Pro SUP Shop's experienced instructors. Two different groups, depending on your experience level, will go out and spread some holiday cheer. Importantly, the staff will give a lesson on the beach, so don't be too nervous because you'll be in good hands (you do have to know how to swim, though).
You're encouraged to wear some sort of holiday gear, like Santa hats, for example, but also Ugly Christmas sweaters–in fact, there's going to be a chance to win some prizes. The uglier is probably the better, we're thinking.
Additionally, they're doing a really cool thing by also hosting a toy drive. If you bring an unwrapped toy, you'll actually get a totally free Pro SUP Shop hat. Benefitting children in need and getting a sweet hat? Easiest decision ever.
---
---
When is it?
This is an important one: hopefully you're not reading this too late, because it's on Saturday, December 11, 2021 at 10:00 A.M.
---
---
Where is it?
The parade is at Mother's Beach in Marina Del Rey. Below is the address to the Pro SUP Shop and a map you can reference. It'd probably be best to go to the shop itself to get situated.
4175 Admiralty Way, Marina Del Rey, CA 90292
---
---
---
How much is it?
The price is $30 for a paddleboard or a single kayak and $40 for a tandem kayak. If you have your own board or kayak then you don't have to worry about these prices.
---
---
Where can I sign up?
You can head on over to the Pro SUP shop website at prosupshop.com and sign up–just click on Holiday Paddle Parade!
---
---