A new Japanese-style gastropub is hitting the greater LA area — Culver City and Long Beach, specifically — bringing in a hot spot to hang out with friends and get unique food and drinks. On June 8th, 2019, Tokyo Guild opened its doors in Culver City (Los Angeles) and on June 15th in Bixby Knolls (Long Beach). The Japanese pub-style tavern will remain open lunch through dinner, seven days a week.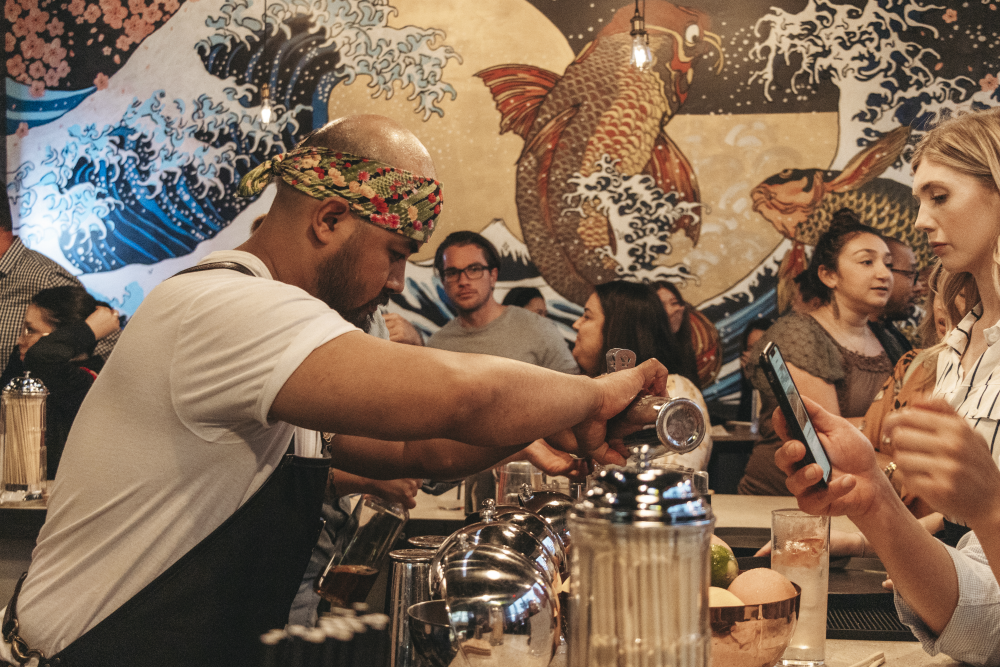 Locations
CULVER CITY – 9810 Washington Blvd, Culver City, CA 90232

BIXBY KNOLLS – 4262 Atlantic Ave, Long Beach, CA 90807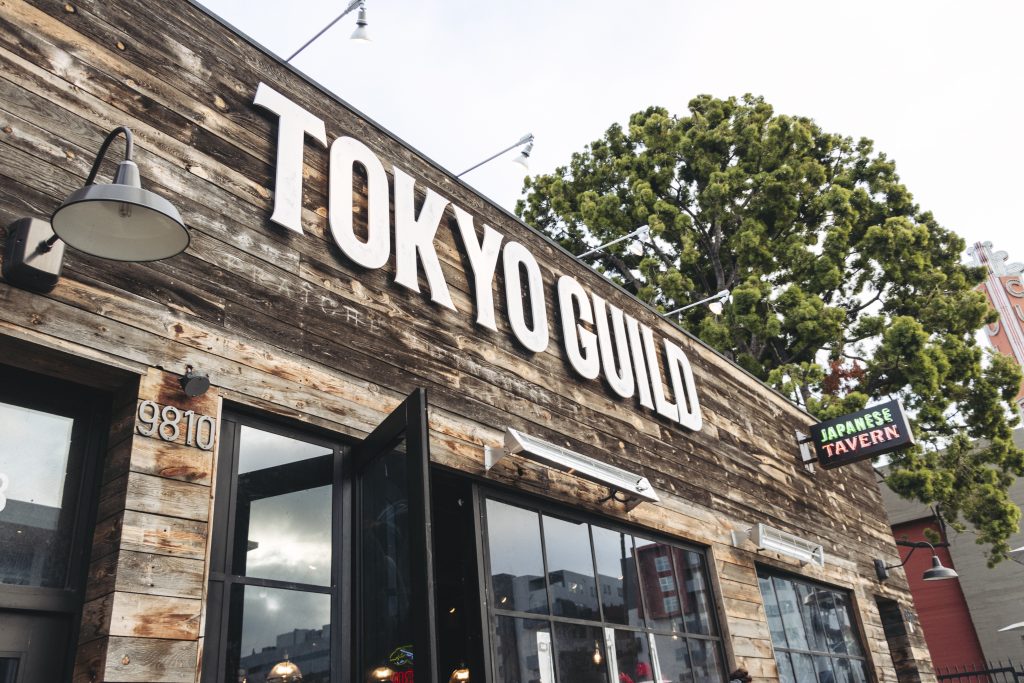 Hours
Monday – Sunday 11:30 am – 10:00 pm
---
[Also on Stuff in LA: The Best Murals and Wall Art in Los Angeles]
---
The food and drinks
Diners can expect ramen, Tokyo street-food style small bites, Japanese-style sandwiches, a full bar, and more. Among the food dishes available are:
TONKOTSU RAMEN — pork broth with slow-braised pork belly chashu, seasoned egg, and green onion
GUILD BURGER — beef patty cutlet, kewpie mayo, katsu sauce
TOKYO SANDO — egg salad, chicken teriyaki
In our sampling of the various dishes available, we were pleasantly surprised how tasty everything is. The ramen, for example, is definitely nothing like instant ramen; its broth is full and deep with flavor, and the noodles are cooked very well. Tokyo Guild definitely knows what they're doing in this department.
The beverage menu features items such as beer, wine, and low ABV and ChuHai cocktails. Among the drinks available are:
---
---
Busta Limes — Partida Blanco, Pampelmouse, Rosé, Lime, Ginger Beer

O.D.B. — Rittenhouse Rye, Suntori Toki Whisky, Amaro Montenegro, Angostura Bitters
One Two — Shochu, Calpico, Lime Juice, Sugar, Soda
And more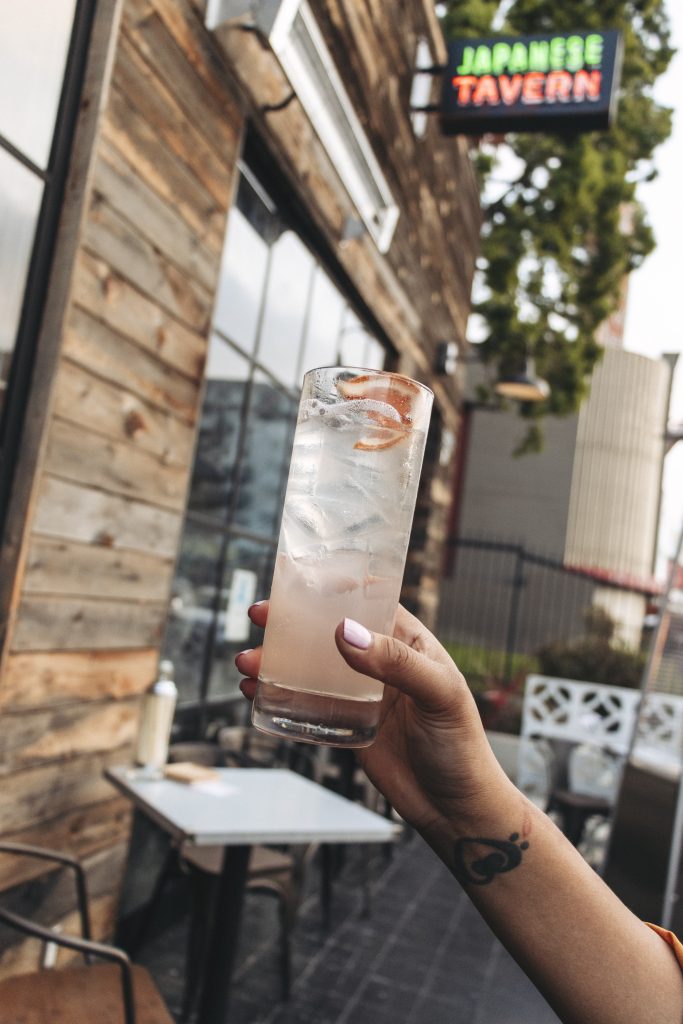 As you can tell, Tokyo Guild's brainchild Takashi Sada hopes to expose Southern Californians to the playful, yet dynamic dishes of Tokyo street food culture not typically seen in the US.
Decor and atmosphere
The gastropub will pay homage to the eclectic culinary, art, and music scene prevalent throughout Japan. Both industrially designed spaces feature exposed ceiling beams, touches of graffiti art, and Japanese punk rock influences.
---
---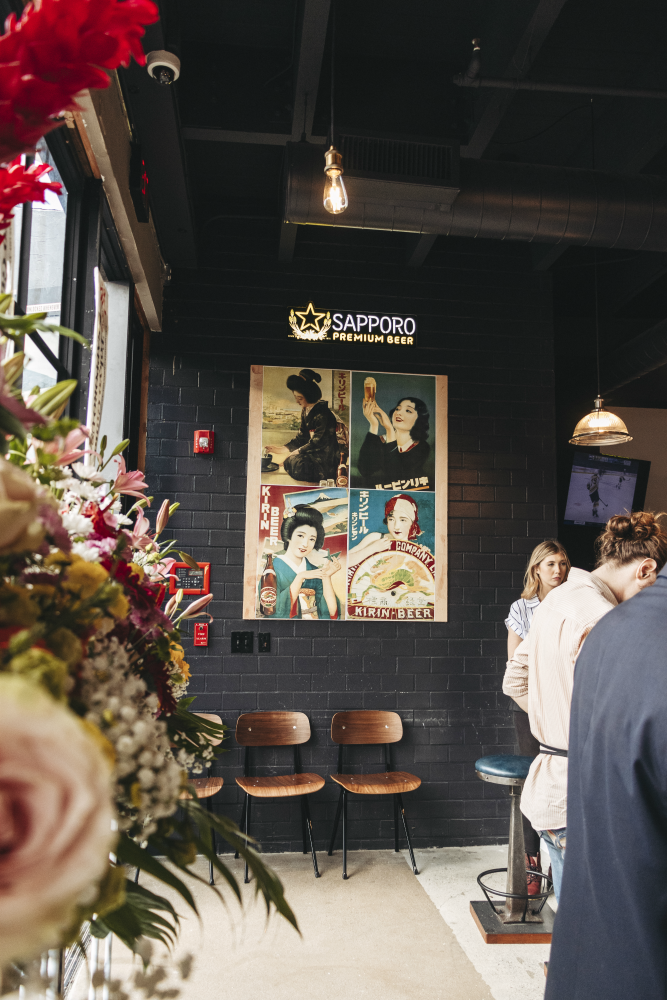 The beautiful koi mural stands out, and various Japanese art pieces and videos really liven the atmosphere and provide a tasteful touch of culture in a uniquely American setting.
---
---
Seating is available at the bar as well as some tables and some booths; there's also plenty of standing tables and standing room itself. It lends itself to a social atmosphere suitable for friends both old and new. It's decidedly modern in its styling, and it's our opinion that that plays well with your friends and dates.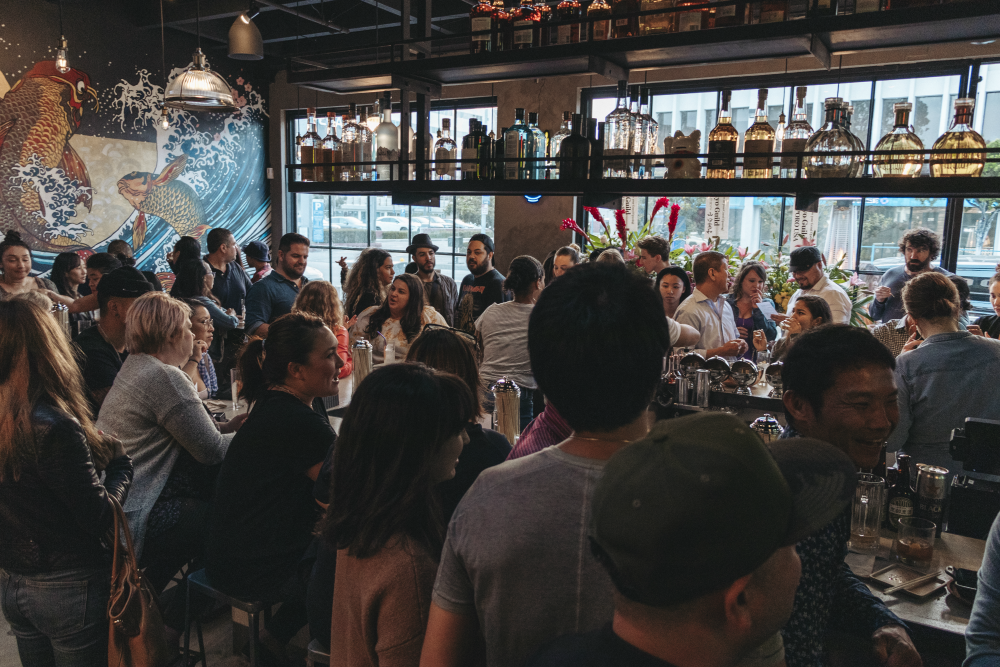 Who's behind Tokyo Guild?
Restaurateur Takashi Sada spearheaded the menu creation alongside his wife of 17 years, Chika Sada. He's tapped industry and fine-dining veteran Joe Ando (71Above) to oversee operations as General Manager in Culver City, and Val Lee (Japonica) in Long Beach. Mixologist Darwin Manahan (Guerilla Tacos and Genever) will act as Beverage Director of both locations.
Joe in particular was incredibly friendly at the event, and you can tell he cares about uplifting the community in which the restaurants reside. To us, that seems like a huge win for LA–the more identity the businesses can bring to an area, the better.
After 17 years successfully owning and operating Japonica (Redondo Beach), Sada is eager to expand with his newest concept. With Tokyo Guild, Sada hopes to immerse guests in a new side of the Japanese culinary experience.
Born and raised in Osaka, Japan, Sada relocated to Los Angeles and so began his career in restaurants. In 2002, Sada opened Japonica (Redondo Beach) as owner and operator. He's spent years studying Sake, and is known locally as a pioneer in Japanese dining in L.A.

---
---
---
---