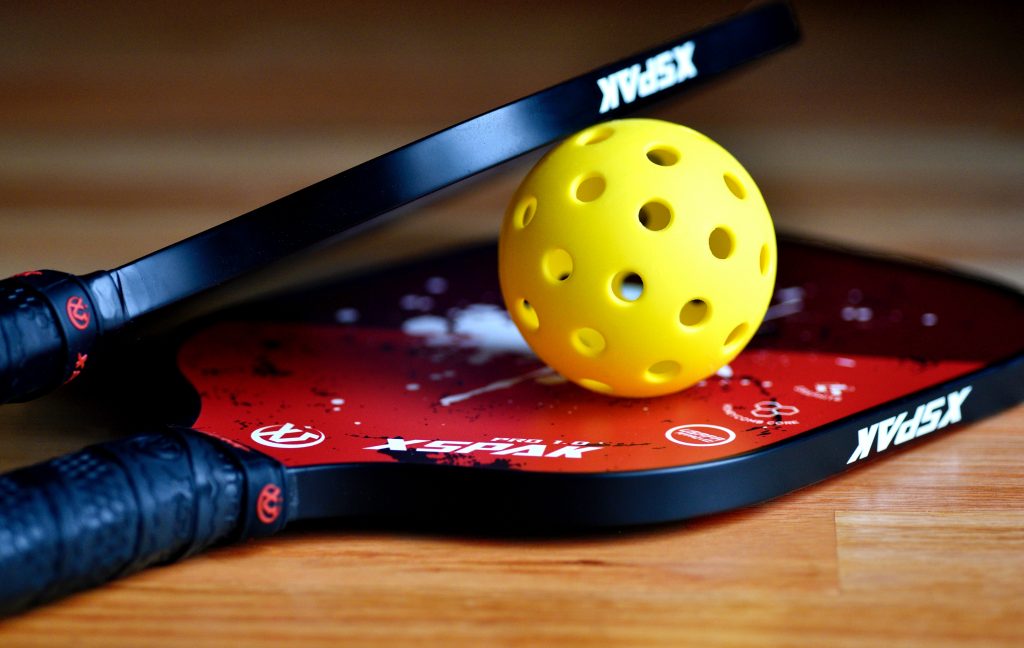 Pickleball is one of–if not the–fastest growing sports in America. It's becoming more and more part of the national conversation, whether that be in water-cooler conversations, podcast episodes, or across our timelines that we're endlessly glued to.
You might also see this sport referred to as "paddle tennis", by the way, so if you're looking for that, this list will also apply to you.
This article will dive into a list of pickleball courts that you'll be able to play in the overall greater LA area.
---
---
Chatsworth
22360 Devonshire St., Chatsworth, CA 91311
The Chatsworth Recreation enter has 2 dedicated pickleball courts and 2 hybrid courts (in which you have to provide your own nets). The courts are lighted, which is nice.
Courts are also open from 8 A.M. to 10 P.M. here.
As far as we know, no fees are necessary here, but that could change.
---
---
Encino
4935 Balboa Blvd., Encino, CA 91316
The Encino Recreation Center has 4 hybrid courts–sharing with tennis. Thus, you'll have to bring your own nets. The courts here are lit and are open from 8 A.M. to 10 P.M.
As far as we know, this should be free, but that could be flexible with time.
---
---
Granada Hills
16730 Chatsworth St., Granada Hills, CA 91344
This set of courts is at Granada Hills Recreation Center. It's also at Petit Park, so navigating to either will bring you here.
At this location, there are 4 dedicated courts just for pickleball. The courts are lighted on weekdays (Monday through Friday) until 9 P.M.
Otherwise, though, the courts are just plain open from 8 A.M. to sunset.
These should be free.
---
---
Montecito Heights
4545 Homer St., Los Angeles, CA 90031
At the Montecito Heights Recreation Center is this set of 2 dedicated courts.
Pretty simple here: they're open from dawn to dusk, or sunrise to sunset.
These should also be free.
---
---
Venice Beach
1800 Ocean Front Walk, Venice, CA 90291
These are probably the most famous pickleball courts in the greater Los Angeles area.
The courts for pickleball are courts 6, 7, 10, and 11.
The interesting thing here is that you should bring tape–like electrical tape–to modify the lines on the courts to fit pickleball dimensions.
These are open on Tuesdays and Thursdays from 8 A.M. to sunset. The courts won't be lit past that.
These should be free.
---
---
Westchester, Los Angeles
7000 W. Manchester Ave., Los Angeles, CA 90045
In Westchester by LAX are the Westchester Tennis and Pickleball Courts, which are outdoors. This one will cost $12 an hour and is open from 5 P.M. to 8 P.M. from Monday to Friday and from 8 A.M. to 7 P.M. on Saturdays and Sundays.
It has eight hybrid courts (sharing with tennis) located at courts 7 and 8. The courts here are lit until closing.
Woodland Hills
5858 Shoup Ave., Woodland Hills, CA 91367
Here in Woodland Hills at the Woodland Hills Recreation Center are 2 outdoor courts that also are shared with the basketball court, which is interesting but a good usage of space.
Players will have to bring their own net here, and it should be free.
---
---
Van Nuys / Sherman Oaks
14201 Huston St., Sherman Oaks, CA 91423
Up in the San Fernando Valley are these outdoor courts. These are also tennis courts that have been hybridized to become pickleball courts as well.
It'll be $12 an hour here, and it'll be open from 5 P.M. to 10 P.M. from Mondays to Fridays and 8 A.M. to 7 P.M. on Saturdays and Sundays. Courts will be lit until closing. The phone number here is (818) 756-8400.
Tarzana
5655 Vanalden Ave., Tarzana, CA 91356
The Tarzana Recreation Center has indoor pickleball courts. You can call them at (818) 343-5946. We're not really sure what the fee is here, but we're pretty certain there is a fee here.
There are two courts available and portable nets can be provided. We highly recommend calling in first before showing up to understand knowing more what the deal is.
---
---