Hermosa Beach, CA — Whether it be your everyday millennial or an out of town visitor, getting a picture in front of that famous wall art that is going viral all over social media is a definite must.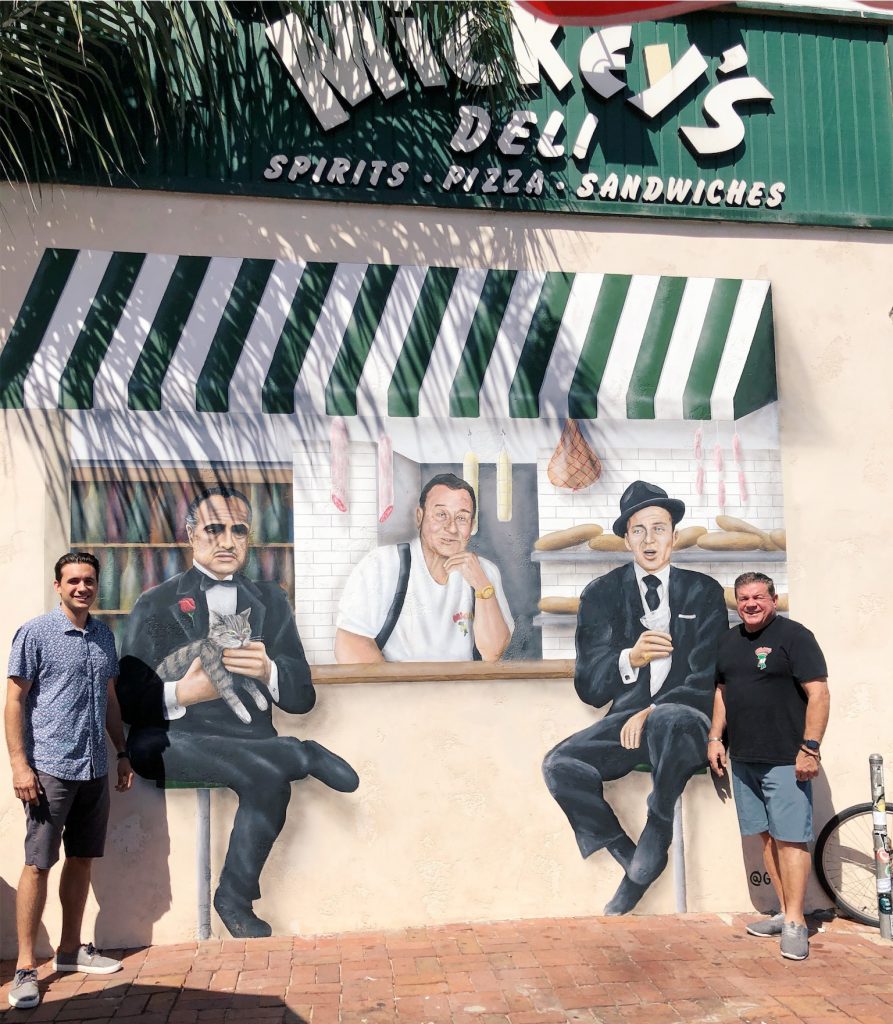 Murals have taken Los Angeles by storm, from sports arenas to restaurants to blank canvas' on the street corner – this wall art tells a story and we are here to listen, or should I say observe.
It's eye-catching, it's intriguing and it always holds some kind of meaning or prominent message. Hermosa Beach is no stranger to this, and it is an exciting moment for the locals and the family-owned and run business of Mickey's Deli to be getting their very own mural on the back wall of the neighborhood loved store.
Family owned and run for the past 65 years, Mickey's Deli has become a staple part of the Hermosa Beach community and has developed a life-long relationship with the locals.
---
---
---
---
This has and always will be a huge part of the Mickey's Deli way and with the amazing impact that this Delicatessen has made, it was only right to pay tribute to the man that started it all, and what better way to do so then with a mural of the founder Michael Angelo "Mickey" Mance himself.
To the left of the entrance, there is a quaint seating area for customers to sit, relax and enjoy their food in the perfect South Bay weather, now they will be able to do this with a extremely realistic looking mural of Mickey Mance sitting alongside Frank Sinatra and Marlon Brando–two other very iconic and impactful Italian influencers, which seems very fitting for the small Italian family business.
There was a lot of thought and careful consideration into what would go up on the wall and who would be the one painting it. This is something that's been in the works for over a year now and finally, after a worth-while wait, Mance's family vision has come to life.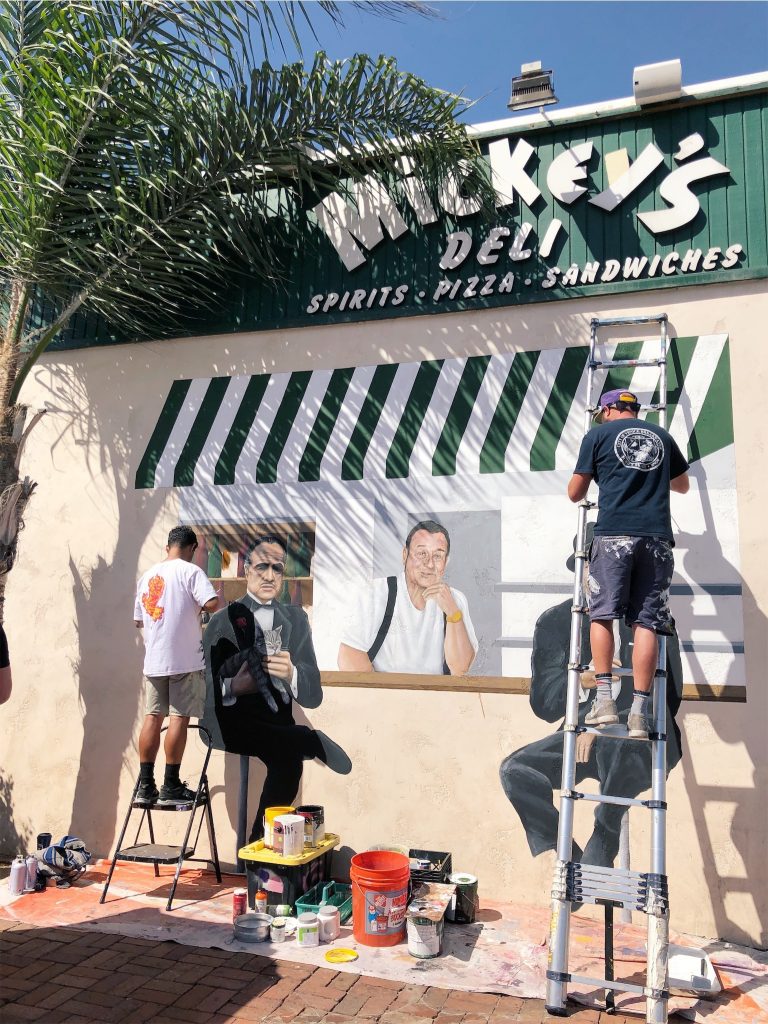 ---
---
When paying homage to someone so near and dear to you and the community, they obviously wanted to make sure it was going to meet all expectations. With that being said, you want the best of the best doing this artwork, and the best is Gustavo Zermeno Jr. a Los Angeles based artist who has been painting murals for quite a few years now but he's been an artist through and through since a very young age.
"My mom worked at Paper Mate and would bring me home all those cool drawing markers and pencils and I would just draw and draw, she put me in any kind of class that had to do with the arts," Zermeno Jr. says. You may be familiar with his work, he has been featured on numerous TV talk shows and gained a ton of press for his huge murals of multiple Lakers players, such as LeBron James and a tribute to the famous late Nipsey Hussle.
His artwork is one of a kind and brings everyone's visions to life. His process in creating his murals is truly amazing to watch: stenciling it out on the wall to start, headphones in, and for 12-hour shifts at a time goes into his zone and goes to town. His painting style is extremely realistic, the lines and details pop out at you so much that it almost looks 3D–extremely true to life and absolutely mesmerizing to see in person.
"I seriously love working on projects like this that impact the community, the whole family came out last night to take pics, and it was definitely a great feeling," says Gustavo about having this opportunity to pay tribute to the man loved by all.
Mickey, who was named after his grandfather and now runs the Deli with his father was in awe by the work/ "I gotta say from concept to execution, Gustavo absolutely blew our minds. He put in three 12+ hour days in a row to get this thing completed and we are so excited to have this be part of the history and future of Mickey's Deli and Hermosa Beach moving forward," Mickey says.
For this tight-knit beach town who has had a family-like relationship to Mickey's Deli, this mural shines such a huge light on the hard work and dedication that a young Mickey Mance put into making his dream decades ago become a reality. Now you can sit out and enjoy your sandwich or slice of pizza with the legend himself, Mickey's memory will live on through this art-work and will forever be a wonderful tribute to all the hard work and love he put into the very successful business he left behind for his family, friends and every in between to enjoy.
ABOUT MICKEY'S DELI
The founder of the deli, Mickey, opened it in 1953 at the age 22 years old after he had saved up $2000 and took a small loan from his father to open his deli. The deli quickly became a favorite among local surfers that loved Mickey's infamous, "Sauce Sandwich," because of its delicious flavor and affordability. After Mickey passed away in 2001, his son, Paul, still carries on the family tradition and continues to be a favorite among the locals. Mickey's Deli is known for their authentic Italian food including a variety of sandwiches, pizza, pastas, salads, and calzones.
Mickey's Deli is located at
101 Hermosa Ave, Hermosa Beach, CA 90254
www.mickeysdeli.com
---
---
---
---