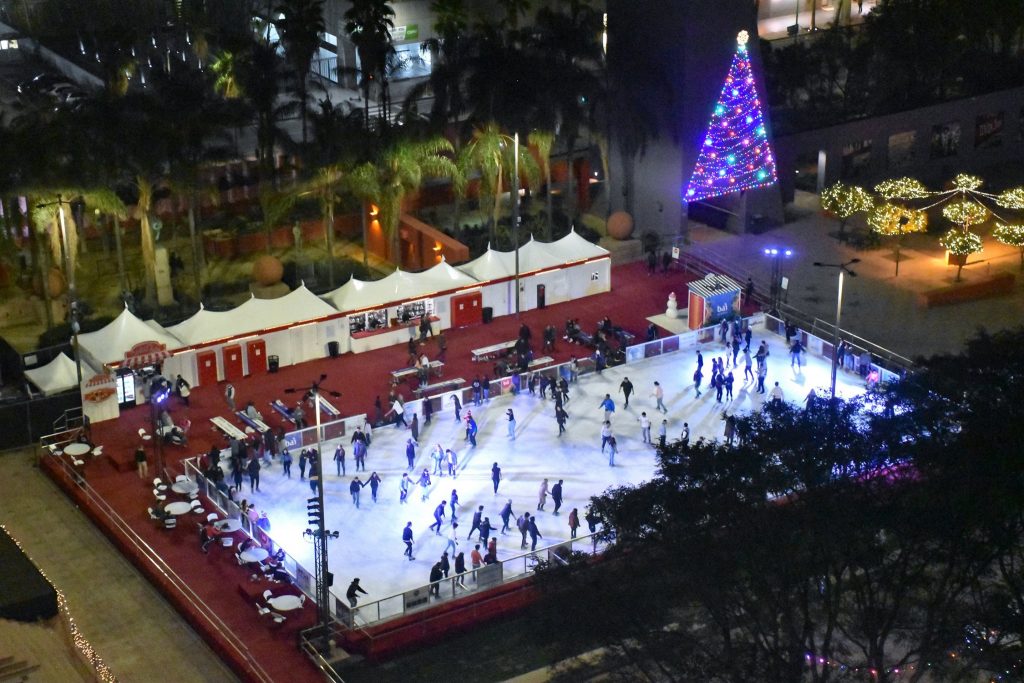 After a hiatus in 2020 and 2021 for obvious reasons, Holiday Ice Rink Pershing Square is back for the holiday season.
If you don't know what it is, it's a really neat outdoor ice skating rink open to the public–with admission–from November 23, 2022 to January 1, 2023.
It's an absolutely fantastic activity for dates, families, friends, and even by yourself as you hone your ice skating skills–which is ordinarily pretty limited in the city of Los Angeles.
In this article, we'll dive into the details and also what to expect.
---
---
---
---
Location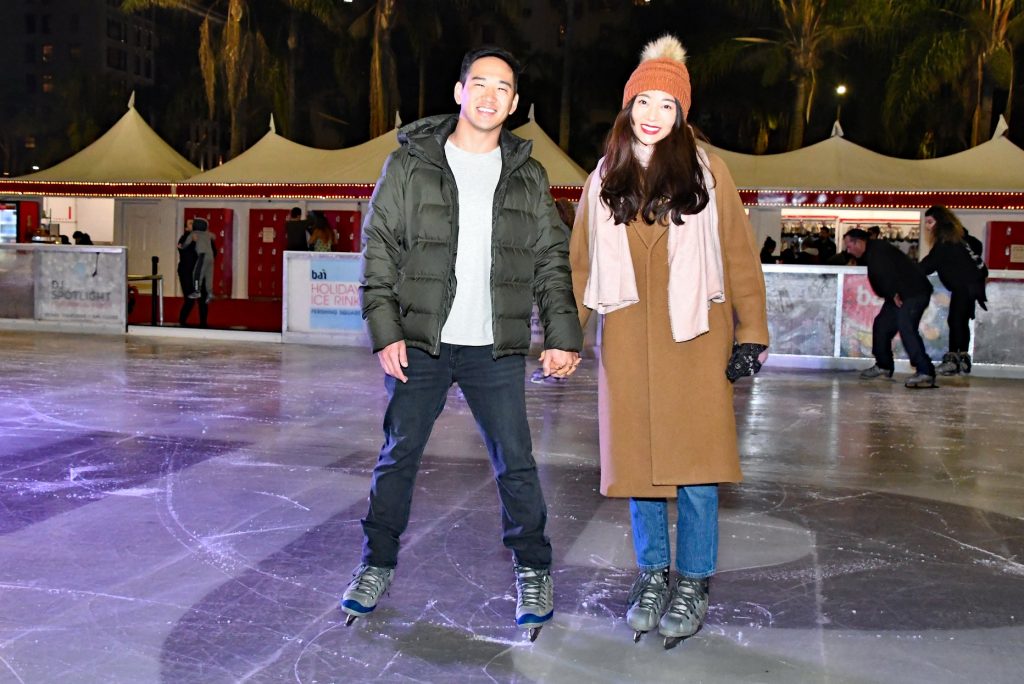 The outdoor ice rink is in Pershing Square in Downtown Los Angeles.
The address is:
532 South Olive St
Los Angeles, CA 90013
---
---
---
Parking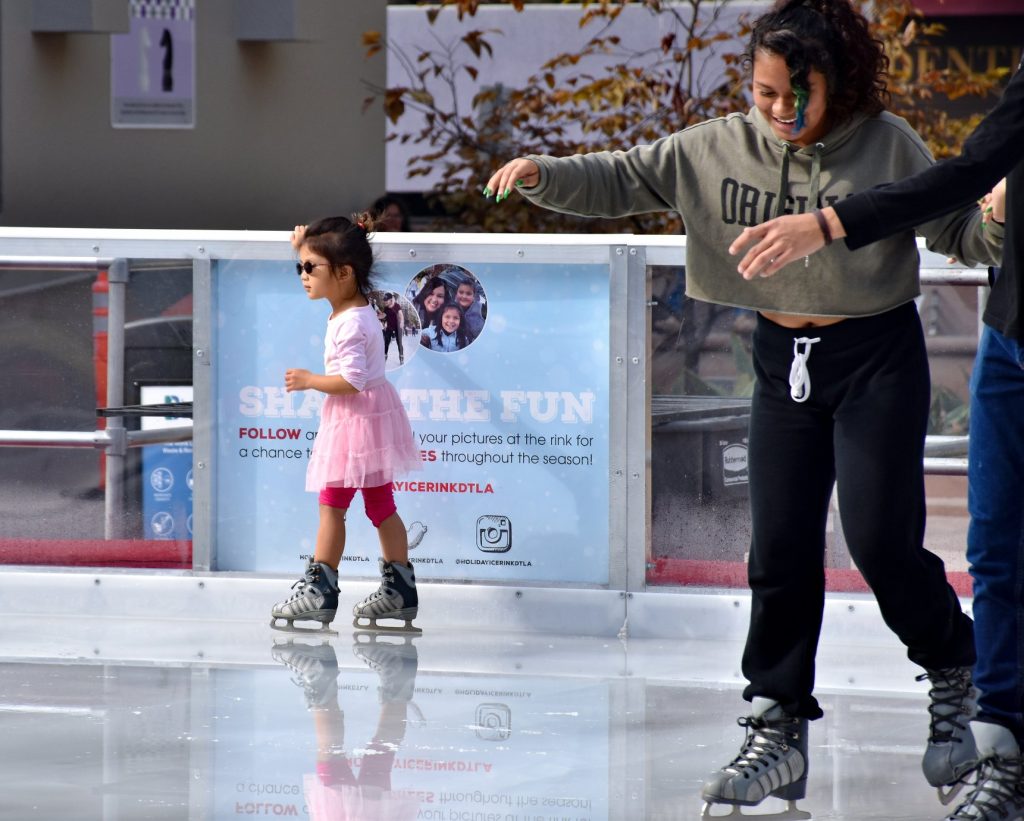 Underground parking is available at the Pershing Square Parking Garage on a first-come, first-served basis. Usually, it doesn't fill up, but be prepared just in case.
---
---
If it does, you'll have to street park, which isn't the worst thing in the world, but make sure you're safe!
---
---
Admission fees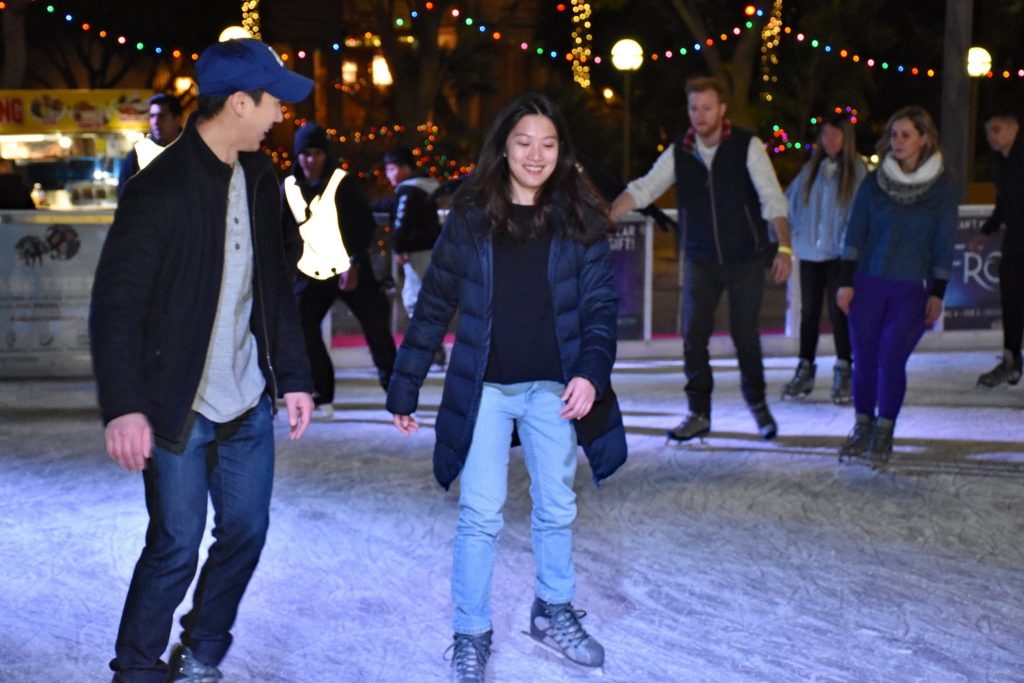 General admission is $20, which includes skate rentals. Actually pretty solid.
If you want to rent a locker to store some of your stuff, that'll be $5. They can hold some shoes, a medium-sized handbag, and a few other small items in general.
For those under 48 inches tall, skate helpers are $6. They are either penguin or polar bear helpers.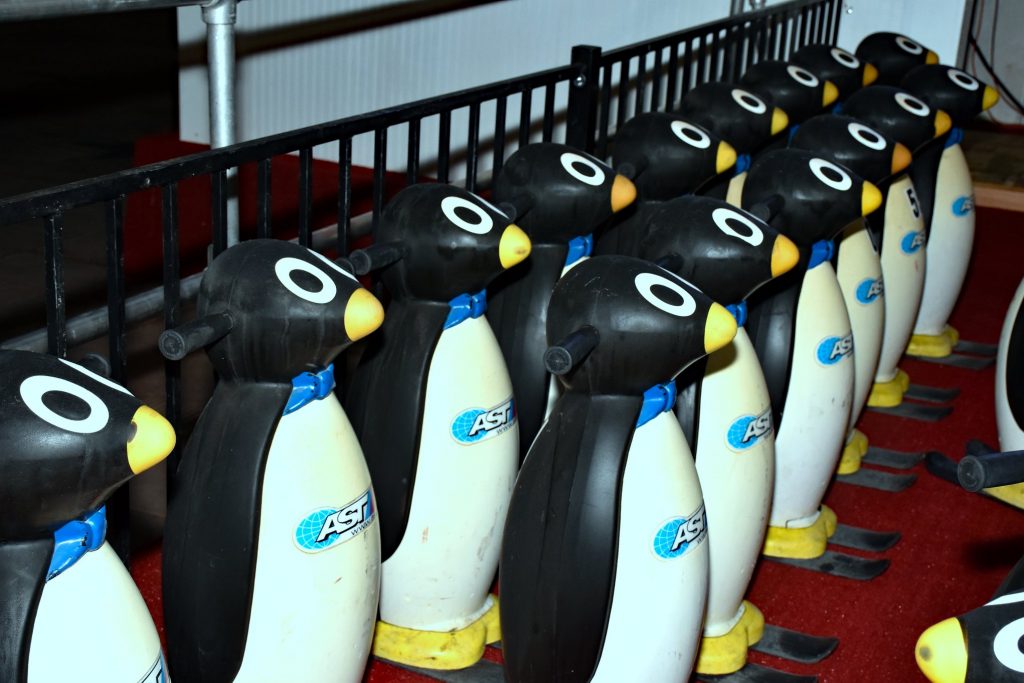 They essentially help kids control themselves on the ice. The rules here are that those who use these must push themselves, and someone can't push them. Safety reasons!
---
---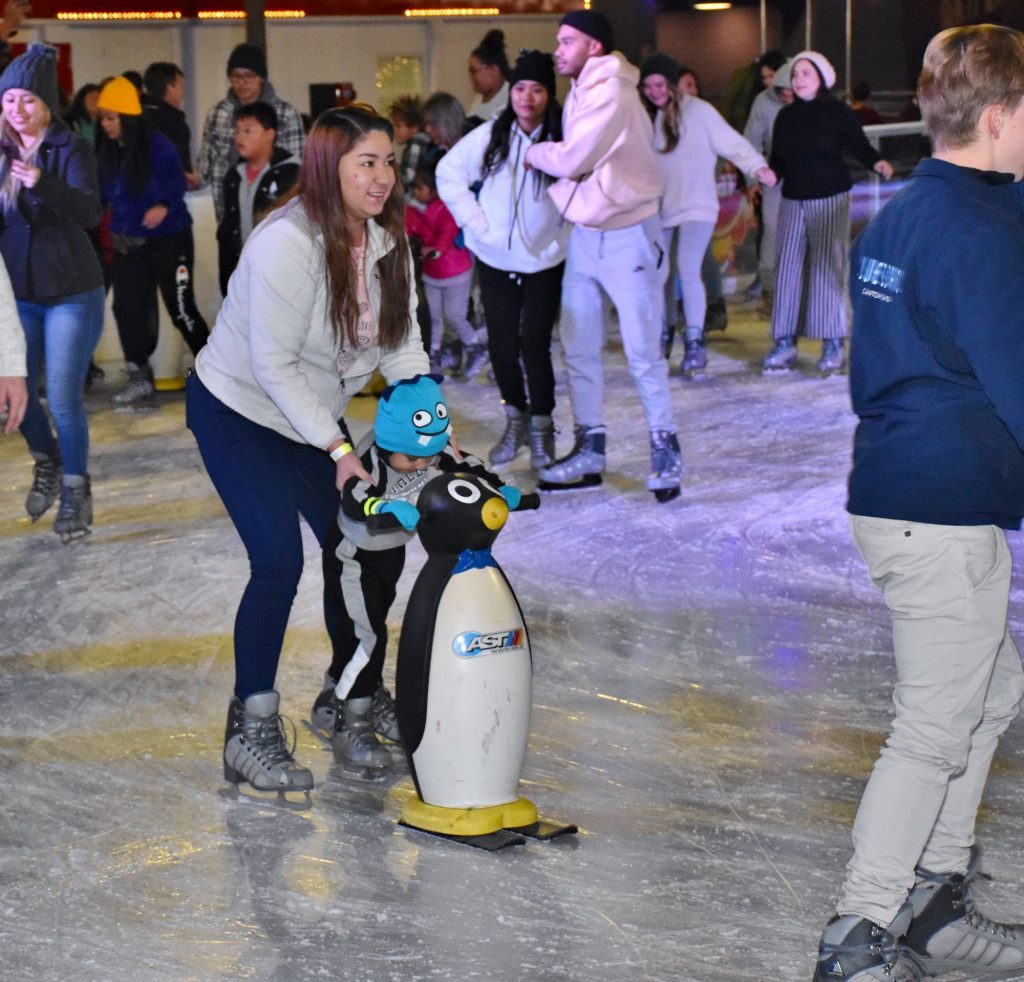 ---
---
Skating sessions and hours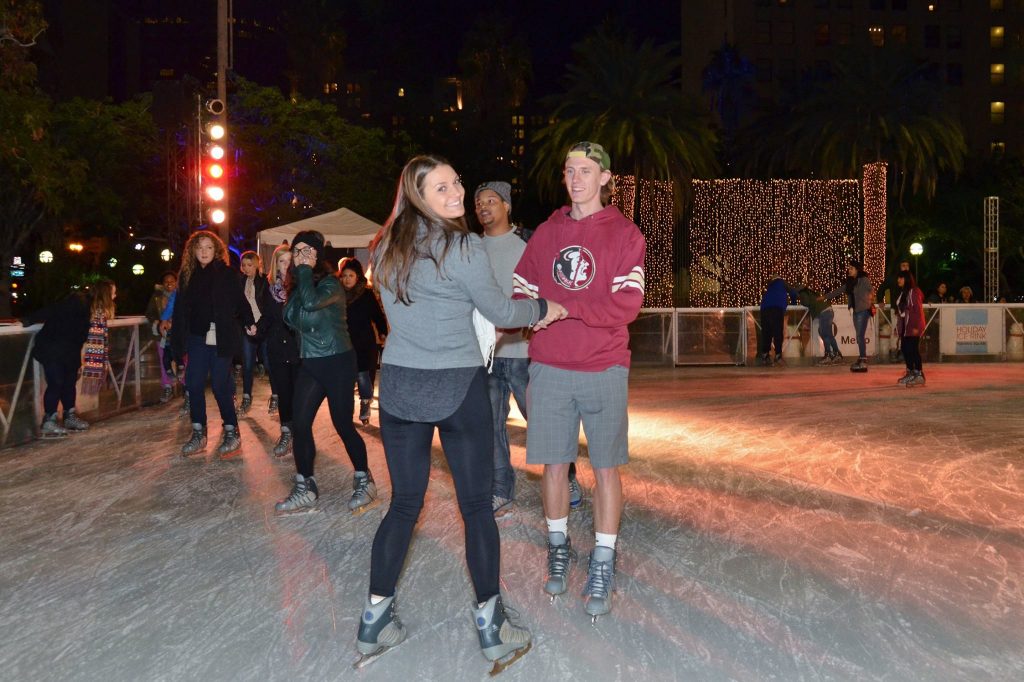 Hours and times vary by day. Skating sessions last 60 minutes.
November 23 – December 16
11:30AM – 9:30PM Monday through Thursday
11:30AM – 11:00PM Friday
10:00AM – 11:00PM Saturday
10:00AM – 9:30PM Sunday
December 17 – December 30
10:00AM – 9:30PM Monday through Thursday
10:00AM – 11:00PM Friday
10:00AM – 11:00PM Saturday
10:00AM – 9:30PM Sunday
Thanksgiving Day, November 24
11:30AM – 9:30PM
Christmas Eve, December 24
Christmas Day, December 25
New Year's Eve, December 31
New Year's Day, January 1
10:00AM – 9:30PM
---
---
Skate rentals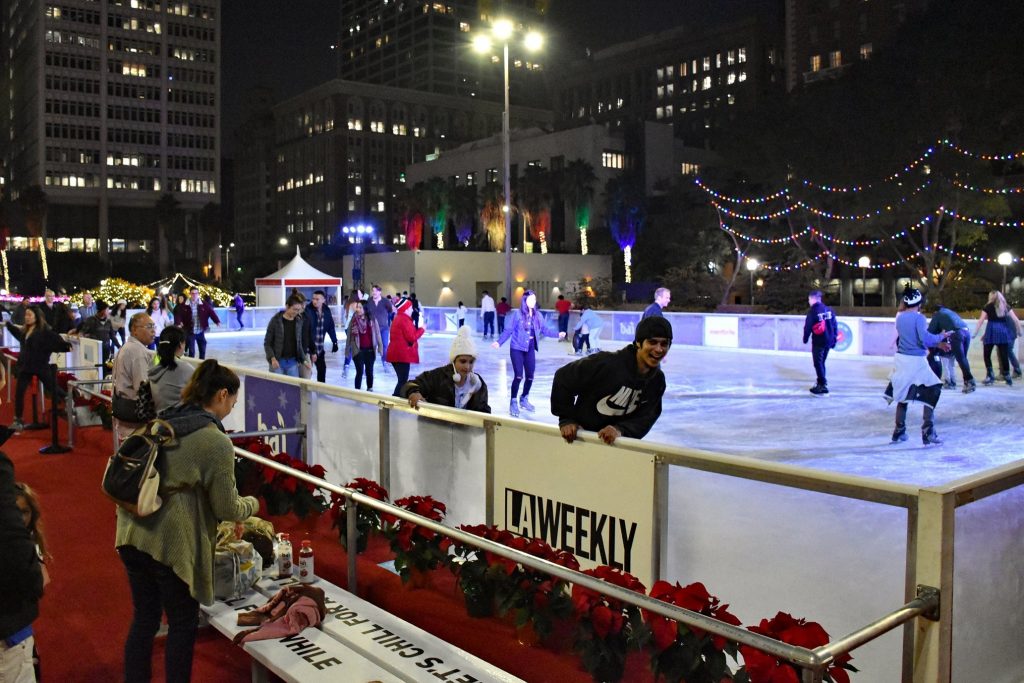 Again, skate rentals are included with your $20 admission ticket. There are figure skate and hockey skates available, and the sizes go from toddler size 8 to adult size 15.
To those with shoe size 16 and above, you're out of luck! You'll have to buy some online before you come.
And that's another good point: you don't have to use the skate rentals. You can bring your own, too.
---
---
Restrooms
Restrooms are available in Pershing Square Park itself, and they recommend that you use them beforehand because you can't wear your ice skates outside the ice rink. Makes sense.
Private parties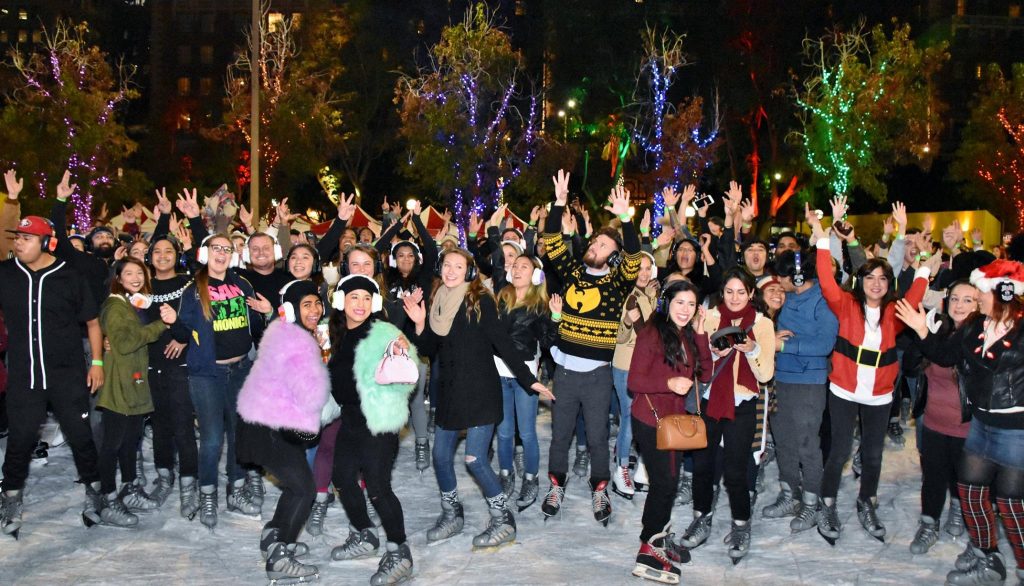 Private parties are allowed during only the 5:30pm and 7:00pm sessions. On or before December 13, 2022, it'll set you back $5000, and the session won't be open to the public during your private party.
---
---
Rain policy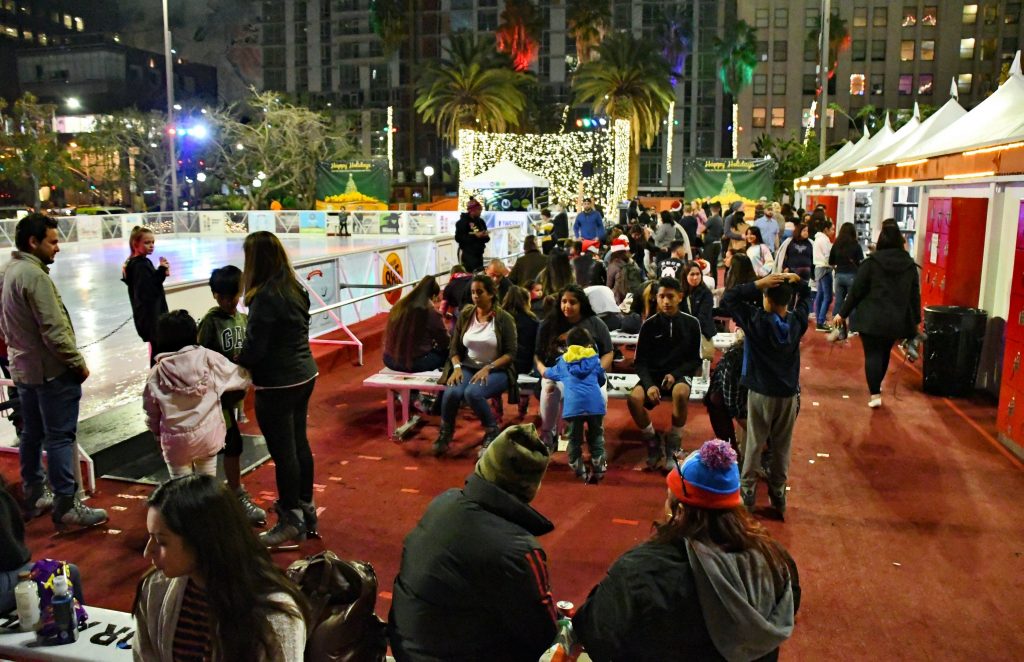 Another thing to know is that there is a rain policy. Ice Holiday Rink says:
"If your ice-skating session prematurely ends or is canceled due to inclement weather or the threat thereof, your tickets are valid for any new date and time that is available on or before January 16, 2023.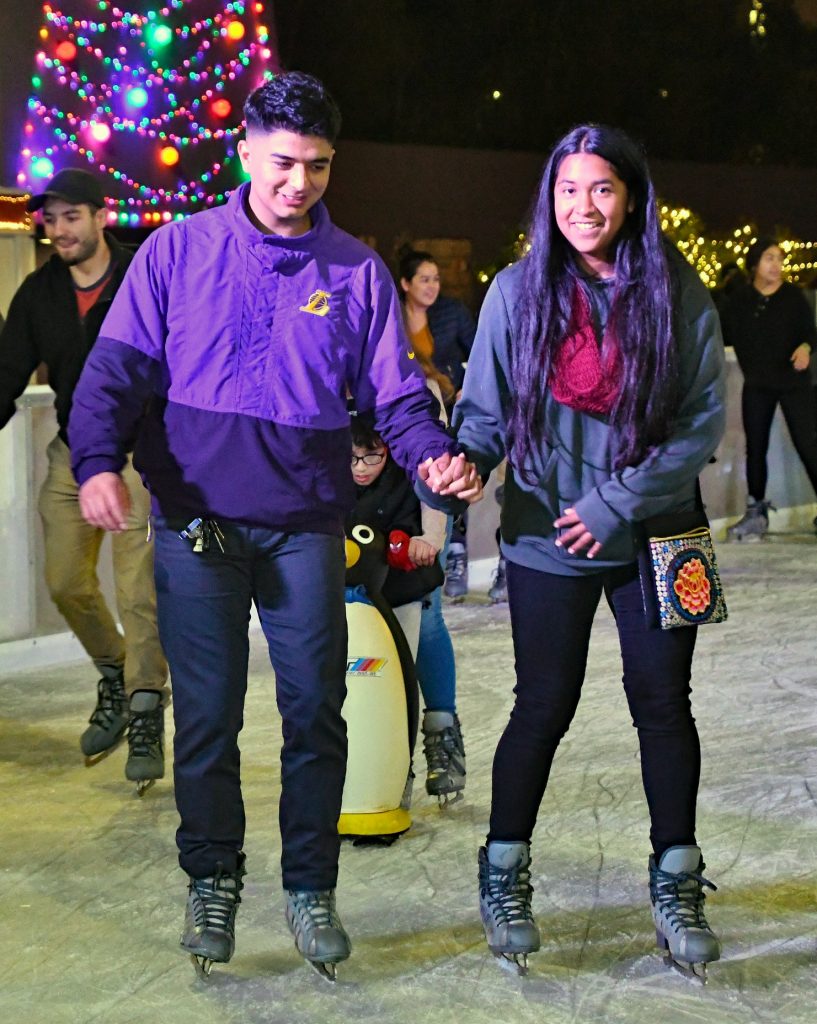 The Ice Rink has an 'Exchange Only Policy'. It does provide refunds in very limited circumstances only, or there is an extraordinary circumstance. If a refund is issued it will not include the Convenience Fee."
Buy tickets
You can buy tickets online on the official website of Holiday Ice Rink Pershing Square. Just click on "BUY TICKETS LA" on that page.
---
---