---
A unique community beach house experience with a pool, game room, classes, and events.
By Maximillion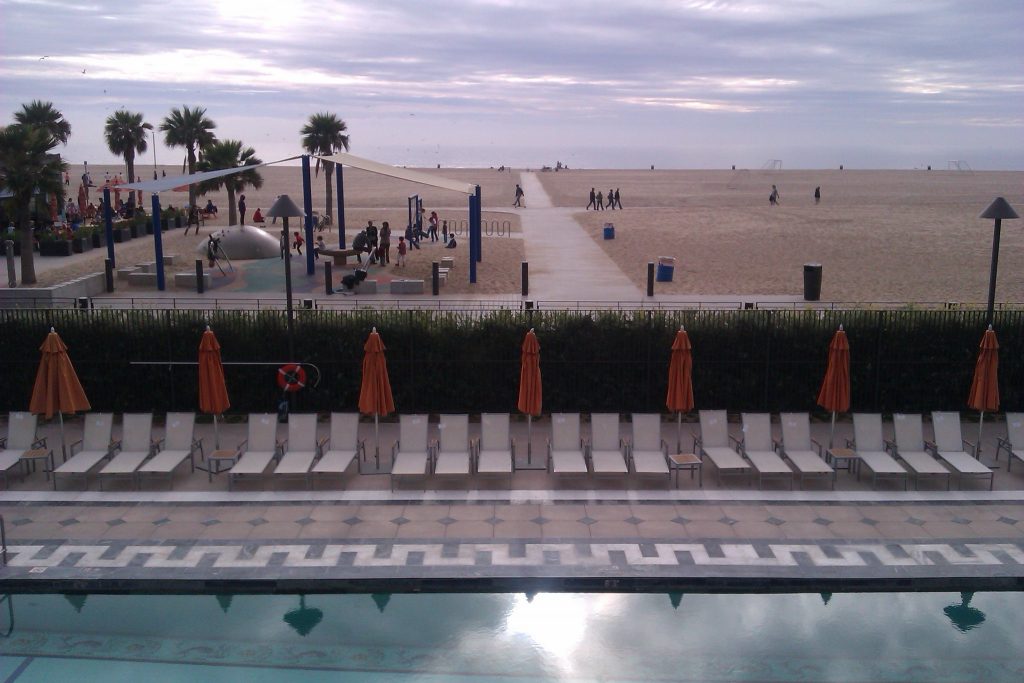 When I first found out about the Annenberg Community Beach House, I was straight up overwhelmed. It was kind of abstract as to what it actually is. All I knew was that it was a part of the community and that it was a beach house! How's my third grade education for ya?
In this article I'm gonna go over the aspects of the the Annenberg Community Beach House so easy that a third grader can get it!
The pool
One of the coolest parts of this place! First up, let me give you the cold, hard facts.
Price
$10 Adult
$4 Youth (1-17)
$5 Seniors (60+)
You can pay with cash or with credit/debit cards starting at 9 A.M. Nice and early. I personally don't wake up 'til 11 A.M. most days, but that's just me.
From their site:
---
---
If the pool reaches capacity, a waitlist is started. Guests will be notified via text message when space is available. Once notified, guests will have 15 minutes for their entire party to assemble at Guest Services to purchase pool passes. You must be on site to add your party to the waitlist.

Pool passes include access to the heated pool, changing rooms, and lockers. Towels are not provided, please bring your own. Locks for the lockers may be checked out at Guest Services or you may bring your own. 

Please Note:
Youth under age 8 and 4' in height must be accompanied by an adult in the water at all times.
Youth under age 12 must be supervised by an adult at all times.
Children requiring diapers must wear a swim diaper in the water..
Pool days
You're gonna wanna check in advance which days are pool days on their site. Straight up, plan your visit ahead of time so you aren't disappointing. I mean, this place is right next to the beach, so I doubt your day will be totally ruined, but still. Be prepared.
---
---
Classes
For all of these, check the official Annenberg site for the most up to date info. As much as I would love to keep coming back here to update it (spoiler: I don't at all), I think it's best you get the latest info straight from the source. I'll just talk about what they got to offer here. Also, all these classes cost a bit of money. They're honestly not that much compared to most prices I see in LA.
Beach Volleyball
Tryna get into volleyball but never have a good chance to? You're in luck. They got both youth and adult classes for ya here.
Yoga
Beginner, intermediate, and advanced yogis are all welcome.
Swim Lessons
If you want to learn how to swim, here you go! There are four levels — playfully labeled anything from Polliwog at the easiest level to Fish at the most advanced — for you and/or your kids to learn the ropes.
---
---
Pool Workouts
I'm a fat flab and really need workouts so pool workouts actually sound pretty great. Look at those people keeping their balance on those board yoga mat things. Pretty sick.
Stand-up paddleboarding (SUP)
I always refer to this as SUP because I'm a wannabe cool person. But SUP is super fun. The instructors here are pretty nice so you don't have to worry if you don't know how to do it. I mean, just look at that picture and look how nice they look. Everyone starts somewhere, right? If you don't want classes, you can straight up rent them, too. Details below from their original site.
Rentals are available year-round! Please call 310-458-4904 before your visit to confirm availability.
Rental includes board, paddle, cart to transport board to the beach, and personal flotation device. Waiver required. Minimum age to use a paddleboard is 14 years old. Introductory video available to watch for beginners. Availability is subject to weather and surf conditions. 

– $25 1/hour
– $40 2/hours
– $60 4/hours
Beach Activities and Sports
Beach Tennis
What is beach tennis?!, you might be saying. Let me let the official site explain it because their words are absolutely beautiful.
Beach Tennis is a combination of beach volleyball, tennis, and badminton, beach tennis is a doubles game with all volleys played completely in the air.
– Nets on the six volleyball courts are adjustable and may be lowered for Beach Tennis play.
– Staff is available to assist with lowering the nets during summer.
– Tennis rackets and balls are available to borrow from Guest Services with a valid form of ID.
Beach Soccer
Soccer on the beach. Nothing too crazy here except that it's way more fun for some reason. 
The Beach House has two regulation-size beach soccer fields available for public use.
One field is available on a first come, first served basis year-round at no charge.
Soccer balls are available to check-out from Guest Services with a valid form of ID.
Programs and Tours
Events and Programs
There are straight up a lot of events and programs going on here.
Cultural events
Check this out for a list of cultural events,
Art gallery
Open 9 A.M. to 4 P.M. (check before — don't take everything what I say as gospel, now!), the art gallery showcases a ton of art from local artists and is always rotating. "For information about this and other artist opportunities, check here and join the "Artist Opportunities" email list.  For more information about the gallery, please contact Santa Monica Cultural Affairs at (310) 458-8350." — the official site, because they know what they're talking about. 
Marion Davies Guest House and Docent Tour
This is fun. The Marion Davies Guest House has got a ton of history behind it. Basically, she was a really successful and famous actress and actually became the mistress of newspaper tycoon William Randolph Hearst. You know that guy — Hearst Castle, anyone? Yes, he was a rich, rich man. This guest house is therefore extravagant. Q.E.D.
It's cool to see the architecture of it and see kind of what went into the history of Los Angeles, Santa Monica, and Beverly Hills. I found it fascinating, even if the inside furniture didn't look super period-specific or anything.
Parking
Parking Rates
| | |
| --- | --- |
| Apr – Oct: | $12/day or $3/hour |
| Nov – Mar: | $8/day or $3/hour |
Parking is available year-round on a first come, first served basis.
When you arrive, note the number of your space and pay at the Park & Pay machines located in each section of the lot.
During the summer pool season there are a limited number of pre-paid parking passes, however they are never required to park in the lots.
The Beach House lot has 14 preferred parking spaces for fuel efficient vehicles and 12 disabled parking spaces.
Guests displaying a valid Disabled Person placard or license plate, or Senior Beach permit issued by the City, may park in the Beach House lot at no charge.
Parking Lot Hours
| | |
| --- | --- |
| Dec-Feb: | 7am – 7pm |
| Mar-Apr: | 7am – 8pm |
| May-Sept: | 7am – 9pm |
| Oct – Nov: | 7am – 8 pm |
If the Beach House lot is full, additional parking lots 8 & 9 (south) and Will Rogers State Beach (north) are within walking distance. The bike path connects these lots to the Beach House on the ocean side.
Check Santa Monica's City-Wide Parking Map for updated information about the Beach House parking lot and lots Pacific Coast Highway.

Review Highlight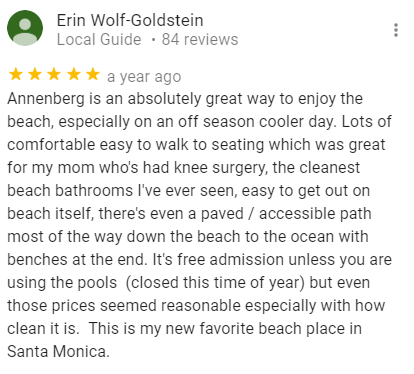 Geez, okay, maybe I should have just asked Erin to write this article because she's way better at explaining this place than I am. She actually had me at "cleanest beach bathrooms I've ever seen." That alone is worth your visit. Just don't ruin it for the rest of us, please!

---
---
---
---