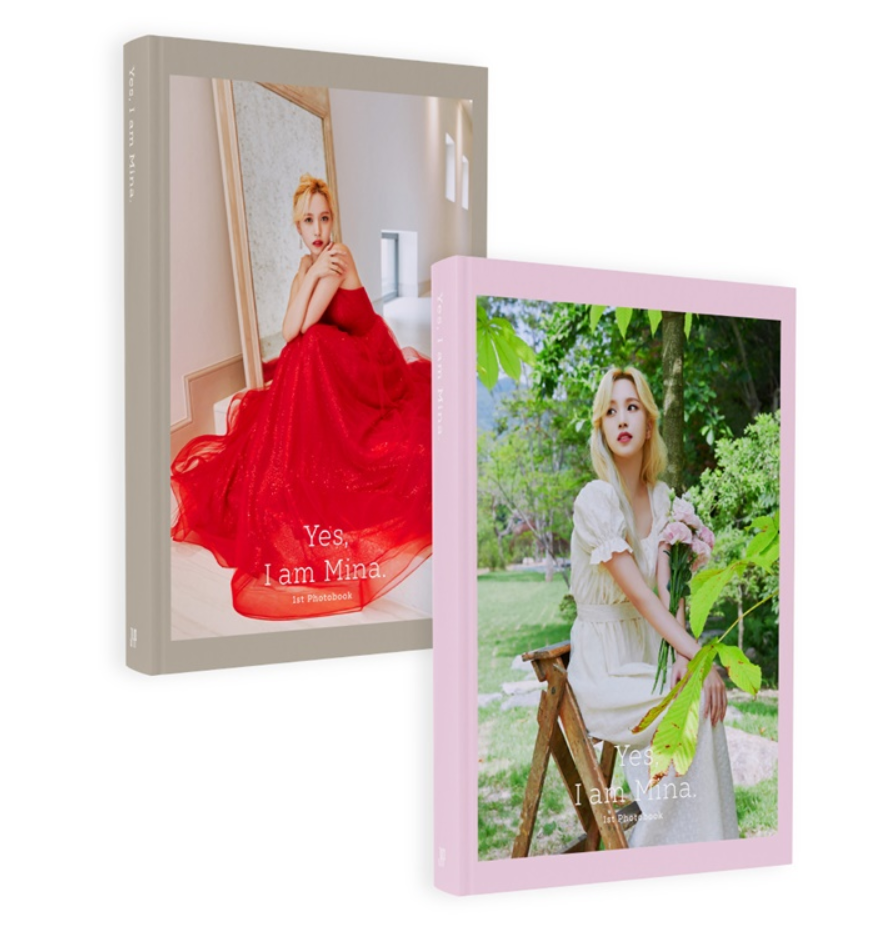 ---
---
By Torei Dei
---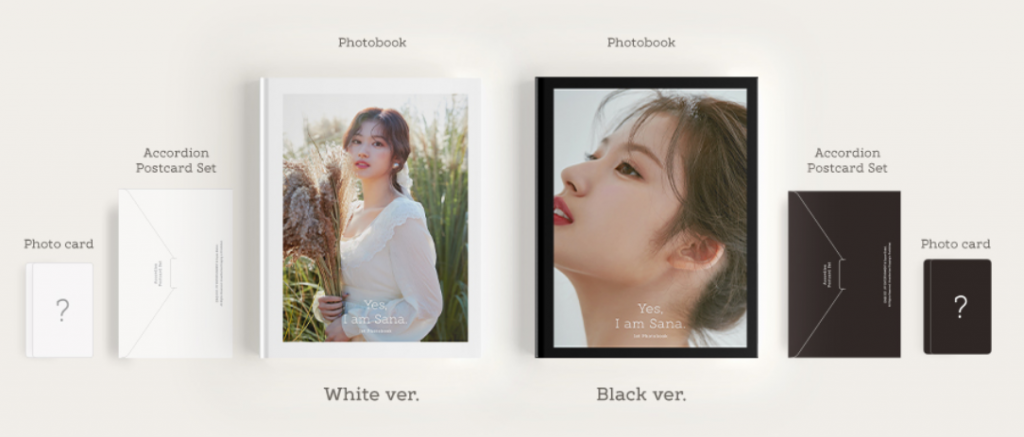 [Psst, looking for "Yes, I am Sana"? Make sure to click here or the photo above to read how to order it!]
---
If you don't live in Korea, it's not always the most straightforward thing to figure out how to buy K-pop albums and merchandise (unless it's TWICE's Eyes Wide Open, which got its own Target exclusive) so I thought I would write a quick article to go over possible methods you can use to get TWICE Mina's new photobook, "Yes, I am Mina".
While this article was originally written before Mina's photobook came out and applies to pre-orders, it honestly could apply too once the book is actually out. It just means that each of these (except for the group orders, which I'll get to later in the article) will have a supply either in stock or not. Often, they'll have some, but also they might not. That wasn't the most elegant sentence, but I think you get what I mean!
By the way, in the interest of transparency, I don't have any affiliate links or referral codes here. I'm just linking straight to where I get navigated to.
Ktown4u

Ktown4u is a legitimate retailer coming out of South Korea that ships to most countries. I live in America and ordered three Eyes Wide Open albums from them, and the process was really smooth. I just bought the items, put in my shipping information, paid via credit card, and a short while later the albums arrived at my doorstep. This is a pretty straightforward approach.
Update 3/12/21: it looks like both versions are now sold out. It remains to be seen if they will be re-stocked or not.
Pink Version
Click here for the pink version.
Grey Version
Click here for the grey version.
But wait–there's a cheaper option?
Yes! Actually, I highly suggest that if you buy from Ktown4u, then you actually buy via one of its Fanclubs. This is confusing, but basically on its Fanclub page, you'll see that there are several TWICE Fanclubs, like TWICE Spain, TWICE India, TWICE Malaysia, and more.
Through these clubs, merchandise is actually slightly discounted, and you actually don't need to live in those countries to buy from these clubs. There really isn't a catch; I myself bought Eyes Wide Open from TWICE Malaysia. Some of the donation funds also go to some organizations the Fanclub decides on; TWICE Spain, for instance, says it donates it to some organization in Korea.
It should be noted that not every Fanclub has all merchandise. You'd have to look up each one to see, but prices should be similar if not exactly the same.
Shipping
No matter if you do the direct option or the Fanclub option, the shipping costs can be a good amount seeing as it comes straight out of Korea. The further away you are from Korea, probably the more expensive. Also, if you plan on buying two books–the pink version and the grey version–then it's not like the shipping is the same amount. Rather, it seems to just stack on top.
Not gonna lie, but with shipping, "Yes, I am Mina" comes out to be pretty pricy. I think for me in America it came out to like $76 or something like that. I love Mina, but $76 for almost anything is a hard sell. You'd have to decide for yourself if the amount is worth it.
---
---
Choice Music LA

Choice Music LA is a physical store inside a Korean mall in Los Angeles, California's Koreatown. I myself have been there, and it's a wonderful little spot for buying albums, posters, and books. They also have an online store which is pretty well-known and definitely reputable.
Choice Music LA only ships to the United States and Canada. If you don't live in one of those countries, then you can skip this section (unless you're really curious!).
Link to buy
Click here to buy "Yes, I am Mina" from Choice Music LA. That link is for both the pink and grey versions, and their price is $49.99 plus any shipping fees.
Update 3/12/21: it looks like both versions are now sold out. It remains to be seen if they will be re-stocked or not.
Shipping
Shipping can probably vary, but since it's within the same continent, I've found it isn't too bad. I just tried checking out one photobook and got this total: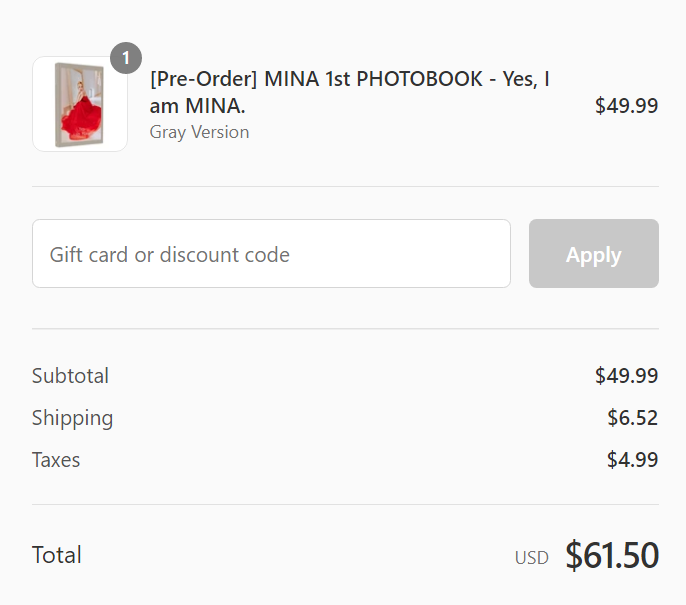 So for me, already Choice Music LA is a bit cheaper than Ktown4u for Mina's photobook specifically.
---
eBay
eBay has what appears to be some reputable sellers as well. Simply go to eBay and then type in "Yes, I am Mina". I would link them directly, but the listing might go down, and also, I don't want to make it seem like I favor certain sellers over others!
I see one now for about $66.50 with free shipping from South Korea, which seems pretty decent. Make sure that you check the seller's feedback percentage to verify that they're a trusted seller, but also eBay is pretty solid with resolving disputes by buyers just in case.
Update 3/12/21: it looks like prices are pretty high right now, unfortunately. I'm not sure if there will be re-prints, but I sure hope there will be.
Also, I want to note that eBay–as well as a couple of these other stores, maybe–will probably still have copies of "Yes, I am Mina" later on. I'm judging that based on the fact that "Yes, I am Tzuyu" books are still available on eBay and that the prices aren't jacked up. Just something to keep in mind if you're on a budget and don't want to spend the money on the book now.
---
Fan group orders
Here's another solid option that could end up cheaper for a lot of people due to shipping costs being lower.
What a lot of fans do in K-pop is help put on group orders. Essentially, one person sets up a form (usually a Google form) where you can put in your shipping information and also what exactly you want to order, and the same person (after they get your payment on what is usually PayPal or Venmo) collects all the orders and makes one big order in their name. They then receive all the goods and then pack and address it themselves (it's pretty amazing they take the time to do this, since pretty much all aren't making any profit) to be sent to buyers.
By the way, thanks for reading this far! Here's a surprise Mina IG post as thanks!
Why do they do it?
There are various reasons why the organizers of these put on group orders. Sometimes, they just want to help support the artist(s) and see that opening a group order is a good way to get people to buy things.
Often, there is a shipping or bulk discount that they get from the supplier, and so the more orders they get, the cheaper the price can be.
Sometimes, they're trying to get some special limited edition item involved in the order, and so with more orders, the more chances they can get it.
Almost always, though, they're just being nice people and helping the community out by doing so. I find that they're usually big fans of the artist(s) and just genuinely want to do something nice for others to be known as a trusted figure in the community. For albums, many also offer unsealed albums for cheaper and then also unsealed albums with photocards of buyers' favorite members in groups.
Having said that, you're going to want to verify that you're ordering from a trusted group order. It's hard sometimes to be totally certain, but there are a few that I am quite confident in, and I'll list them below.
With any group order though, know that you're dealing with a real human fan, and something could theoretically happen in shipping or something to your order. They won't have the full force of a company behind them to help, so make sure you are comfortable with whatever policy they have outlined. Also, while I trust the following, I can't be liable if something happens (honestly, that applies for the big stores too!). If you're uncertain, reach out to them or check their FAQ's if available; they're nice folks and I bet would be more than willing to help out.
---
---
Cool! Which ones are available for Mina's book?!
I'm glad you asked.
The man behind Sqkpop is none other than Sam Quach, a lawyer in San Francisco who is one of the most prominent American ONCEs out there. He's very well-known for his YouTube channel ("Hey guys. This is Sam."–classic) and for his group orders–I myself bought Eyes Wide Open (yes, I bought 6 copies…Couldn't help myself) from his group order.
For Sqkpop's group order, click here to see the link in his video description. I won't link directly so that you can see it comes right from his official account (be careful of random Google forms you find on the internet in general!). The video is also below.
Sam only ships to USA right now. The books would end up being $55 each or $105 for both, and that's including tax and shipping. Very solid price.
The deadline to preorder with Sam is December 30th at 12:00 PM PST.
Just like Sam, this is only for America.
Nath is the person behind the @minatzusaki Twitter account who set up a separate @minatzusaki_GO account just for group orders.
She is well-known in the community–just look at her followers and her group order proof presentation where she brings up receipts from fans.
The form to order can be found in the following tweet:
The price would be $31+EMS shipping+domestic shipping for one book and $60+EMS shipping+domestic shipping for two books.
The deadline to pre-order with Nath is Thursday, December 17, 2020 at 6:00 P.M. PST.
---
---
Misayeon (@misayeon) – USA only
English-speaking ONCE on Twitter probably know who Misayeon is because she is one of the best sources for English-translated TWICE material and updates, so it should be pretty comfortable going with her for your group order. Note that she, too, is US-only.
Her prices are $59 for one book and $115 for both–all fees included.
UPDATE: This was actually Misayeon's first group order ever, and as she said in her Google form, the response was overwhelming (the tweet alone had 16.9k likes) and she had to close the form early. Thus, you'll have to go with a different person. It's neat to see so much support for her, though!
Estelle (@estelle0816) – Mainly to Singapore, but also worldwide
I don't know too much about Estelle, but I saw that she has a worldwide group order.
【Yes, I Am Mina 1st Photobook SG Group order】

$45* each ver / $88* for both
*second payment needed for shipping from kr to sg

all photobooks will be sealed so everyone gets a fair chance of pulling the special ticket!

please fill up form if int! https://t.co/kKoOxVnoLM pic.twitter.com/hIu4pVWxhq

— Estelle | on limit (@estelle0816) December 7, 2020
She lives in Singapore, so you would pay $45+shipping for one book and $88+shipping for two. If you live in Singapore, that's shipping from Korea to Singapore, and if you live in another country, it's shipping from Korea to Singapore and then shipping to your country.
The deadline to preorder with Estelle is December 15th.
…and more.
There are actually more options to Indonesia, Malaysia, the United Kingdom and Europe in general, Canada, and Mexico.

Check them all out with this Twitter search!
---
---
WithDrama

Sam from Sqkpop, who I explained in a previous section, actually summarized how to order from WithDrama better than I could, so I encourage you to go back to his video above (or click here) to see how to do so. For the record, it turns out to be over $70 for one of Mina's photobooks, so I would suggest going through Sqkpop, which is still going through WithDrama.
Update 3/12/21: it looks like both versions are now sold out. It remains to be seen if they will be re-stocked or not.
K-Pop Music Town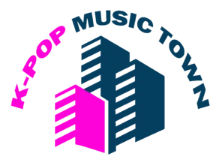 K-Pop Music Town is another store in Los Angeles in Koreatown in a mall close to Choice Music LA. It's a solid store, and they also have a reputable online store.
Unfortunately, it looks like both the gray and pink versions pre-orders are sold out here. I'll leave the link here in case they replenish their supply once the photobook is released: link to see it here, but not in stock right now.
Update 3/12/21: it looks like both versions are still sold out. It remains to be seen if they will be re-stocked or not.
---
---
Anything else?
For one, instead of my boring writing, I think we all deserve some more Minari.
Ahhh yes, that's better. Now, sorry, a little more of my writing.
In this article, I definitely missed some buying opportunities. There's no way I can know of all K-pop stores–there are so many good ones out there, and I really am only familiar with the Los Angeles ones!– across the world and no way I can capture every way you can buy Mina's photobook, but I hope I gave a decent offering of possibilities.
I might come back and write this article for any future TWICE releases (and maybe other groups?!), but a lot of the main players will be the same! Nevertheless, I hope you enjoyed reading and hope you now know how to get Mina's photobook if you want it!
If you liked reading this, I have some more K-pop pieces on Stuff in LA, and I'll be writing more soon. My goal is not be that clickbait-y and instead offer some decent commentary and information that made you think it was at least sort of worth reading. Anyways, see ya later!
---
By Torei Dei
---
ALSO BY TOREI DEI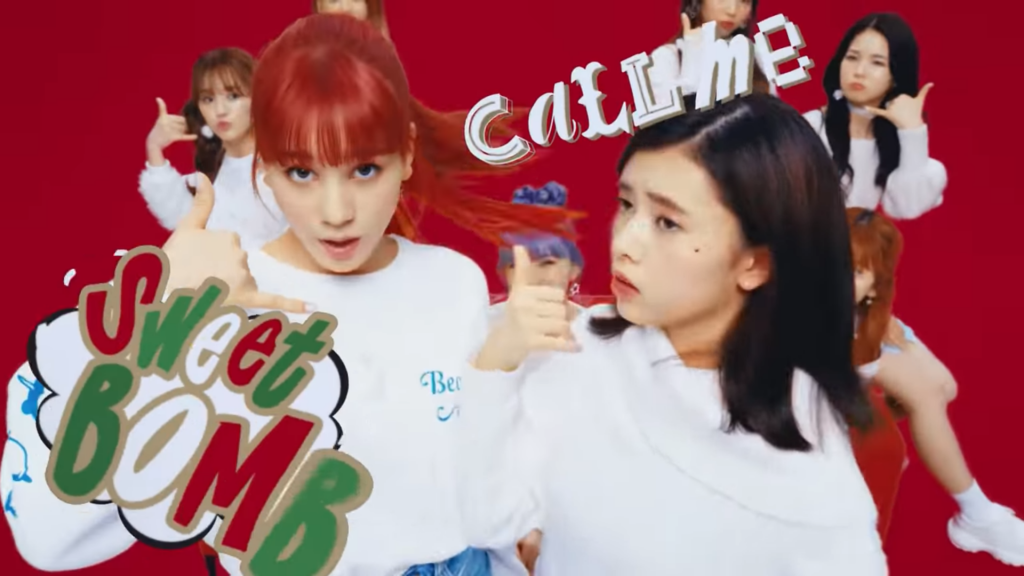 NiziU – Sweet Bomb! – Lyric Breakdown and Fan Review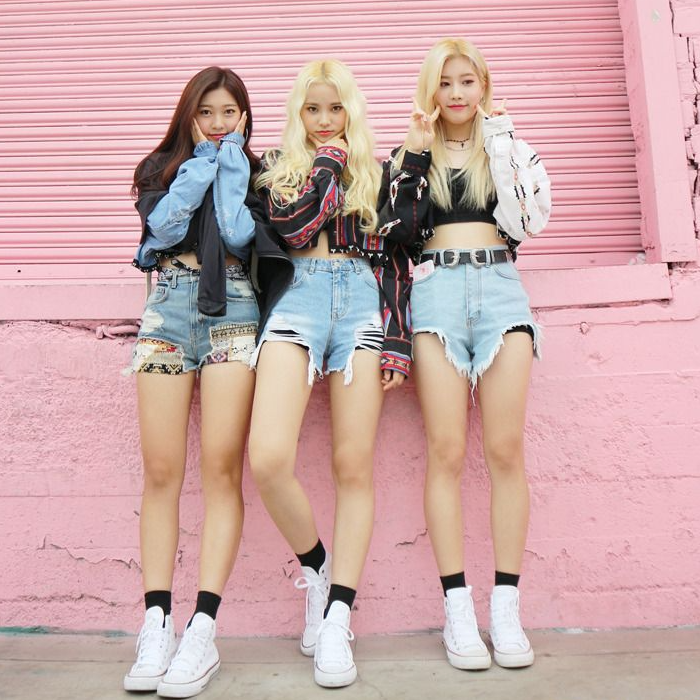 Los Angeles Filming Locations for LOONA/ODD EYE CIRCLE's Girl Front
---
---
---